WASHINGTON -- U.S. Secretary of State Hillary Clinton has opened the first direct peace talks between Israel and the Palestinians in two years by pledging the full support of the United States to a process expected to be difficult and with long odds of success.
Sitting between Israeli Prime Minister Binyamin Netanyahu and Palestinian Authority President Mahmud Abbas in the State Department's ornate Benjamin Franklin Room on September 2, Clinton praised the two leaders for taking "an important step toward a future of peace and dignity."
"I fervently believe that the two men sitting on either side of me, that you are the leaders who can make this long, cherished dream a reality," Clinton said. "And we will do everything possible to help you."
Addressing the two leaders jointly, she added, "You have the opportunity to end this conflict and the decades of enmity between your peoples once and for all."
The Obama administration has given the two parties one year to achieve accord on a range of contentious issues that have historically eluded agreement.
The U.S.-led talks are the first direct negotiations in almost two years between the two sides, who are at odds over Jewish settlements, the blockade of the Gaza Strip, and borders of a two-state solution, among other things.
Both leaders pledged their commitment to finding agreement and erasing a long history of mutual antagonism and suspicion, but each also predicted a difficult road ahead.
'Painful Concessions' Needed

Netanyahu said Israelis "are prepared to walk this road and to go a long way in a short time to achieve a genuine peace."
"Together, we can lead our people to a historic future that can put an end to claims and to conflict," he said. "Now, this will not be easy. A true peace, a lasting peace, would be achieved only with mutual and painful concessions from both sides."
But addressing Abbas, he added, "Just as you expect us to be ready to recognize a Palestinian state as the nation-state of the Palestinian people, we expect you to be prepared to recognize Israel as the nation-state of the Jewish people."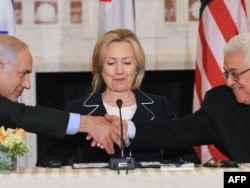 U.S. Secretary of State Hillary Clinton (center) looks on as Israel's Netanyahu (left) shakes hand with Palestinian leader Abbas.
Abbas said Palestinians desired "a new era that brings peace, justice, security, and prosperity for all." He said they realized that final status talks will be filled with "hurdles and obstacles."
He then called on Israel to reverse its policy on two key issues: "We confirm that we are committed to all our commitments regarding security and to the stopping of all provocation, and we call on the Israeli government to move forward with all of its commitments -- to stop all settlement activities and to completely lift the blockade of the Gaza Strip, and to stop all forms of provocation."
Opposition At Home And In Washington
The two leaders said they each spoke for their people, but back home, the opposition of some Israelis and Palestinians to any compromise was painfully clear.
The deaths of four Israelis on August 31 near the West Bank town of Hebron in an attack by Hamas have hung over the ceremonial handshakes. The militant group says it will continue to launch attacks and ignore any deal struck at the negotiating table.
Jewish settlers, meanwhile, vowed to launch new construction in their enclaves in the occupied West Bank, saying they could never accept a "phony peace" that curbs their right to live in what they consider Israel's biblical homeland.
Protesters from each side held demonstrations in the searing 35-degree Celsius heat of Washington.
Outside the White House, Israeli demonstrator Bob Kunst said he opposed negotiations because "you can't make peace with somebody who wants to kill you -- it's either you or them."
Rifke Beid, a Palestinian protester demonstrating outside the State Department, accused Israel of being disingenuous. If Tel Aviv really wanted peace, she said, it would "end the occupation, dismantle settlements, and give Palestinians human rights."
Following their opening remarks, Netanyahu, Abbas, and Clinton met privately with U.S. Middle East peace envoy George Mitchell, whose months of work laid the foundation for the resumption of talks.
Later, the two Middle East leaders held a one-on-one meeting in Clinton's outer office, according to U.S. officials.
Following this first round of talks, Abbas and Netanyahu announced that they have agreed to meet again in two weeks -- on September 14 and 15, probably in Egypt. The leaders said they would try to meet every two weeks after that.
Clinton will also attend the next round of talks.
written by Heather Maher with agency material. RFE/RL's Ladan Nekoomaram contributed reporting