A U.S. Navy warship has arrived at the Georgian Black Sea port city of Poti on a three-day visit that is likely to anger Russia.
A spokesman for the U.S. Embassy in Tbilisi said the "USS Barry" was not carrying humanitarian supplies, as a U.S. Navy warship had done in the weeks following the most intense fighting between Georgian and Russian forces over Georgia's breakaway regions of Abkhazia and South Ossetia.
Russian officials signaled anger over that visit.
The U.S. Embassy spokesman said it was a routine visit and not connected to tensions in the region after the conflict.
AFP reported that the U.S. crew of the Arleigh Burke-class, guided-missile destroyer was greeted by local officials at the port as the Georgian and U.S. national anthems played.
Spain Seeks Closer EU-Georgia Ties
Meanwhile, Spanish Foreign Minister Miguel Moratinos said in Tbilisi that his country will press for closer ties between the European Union and Georgia.
Moratinos also spoke out strongly in support of Georgia's territorial integrity, a topic that is at the heart of Russian forces' continued presence in Abkhazia and South Ossetia and Moscow's recognition of those regions' declarations of independence from the rest of Georgia.
Moratinos, who met with President Mikheil Saakashvili on October 17, was expected to travel to Poti with a contingent of EU monitors observing the EU-brokered cease-fire between Russia and Georgia.
Internationally sponsored
talks on the aftermath of the conflict collapsed
at their opening session in Geneva on October 15 due to disagreements over procedural issues, and were adjourned until November 18.
compiled from agency reports
Crisis In Georgia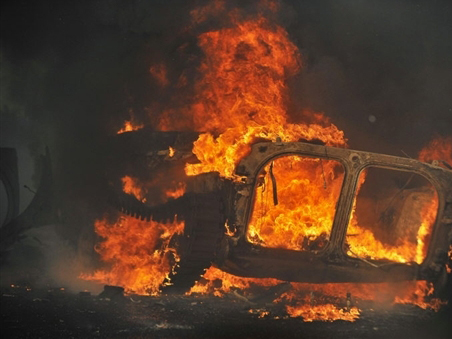 For RFE/RL's full coverage of the conflict that began in Georgia's breakway region of South Ossetia,
click here
.