Ukraine Marks 75th Anniversary Of Great Famine
KYIV/PRAGUE -- Kindrat Murzak was born in 1925 in Sarny, a village in the heart of what was then Soviet Ukraine.
He was only 7 years old when the Great Famine swept across his country, driving millions into starvation.
But the memories of those terrible times haunt him to this day.
"I remember 1933. A woman next door ate her two children, a 7-year-old boy and a 6-year-old girl," he says. "Once my grandmother, Ustia, was visiting us and she heard this woman call me: 'Kindrat, come here, I'll offer you a treat.' My mother and grandmother rushed to prevent me from going into her house. Later we saw bones in her oven. Another neighbor, Yakiv, called some people from the village council and in the oven they found a head and legs from which meat had been carved out. This woman was driven away from the village the same day. There were other such cases in other parts of the village. There were families in which everyone died. In our part of the village, almost half of the people passed away."
Ukrainians today remember one of the darkest chapters in their country's history -- the so-called Holodomor, or death by starvation, of 1932-33.
Josef Stalin's forced collectivization of agriculture, which resulted in massive food shortages, claimed an estimated 14 million lives across the Soviet Union.
Unsettling Truths
But most of the victims died in Ukraine, the USSR's "bread basket," where farmers saw their harvest confiscated by Soviet authorities. Death-toll estimates vary wildly -- from 3 million to 10 million. About one-third of the victims were children.
The Great Famine is therefore widely viewed in Ukraine as a man-made famine engineered by the Soviet regime to crush an independence movement in one of the Soviet Union's most fertile regions.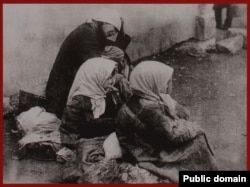 A photo from the exhibition "Unclassified Memory," of unclassified Soviet documents about the 1932-33 famine.
The Soviet regime covered up the extent of the tragedy; it is only after Ukraine and other Soviet republics gained sovereignty in 1991 that the truth began to emerge.
Today, independent Ukraine is intent on setting the historical record straight.
Both officials and civil groups have been waging a campaign to have the world recognize the fame as an act of genocide against the Ukrainian people. In 2006, the Ukrainian parliament adopted a bill officially recognizing the famine as genocide.
Speaking this week at a school in the city of Kharkiv, President Viktor Yushchenko called on schoolchildren never to forget the Great Famine:
"The tragedy of 1932-33 is a sad page in our history; but, excuse me, this is our history," Yushchenko said. "We can draw lessons from it if we know it. That is why I call on you, all Ukrainian schoolchildren, to research your own family history. How did your great-grandparents die? How did they live in 1932, in 1933? How did they meet to this challenge? Our nation came out as a winner. We suffered huge losses, but we came out as an undefeated nation."
Souring Relations
Not all countries see eye to eye with Kyiv on the issue. Ukraine's genocide claim is hotly contested by Russia, which insists the famine indiscriminately affected many ethnic groups across the Soviet Union. The State Duma this year passed a resolution that firmly rejected recognizing the famine as genocide.
The Holodomor has grown into a major irritant in already souring relations between Kyiv and Moscow; every year, Ukraine's commemoration of the famine sparks a bitter war of words between the two countries.
Russian President Dmitry Medvedev last week accused his Ukrainian counterpart of distorting the facts about the famine for political purposes. "To suggest that the main aim was to destroy Ukrainians is to fly in the face of the facts and paint a general tragedy in nationalist tones," he wrote in a letter to Yushchenko.
Yushchenko, in turn, criticized the Russian leader for snubbing this weekend's commemorative events, calling his decision not to attend "anything but appropriate."
So far, 14 countries have recognized the Great Famine as an act of genocide against the Ukrainian people.
The United Nations, the European Parliament, and the Organization for Security and Cooperation in Europe (OSCE) have all denounced the famine as a crime against the Ukrainian nation but have fallen short of branding it genocide.
"The formulation defining the notion of 'genocide' is to blame," Popovich says. "The United Nations' definition of genocide is exclusively the mass killing of people on the basis of their nationality or ethnicity. So formally, one can regard [Holodomor] as a massive tragedy rather than genocide. But in actual fact, one can regard it as genocide."
Yushchenko was scheduled to launch the November 22 memorial events in Kyiv with the unveiling of a monument to the victims. A Mass was then due to be held, followed by an international forum expected to be attended by delegations from 40 countries.
A candle-lighting ceremony was also scheduled, as well as a minute of silence in memory of the victims.
RFE/RL's Ukrainian and Russian Services contributed to this report
Holodomor: The Great Famine
Survivors remember the 1932-33 famine in Ukraine that killed millions of their countrymen. Play