KYIV -- Even before the first vote was cast, Prime Minister Yulia Tymoshenko had called for a second Orange Revolution if her pro-Moscow rival, Viktor Yanukovych, stole the presidential election.
But the only flags flying in central Kyiv were blue, the color of Yanukovych's campaign. With more than 98 percent of the vote counted, official results late on February 8 gave him a seemingly insurmountable lead of around 3 percentage points.
But Tymoshenko has yet to concede defeat. In fact, the daily "Ukrayinska pravda" today quoted Tymoshenko vowing at a party meeting late on February 8 that "I'll never recognize the legitimacy of Yanukovych's victory with such an election."
Also today, the parliamentary faction of her Tymoshenko Bloc alleged "massive fraud" and said it would
take its case to court
.
Outside the Central Election Commission on February 8, a crowd had chanted Yanukovych's name, prompted by a speaker to do so. The group of around 1,000 mostly elderly people and young men bused in from eastern Ukraine said they had come to Kyiv to prevent electoral fraud from taking place.
Nikolai Yegorov said Yanukovych's likely victory meant the opening of a new chapter for Ukraine. "First of all it means a reorientation from a pro-Western policy to friendship with the East, with our neighbor, [Russia]," he said.
Tymoshenko had pledged to bring Ukraine into the European Union within five years. Yanukovych is expected to tilt Ukraine's foreign policy more toward Russia, which opposes Ukraine's membership in NATO.
Pressure To Concede
Tymoshenko has stayed out of sight -- twice on February 8 postponing an eagerly awaited news conference now scheduled for today. During the vote count late on February 7, she had refused to concede and urged her staff to "battle for each vote."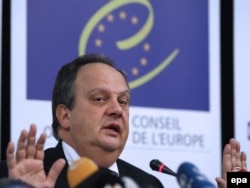 The OSCE's Joao Soares called the vote an "impressive display."
International monitors have piled pressure on her, praising the election as a promising sign for democracy. Joao Soares, of the Organization for Security and Cooperation in Europe's (OSCE) Parliamentary Assembly, said the election was peaceful and transparent.
"Yesterday's vote was an impressive display of democratic elections," Soares said on February 8. "It's now time for the country's political leaders to listen to the people's verdict and make sure that the transition of power is peaceful and constructive."
Soares said the campaign was negatively affected by mutual accusations of fraud ahead of the vote and President Viktor Yushchenko's signing of a new election law three days before the second round.
Matyas Eorsi, of the Council of Europe's Parliamentary Assembly, said the Orange Revolution had successfully established democratic elections in Ukraine.
"Ukraine deserves applause. Thousands of election officials [and] millions of voters braved icy temperatures of minus 17 degrees [Celsius] to demonstrate their commitment to democracy," Eorsi said.
The observers urged the loser to accept defeat as soon as possible. An OSCE delegate said the monitors had met with Tymoshenko ahead of the vote and urged her to concede on election night if the results didn't go her way.
Dividing Power
Many believe her silence is a sign she'll accept defeat after negotiations over her terms with Yanukovych's party.
If she concedes, she'll remain a powerful prime minister whom Yanukovych will want to remove by either forming a new governing coalition with other parties in parliament or holding snap parliamentary elections.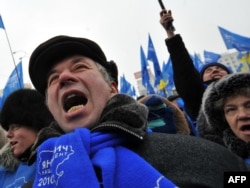 Supporters of Viktor Yanukovych celebrate the election during a rally in Kyiv today.
Analysts say Tymoshenko will try to find some way to stay in power. But Borys Kolesnikov, a Party of Regions leader, today said it would be "impossible" for her to remain prime minister.
"Until the results are final, there can be no negotiations about that," Kolesnikov said. "Today we stand on completely different ideological platforms. So any coalitions with Tymoshenko's bloc are impossible."
But governing without cutting a deal with Tymoshenko -- who currently heads a razor-thin majority in parliament -- would be almost impossible in a country where the electorate is split almost completely down the middle.
The February 7 vote reflected Ukraine's division between its largely Russian-speaking, industrial east -- which voted for Yanukovych -- and the Orange-voting, Ukrainian-speaking west, which was part of Poland until the Red Army's invasion in 1939.
Turnout was just under 70 percent. Yanukovych's margin of victory represents about 500,000 votes - which equals the number of people living in two Kyiv districts.
All eyes are now on Tymoshenko and whether she decides there's enough proof of electoral violations to contest that lead in court.