Bohdan Danylyshyn is the latest of a series of former officials to have been arrested since President Viktor Yanukovych came to power earlier this year. He's also the highest-ranking.
The government accuses the former economy minister -- who served under then-Prime Minister Yulia Tymoshenko from 2007 until she left office earlier this year -- of squandering almost $2 million of public funds.
He was charged earlier this year with wrongdoing during a sale of state assets and the awarding of contracts connected to the country's preparations to co-host the UEFA European Football Championship in 2012.
The government says the charges against Danylyshyn and other Tymoshenko allies are part of a campaign against deep-seated corruption in Ukraine. But the circumstances surrounding his arrest are raising new questions about whether Yanukovych is really using the drive as an excuse to jail supporters of his arch-rival, Tymoshenko.
Danylyshyn was detained last week by Czech police acting under an international warrant after he drove to the country from Germany, where his lawyers say he was undergoing medical treatment. He left Ukraine after stepping down last spring.
Danylyshyn's lawyer, Stepan Ukrainets, was with Danylyshyn during the arrest. He told RFE/RL's Ukrainian Service his client had agreed to meet Ukrainian investigators in the embassy in Prague to discuss the charges against him.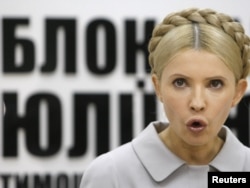 Allies of former Prime Minister Yulia Tymoshenko say the new government's corruption campaign is political score-settling.
But he said the former minster was instead forced outside, where Czech police were waiting to detain him. "He wasn't presented with any grounds for the criminal proceedings against him, or with documents justifying his arrest," Ukrainets said. "So the prosecutor's actions were absolutely illegal, they violated Ukrainian law."
Who Ordered Arrest?
That's where the story becomes murky. More than denying they did anything illegal, the Ukrainian authorities say they had nothing to do with Danylyshyn's arrest.
Embassy official Andriy Motornyy told RFE/RL Danylyshyn never visited the embassy last week. "Neither his name nor those of his official representatives are mentioned in the embassy's meeting schedule," Motornyy said.
Ukrainets has named two investigators from the Prosecutor-General's Office in Kyiv, Oleh Pushkar and Mykola Tverdoklib, who he says questioned Danylyshyn in the embassy before his arrest.
But speaking to RFE/RL in Kyiv, Prosecutor-General's Office spokesman Yuriy Boychenko said no investigators had been sent to Prague. "I can't discuss what they didn't see there," he said. "I suggest you speak to Interpol instead."
Danylyshyn remains in jail in Prague, where Ukrainets says he hopes to be released on bail but doesn't plan to ask for political asylum, following earlier reports saying he was considering a request.
The Czech authorities declined to answer questions about the circumstances of Danylyshyn's arrest and what proceedings await him.
In an e-mailed statement, the Justice Ministry only confirmed the ex-minister was detained and remains in custody. It read, "The Justice Ministry so far has only received a promise from the Ukrainian side that it will send a request for his extradition to Ukraine."

'Political Arrest'
In Kyiv, Tymoshenko allies deny the corruption charges, saying Danylyshyn's arrest is part of a political vendetta against them by a government that's reversing the Orange Revolution's democratic gains.
Sergei Sobolev, a member of parliament from Tymoshenko's political bloc, says there's no question Danylyshyn's arrest was a "political order." He says that "Everything being done in Ukraine today is an attempt to show that the current 'honest' government is trying to battle against corruption."
In fact, Sobolev says, the government has distributed more than $2 billion in contracts connected to the Euro 2012 championship without holding competitive tenders. "That's 100,000 times more than what Danylyshyn is accused of losing," he says.
Danylyshyn's arrest comes after the release of a government-commissioned report by three U.S. auditing companies alleging widespread corruption under Tymoshenko, including the embezzlement of almost half a billion dollars.
The embattled opposition leader was an icon of the Orange Revolution in 2004, when street protests helped overturn the pro-Kremlin Yanukovych's victory in a rigged presidential election. But he came back to power earlier this year after his victory in another bitter election that repudiated the Orange Revolution and its pro-Western leaders.
Corruption In Politics
Critics say besides marginalizing the opposition, the government has moved to control the judicial system and pressure journalists, who have complained of increasing censorship and physical attacks.
Analysts say corruption has been rife under the current and previous Ukrainian governments. But Volodymyr Fesenko of the PENTA center for political studies says that although Tymoshenko's government undoubtedly carried out "serious breaches" of financial regulations, there is a "political context" to Danylyshyn's arrest.
"Politics and possible economic and financial wrongdoing are closely tied to each other," Fesenko says. "Separating one from the other in Ukraine is practically impossible."
Although the state tender process has been riddled with corruption, Fesenko says governments in Ukraine have often violated established rules to help speed the process through daunting bureaucratic obstacles, something Danylyshyn may have done.
He says the ex-minister probably won't be the last Tymoshenko-connected official to face arrest.