Umarov Names New Daghestan Front Commander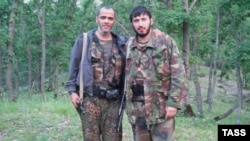 Self-styled leader of the Caucasus emirate Doku Umarov
named
a commander from southern Daghestan on August 30 to succeed Magomedali Vagabov (aka Seyfullakh Gubdensky) as emir of the Daghestan front. Vagabov had
occupied that post for only five weeks
before being killed on August 21 in a counterterrorism operation in the village of Gunib in central Daghestan.
Vagabov's successor is Israpil Velidjanov (Emir Khasan), whom then-Daghestan Interior Minister Lieutenant General Adilgirey Magomedtagirov
identified
in March last year as one of the republic's four most experienced militant leaders.
Velidjanov was named emir of the Derbent jamaat in southern Daghestan in October 2008. That fighting unit
came to prominence
only during the early months of that year. In July 2009, they launched a
high-profile attack
on the Derbent city police headquarters, killing two police officers and injuring four more.
To judge from a
video clip
of Velidjanov and his fighters posted in the spring of this year, he is in his early 40s and definitely a soldier's soldier. Vagabov, by contrast, clearly sought to promote an image of himself not just as a military commander, but also as a legal and theological authority, and thus as the logical successor to Umarov -- or even as the Imam Shamil of the 21st century.
About This Blog
This blog presents analyst Liz Fuller's personal take on events in the region, following on from her work in the "RFE/RL Caucasus Report." It also aims, to borrow a metaphor from Tom de Waal, to act as a smoke detector, focusing attention on potential conflict situations and crises throughout the region. The views are the author's own and do not represent those of RFE/RL.
Latest Posts