NEW YORK -- Umed Saidov, a 23-year-old Tajik, flew to the United States in the spring of 2009 with a single goal: to improve his English.
That skill would translate into better opportunities for him and his family back home. For now, Saidov, who studied in the northwestern U.S. city of Seattle for four months before relocating to New York City, is taking it one step at a time.
"My first goal is to learn English, to learn to speak fluently," Saidov says. "If I learn to speak English fluently, it will be easy for me to find a job back home. It's a big advantage."
Umed means "hope" in Tajik, and it is clear his family has invested a lot of hope in his future. The family sold their car to cover the costs of his U.S. visa and his tuition in Seattle.
Once in America, however, Saidov was largely on his own. While Indian and Chinese students enjoy tight networks of support on U.S. campuses, many Central Asians remain largely isolated, simply because there are so few of them. Although the number of Central Asian students in the United States has more than doubled since 2005, the overall figure is still low, at just over 3,200 students.
Only 342 Tajik students enrolled in U.S. universities in 2009. Most are covering not only the cost of their tuition but living expenses, as well. Foreign students are barred from many kinds of legal employment in the United States, meaning many Tajiks are forced to seek out unofficial, menial jobs just to make ends meet. Some 60 Tajik students have been detained for working illegally in the United States over the past three years.
'It's Hard For Them'
Burhon Mirzoaliev, the consul at the Tajik Embassy in Washington, tells RFE/RL that approximately half of the detained students have been deported back to Tajikistan.
"[Tajik] students arrive here by themselves. It's hard for them here -- expensive, and so on. They will eventually start working here, but as you know, foreign students are not allowed to work in the U.S.," Mirzoaliev says. "They can only work 20 hours a week, at jobs approved by the college or university. That's why they run into problems for working without permission. They constantly run into such problems."
Saidov, who has a girlfriend back home, says he is determined to return to Tajikistan rather than trying to make a life for himself and his family in the United States, where he says the attitude among many Muslims has grown too liberal.
But he says he can't go home without something to show for it -- meaning that, for now, he must find a way to finish his studies and earn some money before returning to Tajikistan.
"I think I have to earn some money to be able to continue to study. Also, I can't go back home empty-handed," he says. "I've spent $4,000 to $5,000 of my family's money...I have to figure out something. It's a matter of honor."
Prestigious Bolashak Program
The Tajik government is in no position to help students like Saidov. Mirzoaliev of the Tajik Embassy says that Dushanbe does not have the resources to institute overseas scholarship programs similar, for example, to Kazakhstan's prestigious Bolashak program.
Energy-rich Kazakhstan uses its Bolashak program to send approximately 1,000 of its best students to study abroad, including in the United States. While the number of Tajik students in the United States has begun to shrink, Kazakhstan hit an all-time high in 2009, with 1,714 students enrolled in U.S. universities.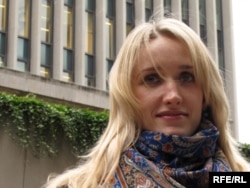 Marina Shport says Kazakhs have decided advantages over other Central Asian students.
Zhanbolat Ussenov, a spokesman for the Kazakh Embassy in Washington, says the majority of Kazakh students in the United States are members of the Bolashak program, which covers tuition and living expenses for the student's entire length of study. In return, students are required after graduation to work for at least five years in Kazakhstan.
Most do so willingly. Ussenov says graduates of Western universities are highly sought-after in Kazakhstan and can receive excellent salaries and benefits.
"They are, I would say, the hottest stuff on the employment market in Kazakhstan," Ussenov says. "Because they are the best trained, they go to the best universities. So, wherever they go, they're a priority. In business, in government -- wherever they choose to go."
Marina Shport is a Ukrainian student at New York's Columbia University and the president of the school's Eurasia Initiative, a group that seeks to raise Western awareness about the post-Soviet region. She confirms that students from Kazakhstan have a notable advantage over their fellow Central Asians in the United States.
"The students from Kazakhstan are in a much better position because their government is very supportive. The Kazakh consulate and embassy take care of their students -- much more than Ukraine, for example," she says. "They provide support for events, for tickets home, and particularly when the students return to Kazakhstan. They are practically guaranteed jobs back home."
The number of students from Uzbekistan has also begun to grow, although they are nowhere near Kazakhstan's numbers. Some 688 Uzbek students enrolled in U.S. universities in 2009, up from 539 in 2008. More than half are enrolled in two-year colleges, which provide a relatively inexpensive way to gain a quality education in a specialized professional field.
Latif Latifi of RFE/RL's Tajik Service contributed to this report