While the world focuses on the end game in Afghanistan, multiple crises brewing in a neighboring region have the potential to spoil international efforts to stabilize the country.
Extremist groups, secessionist movements, and grinding poverty and oppression are all contributing to instability in Baluchistan, a vast desert region spanning Pakistan, Afghanistan, and Iran along the Arabian Sea shoreline. Islamabad and Tehran face active insurgencies in their parts of Baluchistan. Developments in the region affect relations between Pakistan, India, Iran, and Afghanistan, delaying plans for economic and energy cooperation.
It was not surprising, then, when a much-anticipated meeting on July 15 between the Indian and Pakistani foreign ministers ended without progress. The meeting -- the first high-level Indian visit to Islamabad since the deadly Mumbai attacks in November 2008 -- fell victim to public accusations over Baluchistan, proving that this remote and impoverished province may have superseded even Kashmir as the biggest thorn in bilateral relations.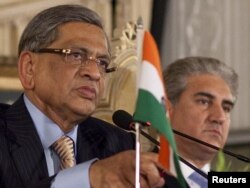 Indian Foreign Minister S.M. Krishna (left) and his Pakistani counterpart, Shah Mehmood Qureshi, in Islamabad on July 15
Speaking to journalists after an exhausting day of official rounds in the damp monsoon weather, Pakistani Foreign Minister Shah Mehmood Qureshi called the talks valuable and said the two sides would continue meeting. But he indicated that the issue of New Dehli's support for ethnic Baluchi secessionists had been discussed.
Qureshi said he had asked his Indian counterpart, S.M. Krishna, to cancel the Indian passport of Brahamdagh Khan Bugti, a Baluchi rebel leader who is in hiding after the 2006 killing of his grandfather, Nawab Akbar Khan Bugti, in southwestern Pakistan.
"I think the interaction that one had with the [foreign] minister was very encouraging," Qureshi said. "His response was, 'India is not interested in the destabilization of Pakistan, and that includes Baluchistan.'"
Krishna instead demanded that Islamabad go after the planners of the 2008 Mumbai attacks, in which 10 gunmen killed 166 people. He urged Pakistan to act on new leads provided by David Coleman Headley, a U.S. citizen of Pakistani origin who is now in FBI custody.
Krishna categorically denied Indian support for Baluchi rebels. "We have been waiting in India for some evidence to be provided by Pakistan of India's involvement in Baluchistan," he said.
Influencing Events In Afghanistan
India and Pakistan are not the only countries in the region experiencing difficulties in relations stemming from Baluchistan.
When 27 people were killed on July 15 in two blasts near a Shi'ite mosque in Zahedan, the capital of the southeastern Iranian province of Sistan-Baluchistan, Tehran turned a suspicious eye toward Pakistan. Tehran believes the group that claimed responsibility for the attacks -- the extremist Sunni group Jundallah (God's Soldiers), which champions the cause of Iran's 1.5 million Baluchi minority -- operates out of the Pakistani part of Baluchistan. Iranian leaders have criticized Islamabad for not going after Jundallah in the past.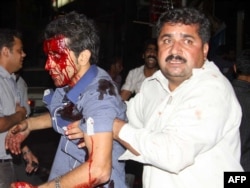 A victim is led away from the deadly attacks at the Jameh mosque in Zahedan.
Jundallah, in a statement posted on its website, claimed the attack was in revenge for the hanging of its leader, Abdolmalek Rigi, who was arrested by Tehran on a flight to Kyrgyzstan in February.
Discussing the situation in Pakistan's southwestern Baluchistan Province, Pakistani author Ahmed Rashid says that as a nationalist insurgency has simmered there over the last six years, the region has gained the potential to influence events in Afghanistan.
"It has a very long border with Afghanistan. It is, of course, part of Pakistan, but it is contested by Baluch dissidents who are very close to the secular government in Kabul who receive support perhaps also from the Indians and the Iranians," Rashid says. "But Pakistan itself is wanting to use Baluchistan as a launching pad for the Afghan Taliban. And it's there that the Afghan Taliban are based."

Hasten The Nationalist Struggle
Baluchistan, Pakistan's largest but least-populated province, has been reeling from protests since the assassination of senior nationalist leader Habib Jalib Baloch on July 14. Thousands of civilians, soldiers, and rebels have died in the ongoing Baluchi nationalist insurrection against Islamabad, which they see as exploiting their hydrocarbon and mineral resources while keeping them impoverished. This is the fifth rebellion by armed Baluchi dissidents in Pakistan's 63-year history. Earlier insurgencies in 1948, 1958, 1962, and 1973-77 were all suppressed militarily.
Rashid says recent events in Baluchistan, such as the killings of Baluchi nationalist leaders and the large-scale arrests of nationalist cadres, will hasten the nationalist struggle. He says the nationalists will step up their war against Pakistan with the help of neighboring states.
Islamabad, Rashid suggests, will once again try to crush the Baluchi insurgency by force because the region is an important sanctuary for Taliban militants, which it supports as a hedge against Indian influence in Afghanistan.
"Baluchistan is going to become a very contested area just as much as Afghanistan is going to become a contested area as we enter into this whole idea of American withdrawal [from Afghanistan starting] next year," Rashid says.
Targets For Insurgents
Instability in Baluchistan has stalled economic cooperation.
A Pakistani policeman tries to remove burning tires during a protest by Baluchistan National Party (BNP) activists against the killing of Habib Jalib Baloch.
After 10 years of negotiations, Tehran and Islamabad signed a $7 billion gas-pipeline project last month that will provide gas to energy-starved Pakistan for 25 years beginning in 2015. Another pipeline project -- the Turkmenistan-Afghanistan-Pakistan-India route -- even has support from the Asian Development Bank. But both might become targets for Baluchi insurgents, who have long targeted domestic gas pipelines.
Islamabad looks askance at a New Delhi-financed road network which links Afghanistan to the southeastern Iranian port of Chabahar. Tehran hopes the free-trade zone will attract business from across Central Asia. China has bankrolled a rival port in Gawadar along Pakistan's southwestern Arabian Sea shores. Islamabad and Beijing want to turn it into a major industrial and transport hub with links to Central Asia and western China.
The nearly million-square-kilometer Baluchi territories spark intense competition among states who see the region as prized real estate in the heart of Asia.
"Baluch lands span Central Asia and South Asia," says veteran journalist Siddiq Baloch, who is based in Quetta, the capital of Pakistan's Baluchistan Province. "Thus, its presence in these regions makes it important for regional states, and whoever controls it also dominates these regions."
But the more than 8 million predominantly pastoral Baluchis are an impoverished lot. They face state discrimination in Iran and Pakistan and wait for a day when their lives will be more important to regional states than the mineral resources and trade routes in their lands.

RFE/RL's Radio Mashaal correspondent Abdul Hai Kakar contributed to this report