Rebiya Kadeer, the U.S.-based head of the World Uyghur Congress, is a controversial figure in her native land.
Kadeer was once held up by Chinese authorities as a model for the promotion of interethnic harmony. A woman, a Muslim, and an ethnic Uyghur, she is a member of a nation that has for centuries inhabited the area now called the Xinjiang Uyghur Autonomous Region, part of western China.
The mother of 11 started a Laundromat in 1976, gradually expanded the business into a department store, then to a huge trade center, and by the mid-1990s was one of the five richest people in China.
Kadeer was an active philanthropist, helping other Uyghur women start businesses and championing the cause of equality for Uyghurs and other minorities in China.
Her criticism of Beijing's handling of riots in the western Xinjiang city of Yining (also called Kuldja) in 1997 sparked her downfall. She lost her place in the National People's Congress and the Political Consultative Conference and was forbidden to travel abroad.
In 1999, she attempted to send newspaper articles to her husband, who was living in exile in the United States and promoting Uyghur rights. In August that year, Kadeer was detained as she prepared to meet a U.S. Congressional delegation looking into the situation in Xinjiang.
She was convicted of divulging state secrets and endangering state security in 2000, and jailed until her early release on medical grounds in March 2005.
Kadeer was elected president of the Uyghur American Association in May 2006 and president of the World Uyghur Congress (WUC) in November of that year. Shortly afterward two of her sons in China were jailed and a Chinese court imposed a large fine on a third son for tax evasion.
When rioting erupted between ethnic Uyghurs and Han Chinese in July this year the Chinese government said Kadeer and the WUC instigated the unrest.
RFE/RL Kyrgyz Service director Tyntchtykbek Tchoroev and Tatar-Bashkir Service correspondent Metin Karismaz spoke with Kadeer while she was in Prague for an international conference on "Peace, Democracy, and Human Rights in Asia" recently.
Asked about Chinese authorities' attempts to brand Uyghur nationalists as terrorists, Kadeer said:
"In a period after the 'world terrorism' term was introduced [in the West after September 11, 2001), the word 'terrorist' has been given to us as a negative label by the Chinese government. The government used this opportunity to label us as terrorists because we are Muslims and [because] we are a Turkic nation. They are saying that the Eastern Turkestan organization [Eastern Turkestan Liberation Front] is planning to carry out terrorist activities. They use the word as a tool to repress us [all Uyghurs].
"Regarding the Eastern Turkestan terrorist organization, now even the Western world is studying whether it exists or not. Is there such a terrorist organization or not? America and the rest of the world are checking the information on that."
Rebiya Kadeer spoke to RFE/RL in Prague
Dressed in traditional Uyghur clothing and with her hair in braids, the energetic and animated 62-year-old grandmother did not look the part of a "terrorist." Speaking in a medieval cathedral in Prague (the venue for the conference), Kadeer said her goals and those of the WUC remain the same as they have been for years.
"The World Uyghur Congress is struggling for the freedom of Uyghurs, for freedom, democracy, and human rights of all the Turkic nations in East Turkestan [the historical name of the Xinjiang Uyghur Autonomous Region]. This organization is not terrorist. We are totally against any terrorist activities in the world. We are against any kind of violence."
Chinese authorities have labeled the Eastern Turkestan Liberation Front, which is not affiliated with the WUC, as a terrorist organization and made connections between that group and well-known terrorist organizations such as Al-Qaeda. Beijing has hinted that the WUC might be connected to Al-Qaeda also.
Kadeer dismissed such accusations:
"How could we have such a ties [with Al-Qaeda and other terrorist organizations]? You see we live in America, and America helps us financially and supports us, and we are sitting here today attending a [respected] international forum. If we had ties with [terrorists], then they would not invite us to this kind of forum."
Chinese authorities have blamed Uyghurs for the string of "syringe attacks" that have taken place in Xinjiang since July. Chinese medical officials said this week that none of the victims they treated were infected with any diseases or injected with poisons.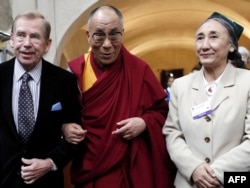 Kadeer (right) with former President Vaclav Havel (left) and the Dalai Lama in Prague
Kadeer said the WUC has never promoted such a response to Chinese crackdowns on the Uyghur community in Xinjiang, and that the figures for such attacks are in any event inflated due to opportunists.
"As far as I have heard, in the event of a needle case, a victim would get 200,000 yuan ($30,000) from the Chinese government. That is why there were some cases when some Chinese pretended to be victims of such an attack. Now, even the Chinese government is itself checking into such claims. But we don't have any relation to such attacks."
Not 'Uyghuristan'
Kadeer insisted she only wishes that the traditional lands of Turkic peoples in inner Asia be governed by Turkic peoples again.
"This land belongs to all the Turkic nations living there. There was West Turkestan and East Turkestan. There had been a [united] Turkestan in the past. East Turkestan is the common land for all of us who are living there.
"We don't say that it belongs only to Uyghurs. That is why we are using the term East Turkestan, otherwise we would say only Uyghuristan. We live together with our [historic] relatives. That is why we are for [the people of] East Turkestan to [be able to] live together with our relatives."
Kadeer said she understands why governments in neighboring Central Asian states were reluctant to give public support to Uyghurs in China and in some cases have handed over fugitive Uyghurs to the Chinese authorities.
"I did not think that it was a right decision. However, I don't blame them because they were led by politics. They did it due to politics. But their people don't do such thing toward us. Their people, our brothers, don't do it.
"Today's world is where we live now. Kyrgyzstan, Kazakhstan, Uzbekistan, and Tatarstan is tomorrow's day. If today China is oppressing us, maybe [the same] will come to them tomorrow. Our brothers have to understand this [danger]."
But Kadeer said Uyghurs, and other Turkic peoples in Xinjiang, have the support of the people in the region once called Western Turkestan.
"The whole Turkic-speaking world rallied to support us. The Tatar brothers held a demonstration in Crimea. Our brothers in Kazakhstan and Kyrgyzstan held demonstrations or silent pickets supporting us.
"That is why I feel that I am not alone. We have brothers supporting us. That is why I believe that the Uyghur Turks will not disappear [as a nation from the historic stage]."