Makset Kosbergenov, an Uzbek biologist and environmental ranger, spent the last four months not on patrol in the great outdoors but in detention, where he was awaiting trial on bribery charges.
The chief inspector for the Amu Darya River basin, Kosbergenov -- known in the region as a principled protector of wildlife -- was arrested on December 11, 2008, after being accused of receiving bribes in the form of cash and fish worth $1,400.
Kosbergenov was released this week after being ordered to pay a heavy fine on a lesser charge.
He is a good man. We can say that he is a hero of Uzbekistan.
He had faced up to 15 years in prison if found guilty of accepting the bribes, allegedly offered via a subordinate who, in turn, reportedly received them from a businessman.
The independent website ferghana.ru reported that the Supreme Court of the western Karakalpakstan Autonomous Republic ruled on April 20 that there was not enough evidence to convict Kosbergenov for bribery. However, the court ordered him to pay a penalty of $12,000 for "abuse of authority."
Kosbergenov, who was released from jail after the verdict, maintains his innocence on all counts and is planning to appeal the sentence.
'He Is A Hero'
His many supporters claim that Kosbergenov's case was flawed, and that he is the victim of a criminal group seeking revenge for his crackdown on poachers.
Valentin Bochin, a prominent Karakalpak journalist and public figure, is one of them.
"He is a good man," Bochin tells RFE/RL's Uzbek Service. "We can say that he is a hero of Uzbekistan. Once he [seized] 50 illegal weapons from a big group of poachers."
In November 2008, just prior to his arrest, Kosbergenov initiated an antipoaching operation on Sudochie Lake in the Amu Daria delta.
Bochin says about 20 poachers were detained during the operation, carried out with the backing of the National Security Service. Four inspectors of Karakalpakstan's State Committee for Environmental Protection were convicted and a local public prosecutor was fired as a result of that operation, according to Bochin.
The success of the operation was reported by local and national television channels, making Kosbergenov's arrest just a month later a curious turn of events.

Threatened Species
Kosbergenov's prosecution prompted strong reaction from environmentalists outside Uzbekistan. His arrest led nearly 70 ecologists from the former Soviet Union to send an open letter to Uzbek President Islam Karimov, asking him to protect Kosbergenov.
Olga Pereladova, who heads the Central Asia program in Moscow for the WWF (World Wide Fund For Nature), welcomed Kosbergenov's release, says she supports him in his effort to clear his name. She says Kosbergenov has for nearly 30 years contributed to the protection of many threatened species.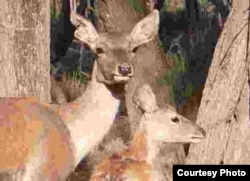 Bukhara deer
"He is contributing to the protection of riparian forests between strict nature reserves. The flagship species there is the Bukhara deer," Pereladova says. "Then [he] contributes to the protection of saiga [antelopes] in semideserts and deserts around the Aral Sea. And then he contributes to the conservation of rare species of fishes in Amu Daria and surrounding lakes."
Uzbekistan and other Central Asian republics face numerous environmental hazards, including the desiccation of the Aral Sea, the destruction of forests for agricultural land, logging for fuel, and poaching.
Decline In Funds
Meanwhile, economic hardship has led to a sharp decline in funding for conservation efforts and the implementation of environmental regulations.
Pereladova says the Uzbek government is conscious of the country's environmental problems and is taking action. In one example, the State Forestry Committee is planting huge tracts of forest in areas where the Aral Sea once stood in an effort to combat desertification.
But she says nothing could be done without dedicated activists and professionals like Kosbergenov.
"He's not alone and thanks to that we are achieving good results in the areas where we work," she says. "The conditions are not very easy because they practically [have] never received technical support from the [regional] governments for, maybe, 15 years already. So they have to repair their vehicles [themselves], to [get] some equipment from somewhere.
"Funding is important but we can do nothing with money if there are no dedicated people. We can do something very important when we have minimum of money but when we have people who are devoted to nature."
RFE/RL's Uzbek Service contributed to this report