Nigora and three of her friends -- all women from Uzbekistan in their 20s -- have been hiding in the Osh basement of a Kyrgyz friend for days as ethnic violence raged around them in southern Kyrgyzstan.
After a sleepless night of explosions outside and a morning punctuated by the clatter of automatic gunfire, they told RFE/RL's Uzbek Service that they are still too frightened to go outside -- even for food.
The women, who asked that their real names not be published, fled their homes in Uzbekistan last year amid a heightened crackdown there against devout Muslims. Now they want to go back to Uzbekistan.
Nigora said that neither the embassy of Uzbekistan nor the United Nations is able to help them. She said UN workers have offered to inform Kyrgyz soldiers about their location. But the women have declined that offer.
Nigora told RFE/RL that they are most afraid of the Kyrgyz soldiers with whom they have spoken by telephone. She said that those soldiers had insisted that safe passage would only come at a high price.
"To take us out of here and safely to the border, they have asked for $2,000 each," Nigora said, adding that she has friends from Tajikistan who've paid $500 each for such unofficial escorts. "They explained the high price by the fact that we are all women and [our friends] were men. Because all Uzbek girls are being raped at the moment, they explained that for this price they will guarantee that not only we will not be killed, but we will be taken to the border safely."
Dozens of ethnic Uzbeks related similar stories to RFE/RL about trying to reach the relative safety of the border area -- including a group that had asked local authorities to organize safe passage for them on June 15.
Two buses eventually arrived with men in Kyrgyz military uniforms pledging to take women, children, and the injured to the Dostlik border crossing.
But instead of taking those people to the border, the bus drove them to Kurmanjan Dodhoh, a village near Osh, where they were locked up in a building "as hostages," according to relatives. Ethnic Uzbek men who sent their wives and children on those buses are now being told that they must pay thousands of dollars for their release.
RFE/RL could not confirm whether the alleged hostage takers were Kyrgyz army troops. But in one case, an ethnic Uzbek girl was freed after her family paid $500 to the same uniformed men who had promised to take her safely to the border.
'Piles Of Corpses'
Thousands of ethnic Uzbek families in southern Kyrgyzstan have fled into neighboring Uzbekistan since clashes erupted there last week. Kyrgyzstan's south straddles the densely populated Ferghana Valley, which includes large numbers of ethnic Kyrgyz, Uzbeks, and Tajiks.
The area has been unstable since a violent revolt toppled Kyrgyzstan's president, whose support base was in the south, in April. Ethnic tensions, which date back centuries, have flared on several occasions since 1990, when hundreds were killed in clashes between the ethnic Uzbek and Kyrgyz communities over land-ownership disputes.
UN workers and authorities in Uzbekistan say that more than 100,000 refugees -- mostly women and children -- crossed into Uzbekistan this month before Uzbek authorities closed the border late on June 14 to all except those with fresh injuries.
Three border checkpoints were reopened late on June 13 to let more than 60 wounded people cross. But thousands are still stranded on the Kyrgyz side.
They include Gulchekhra Emirova -- an ethnic Uzbek woman who described the situation to a Reuters camera crew by talking through the barbed-wire border fence.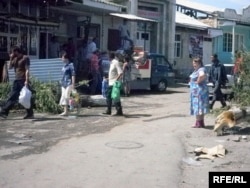 Humanitarian aid is distributed in the Osh region on June 14.
"People are suffering from dysentery. People have fever. Everybody is sick," Emirova told the agency. "Some old people had veins bursting or suffered a heart attack. There is not enough medicine."
Pasim, an ethnic Uzbek man from southern Kyrgyzstan, says the humanitarian disaster now being faced in the makeshift camps along both sides of the border is far better than the situation he left behind in Osh, where the homes and businesses of ethnic Uzbeks were being set alight by marauding gangs of gunmen.
"People are either lying dead on the street or they are locked up in their houses and basements," Pasim said. "There are piles of corpses. Who will help us? Everyone is watching, please forgive me."
Relief Efforts

On Uzbekistan's side of the border fence, women refugees hold up photographs of children they say they had to leave behind in Kyrgyzstan. One ethnic Uzbek woman, too frightened to give her name, said gunmen were shooting at anybody who ventured outside.
"They told us this is Kyrgyzstan and only Kyrgyz will live here," she said. "This is what they told me. They prepared for this in advance."
According to the latest official casualty toll, at least 179 people have been killed and some 2,000 injured in interethnic violence across southern Kyrgyzstan this month. The country's Health Ministry says the death toll could be higher, as many families were bypassing official morgues to bury their dead.
Reports say there are signs of some relief for refugees who have managed to cross into Kyrgyzstan. Uzbek authorities have been delivering aid from trucks and some rudimentary refugee facilities have been set up.
A plane carrying the first foreign aid for refugees arrived in the eastern Uzbek city of Andijon today. Those UNHCR supplies include 800 tents. Two more flights from the Office of the UN High Commissioner for Refugees were expected to arrive in Andijon later in the day with more supplies.
written by Ron Synovitz in Prague based on reporting by RFE/RL Uzbek Service correspondent Hakimjan Husanov. With additional contributions by Uzbek Service correspondents Farruh Yusupov and Zamiri Eshanova in Prague