TASHKENT -- Uzbek state television has broadcast a documentary denouncing imprisoned human rights activists as it increases pressure on activists in the run-up to parliamentary elections on December 27, RFE/RL's Uzbek Service reports.
The documentary, "Violence Behind The Mask," was shown on the Uzbekistan state channel on December 21. It portrayed four jailed activists as dangerous recidivist criminals. International human rights organizations say the four were convicted of trumped-up or politically motivated charges and are political prisoners.
The program claimed that Isak Abdullaev, an author of several critical articles about Uzbek President Islam Karimov who is in prison after being convicted of financial crimes, is a polygamist who kept illegal weapons.
Independent journalist Salijon Aburahmonov, who is serving a 10-year prison term, is shown in the film as a drug dealer.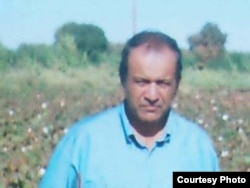 Dissident Uzbek poet Yusuf Juma in 2005
Poet Yusuf Juma, sentenced to five years in jail, was portrayed as a habitual criminal.
Farmer Oyazimkhon Khidirova, sentenced for fraud, is shown in the courtroom repenting and admitting her guilt.
Some rights activists say they believe the film was produced based on an order from the Uzbek government.
Abdurakhmon Tashanov, the chairman of the Tashkent-based rights organization Ezgulik (Benevolence), told RFE/RL he thinks the documentary was made to mislead some visiting international rights activists about conditions inside the country. He added that it is also intended to intimidate and pressure younger rights activists.
Nodir Akhatov, an activist from Uzbekistan's southern Kashkadaryo region, told RFE/RL that the documentary presents a biased, completely one-sided view of the four prisoners. He said in the case of Juma's trial, the film shows only prosecutors accusing him and does not show comments from Juma, his lawyers, or activists who spoke in his favor.
Akhatov added that the film does not even say what crimes Juma was convicted of.
Meanwhile, both
Freedom House
and Human Rights Watch (HRW) said earlier this week that the Uzbek government has intensified pressure on opposition and rights activists ahead of the December 27 parliamentary elections.
In a statement, the New York-based HRW described recent attempts by Uzbek authorities to crack down on political and civic activism in the country, including the detention and house arrest of activists in recent weeks.
The release said at least six rights activists have had their passports temporarily confiscated, one was severely beaten and ill-treated while in
detention, and another opposition leader was expelled from the country.
Candidates from only four pro-government political parties that are already represented in parliament -- the People's Democratic Party, the Adolat (Justice) Social Democratic Party, the Liberal Democratic Party, and the National Revival Party -- as well as the Ecological Movement of Uzbekistan, were officially registered to run candidates for the 150 parliamentary seats.
Not a single opposition party was registered for the elections.
In March 2006, businessman Sanjar Umarov and Nodira Hidoyatova, leaders of the opposition Sunshine Uzbekistan Coalition, were sentenced to 14 and 10 years in jail, respectively, on charges of committing financial crimes. Both denied any wrongdoing.
Umarov was released under amnesty on November 7 due to ill health. Hidoyatova was released a few months after being sentenced in 2006.
Bahodir Choriev, the leader of the opposition Birdamlik (Solidarity) party, who returned to Uzbekistan from exile in October, was reportedly expelled from the country on December 11.
Human Rights Watch reported that Birdamlik activists were also prevented from attending their constituent assemblies in November.
Uzbekistan has been ruled by Karimov since 1989. None of the country's parliamentary or presidential elections has been deemed free and fair by Western-based international monitoring organizations since Uzbekistan gained independence in 1991.