Narrow medieval streets leading to blue-tiled palaces and mosques.
Crowded oriental bazaars filled with merchants hawking their wares.
Teahouses featuring carved wooden pillars and doors.
Such ambiance from a bygone era is evident throughout Uzbekistan, whether in the ancient cities of Bukhara, Samarkand, or Khiva, or more remote locations along the Silk Road.
Looking to take advantage of its unique heritage and attributes, Uzbekistan is promoting itself as an exotic tourist destination for those looking to experience Central Asian history, culture, and cuisine.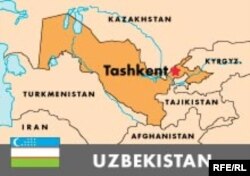 But even as Uzbekistan attempts to develop its tourism industry, its authoritarian regime -- criticized internationally for egregious human-rights abuses -- maintains one of the most stringent visa regimes in Central Asia. It's a bureaucratic rite of passage that often turns away the very type of traveler the country is looking to attract.
The contradictory approach was exemplified by events that took place earlier this week.
As Uzbektourism, the state-run body that oversees Uzbekistan's tourism industry, hosted dozens of foreign representatives during its annual "Tourism Along the Silk Road" fair, the World Tourism Organization was calling on Tashkent to ease its visa restrictions for tourists.
Uzbekistan has heavily invested in its tourism industry in past years, building high-standard hotels with improved services both in the capital Tashkent and in the historic cities that serve as the main tourist attractions in the country.
The country has also modernized its airports and air-transport infrastructure, purchasing new Boeing and Airbus airliners to shuttle passengers on international flights.
According to Uzbek media, the historic city of Khiva alone has been visited by over 27,000 foreign tourists this year, including travelers from France, Germany, and Spain.
Tanya Evans, director of a London-based tourist agency The Silk Road And Beyond, says the agency has in recent years organized trips to Uzbekistan for hundreds of British tourists interested in touring sites of historical and architectural significance.
But Evans laments that, unlike many other popular tourist destinations, traveling to Uzbekistan involves a complex and time-consuming visa procedure.
"Usually for British people and other EU citizens, you need to get an authorization from the Ministry of Foreign Affairs in Tashkent," Evans says. "Once they authorize your visa, then you can go to a nearest consulate and get it stamped in your passport. You can't just go to the embassy and get the visa."
Pavel Pozniak, a manager of the Prague-based Adventur travel agency, tells RFE/RL's Uzbek Service that the Czech agency hopes to one day promote travel packages to all five Central Asian countries that lie along the ancient Silk Route.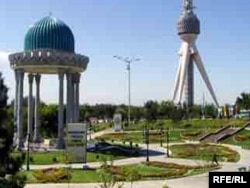 A memorial commemorating victims of Stalin's repression in Tashkent
But Pozniak says that the visa issue, combined with the high price of air tickets to Uzbekistan and other Central Asian countries, discourages many Czech tourists.
"Besides, we don't get enough information about Central Asian countries' tourist infrastructure," says Pozniak. "And we are not sure if we can find reliable tourist agencies there to work together as partners."
Zarif, an owner of a tourist agency in Tashkent who declined to provide his last name, says his private agency, along with its partner company in the United States, organizes sightseeing trips to Uzbekistan for American tourists.
Zarif says Uzbekistan's visa regime stands as the main frustration experienced by his customers. A single tourist visa to Uzbekistan for U.S. citizens costs $131, and applicants have to wait at least 10 working days until the visa can be issued.
Those who want to speed up the process by five days are required to pay $197. The visa cost is nonrefundable and there is no guarantee that applicants will get visas.
"Visas are a big problem, and for some certain countries it becomes especially difficult to obtain an Uzbek visa," Zarif says. "They have to wait a long time. For instance, our customers from the U.S. have a very hard time getting Uzbek visas."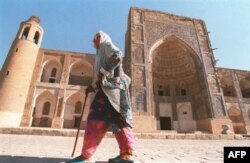 A street scene in the Uzbek town of Bukhara on the old Silk Road trade route
Uzbekistan's strict visa regime and customs and border control are a source of concern for many travelers from Uzbekistan's neighboring countries, too.
Jahongir Sabohi, a Dushanbe-based businessman, says that every year he takes his wife and children to spend their summer holidays in Samarkand, his parents' birthplace.
"Every single year, lawlessness in border posts and customs officials' rude manners turn our trips into a nightmare," he says. "Even if you have already got Uzbek visa, it doesn't mean that you will be able to enter Uzbekistan. Uzbek border guards simply close the border post -- if they feel like it -- without any notice, without any explanation. And the Uzbek Embassy doesn't inform you about it. There is no coordination between them.
"There are no flights between Dushanbe and Samarkand and we travel by car, and sometimes we spend several days in the car waiting for the border to be reopened," Sabohi adds.
Zarif, the Uzbek tour operator, believes his country has imposed far too many bureaucratic hurdles and that the tourist industry suffers.
"What can we do?" Zarif says. "This is a rule here, and there is no way around it."
RFE/RL Uzbek Service correspondent Farruh Yusupov contributed to this report.