Northern Iraq's powerful ruling Kurdish parties appear to have fended off a strong opposition challenge during last weekend's regional elections.
Preliminary results from the July 25 vote show the incumbent President Masud Barzani won a landslide victory in the region's first direct presidential election.
Meanwhile, the preliminary results show Barzani's Kurdistan Democratic Party (KDP) and his allies in the Patriotic Union of Kurdistan (PUK) are set to win about 55 percent of the seats in the new parliament.
But opposition parties also have fared well, apparently securing enough seats to influence the debate -- and to have their views taken into consideration -- on key issues like corruption and government transparency.

'Viable Opposition'
The preliminary results show the "Goran" (Change) list winning about 26 of the regional parliament's 100 elected seats. The opposition movement is led by Nawshirwan Mustafa, a former PUK member who broke away from that party and has been running on an anticorruption platform.
It remains unclear how many seats have been secured by Islamists in the opposition Kurdistan Islamic Alliance. But some political observers say the Islamists may be surprised by a weaker-than-expected showing.
Still, the Islamists and the Change movement together are expected to control at least one-third of the 100 elected seats. An additional 11 parliamentary seats are reserved for ethnic and religious minorities.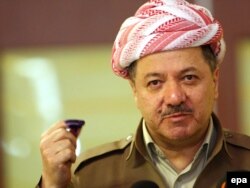 Kurdistan President Masud Barzani faces a challenge.
Joost Hiltermann, the deputy director of the International Crisis Group's Middle East and North Africa program, says that control of one-third of the regional parliament by opposition parties would be enough to pressure the ruling coalition and push the opposition's anticorruption agenda.
"I don't think we are at a stage yet where the opposition could take over power from the ruling parties," Hiltermann says.
"But I think we will see the Goran list, as well as the Islamists, emerging as a viable opposition in the Kurdish parliament. And that is a very significant change because both lists are running on a platform of fighting corruption -- which is widespread in the Kurdistan region as it is in the rest of Iraq -- and are calling for greater transparency and accountability."
Federal Tensions
The ballot comes amid a bitter feud between the Kurdish regional government and Iraq's central government in Baghdad over control of disputed land and oil revenues.
More specifically, the feud revolves around disputed territory in four northern provinces that have ethnically and religiously mixed populations -- including the oil-rich province of Kirkuk.
Most Kurds disagree with Baghdad over how Iraq's oil resources should be developed and how the revenues should be spent. And the opposition shares similar views with the KDP and PUK on land and oil rights.
The speaker of Iraq's parliament, Ayad al-Samarai, has told RFE/RL that it will be difficult to bring an end to rivalries and divisions that have blocked vital energy legislation for years and that could even delay national elections in Iraq that are scheduled for January.
But the Kurdish region's prime minister, Nechirvan Barzani, has said the Kurds are prepared to be flexible so that the remaining disputes with Baghdad can be resolved.
"After this election, we will be able to work on solving the pending issues between Baghdad and Irbil," Barzani said.

'Honest Broker'
U.S. President Barack Obama's administration has been eager to promote political reconciliation between Baghdad and the Kurdish autonomous region's government.
Earlier this month, U.S. Vice President Joe Biden spoke by telephone with Kurdish leaders about the need to resolve the disputes. Iraqi Prime Minister Nuri al-Maliki also discussed the situation with Obama last week during his visit to Washington.
U.S. Defense Secretary Robert Gates, on a surprise visit to Iraq on July 28, has been urging the country's Shi'ite, Sunni, and Kurdish communities to settle their political differences before the scheduled withdrawal of U.S. troops by the end of 2011.
Gates said Obama's administration believes that "all sides have to take an approach in both words and actions that commits them to a peaceful political process." He said the Kurds, in particular, have an interest in forging reconciliation promptly, while U.S. forces remain on the ground.
Washington has long-standing ties to the Kurds' former rebel factions. Gates said the United States could act as an "honest broker" between the Kurds and the Shi'ite-led central government.

RFE/RL's Radio Free Iraq contributed to this report