Former Russian Prime Minister Viktor Chernomyrdin has died after battling a long illness. He was 72.
Chernomyrdin will be remembered as the longest-serving prime minister in post-Soviet Russia, a seasoned politician who helped steer his country though some of its most troubled times following the collapse of the Soviet Union.
The former mechanic will also go down in history for founding Russian energy giant Gazprom, now the world's largest gas company.
President Dmitry Medvedev and Prime Minister Vladimir Putin expressed their condolences to his family and friends. The Kremlin gave no cause of death.
"Viktor Stepanovich was undoubtedly a very significant political figure and a true Russian patriot," Putin said in televised comments. "He did a lot for Russia's statehood, its economic and social development, and for strengthening its positions in the world."
Other politicians -- both friends and foes -- joined the Kremlin in paying tribute to a man who left a strong mark on his country, helping Russia shake off its communist legacy and develop as a market economy.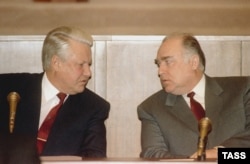 Russian President Boris Yeltsin (left) and Chernomyrdin in Moscow in 1993
A Quotable Politician
"He was a people's politician," said former Deputy Prime Minister Anatoly Chubais, who worked in Chernomyrdin's government and oversaw Russia's controversial privatization program. "If it wasn't for him, our nation would simply have another life today."
Sergei Mironov, the speaker of the Federation Council, the upper house of parliament, said Russia had lost a "wise politician" always ready to engage in "constructive political dialogue."
Politician Vladimir Ryzhkov remembers his years working alongside Chernomyrdin in the mid-1990s within the Our Home Is Russia party as "a wonderful time,"
"He was an exceptionally decent person, exceptionally responsible, extremely kind," Ryzhkov told RFE/RL's Russian Service. "He never raised his voice."
While often seen as a dull, Soviet-style official, Chernomyrdin regularly aroused nationwide amusement with his blunt and grammatically muddled aphorisms.
His most famous, made about the financial reforms in the 1990s, was: "We wanted it to be better, but it turned out as usual" -- a phrase that has become part of Russian culture.

Instrumental Moments
During his tenure as head of the government, from December 1992 to March 1998, Chernomyrdin was a loyal adviser to former President Boris Yeltsin.
He was even made acting president for 23 hours while Yeltsin underwent heart surgery in November 1996.
When Chechen insurgents took hostages in the southern Russian city of Budyonnovsk in 1995 while Yeltsin was away in the United States, Chernomyrdin took matters into his own hands. He negotiated the release of more than 1,000 hostages after a five-day siege by promising a cease-fire in Chechnya and giving the attackers safe passage back to the volatile republic -- a move that earned him respect among ordinary Russians but angered Kremlin hard-liners.
Chernomyrdin was also instrumental in pushing forward peace negotiations during Tajikistan's civil war of the 1990s and in securing Moscow's financial support for the Tajik government.
Perhaps Chernomyrdin's biggest achievement, and one of his earliest, was the creation of Gazprom. As head of the Soviet Gas Ministry during the disintegration of the Soviet Union, Chernomyrdin crafted Gazprom out of the Soviet Union's most lucrative gas assets.
Months after being appointed prime minister by Yeltsin in 1992, he signed a decree turning Gazprom into a joint stock company.
He was sacked as prime minister in March 1998.
After a stint as lawmaker in the State Duma, Chernomyrdin served as ambassador to Ukraine from 2001 to 2009, representing Russia's interests during its bitter disputes with Ukraine over gas prices.
Lately, he had advised the president on economic cooperation with Commonwealth of Independent States countries.
Chernomyrdin will be buried on November 5 at Moscow's Novodevichy Cemetery in a state funeral shown live on national television. He will be laid to rest beside his wife, Valentina, who died earlier this year.
He is survived by two sons and four grandchildren.
written by Claire Bigg, with contributions from RFE/RL's Russian Service