You could track consumer sentiment indexes, scour the latest numbers for U.S. home sales, or pore over the fine print of China's GDP data.
Or you could look at the price of copper.
Traditionally copper has been a kind of economic barometer, a gauge of how healthy the global economy is. That's because it's used so widely in pretty much everything -- cell phones, buses, electric-light switches.
And the price now has just hit a nine-month high.
Copper is durable, and is a good conductor of heat and electricity -- properties that have made it essential to the modern way of life.
"A typical automobile might have 20 kilograms of copper, the new hybrid vehicles might have twice that amount," says Hal Stillman, the director of technology at the International Copper Association.
"Every electrical motor has lots of copper in it. Data communications, all kinds of electronic devices, the wiring, the electrical connectors -- all of these depend on copper."
When economic times are good, that typically increases demand for the red metal and keeps prices up. And in a downturn, copper demand tends to wilt.
That's what's given copper its reputation as a kind of economic barometer, a gauge of how healthy the global economy is.
Stephen Briggs, a metals analyst for RBS Global Banking & Markets in London, says "Some of the other metals are much more specific in their uses; for example lead -- 80 percent of lead is used in batteries, so it's [a] particular segment of the economy."
"Zinc -- 50 percent is used for galvanizing steel, so it's pretty specific to construction and automobiles. But copper through its electrical properties is used in all the sectors you could care to mention."
Ups And Downs
Last year, copper, like oil, had a rollercoaster ride.
It rose to an all-time high of nearly $9,000 a metric ton in July before collapsing amid the economic crisis to below $3,000.
But since then, it's had a remarkable rebound, rising more than 70 percent this year to hit above $5,400 this week.
Good news, surely, for the world's major copper producers like Chile, the United States, Russia, and Kazakhstan, or for aspiring producers like Afghanistan, where development work has just begun on a Chinese-operated mine.
The best, untapped copper deposits are harder to develop because they are in politically unstable parts of the world, like Congo
Yet this price surge has happened during the worst global slump in decades.
Analysts say the rising price partly reflects increasing optimism about the prospect of an economic recovery.
Global stocks are at their highest level in months, too, buoyed by decent earnings reports from some big companies and snippets of data that suggest the economic outlook is improving.
One of those came last week with a report that U.S. building permits had risen in June at their fastest pace in a year (8.7 percent).
Better Times Ahead?
It might not sound like much, but it's a tentative sign of better times ahead for the U.S. housing market.
And, Bloomberg noted, it helps explain why copper prices surged 9.6 percent last week.
Briggs says the main factor behind copper's rise this year has been big demand from one major consumer:
"Demand worldwide is still extremely weak, but what has been happening this year so far, particularly for copper, but also for other base metals, is that 'China Inc.,' as it were, has taken the opportunity of low prices to build up stocks of copper and other base metals in anticipation of better times ahead," Briggs says.
Many countries have been mining and stockpiling copper
And China's $585-billion stimulus package has helped boost demand for the metal.
Briggs adds a factor affecting supplies -- the best, untapped copper deposits are harder to develop because they are in politically unstable parts of the world, like Congo.
And some longer-term trends also helped boost prices this year, says Christopher Welch, an economist at Bloomsbury Metals who spoke recently to RFE/RL.
"Globalization is going to continue, generally the globe's per capita consumption of metals is going to go up with the urbanization of China, these sorts of long-term overriding trends are still intact," Welch says.
Those looking keenly for the end of recession can only hope the outlook really is as shiny as a new copper coin.
World Economic Crisis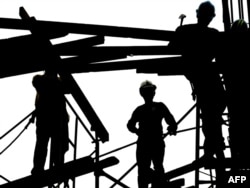 Multimedia coverage on the impact of the global financial crisis on markets and individuals across RFE/RL's broadcast region. More