Human rights organizations worldwide have no doubt that the abduction and killing of human rights activist Natalya Estemirova was the direct consequence of her systematic investigation of human rights violations by local and federal power agencies in Chechnya.
But as she herself acknowledged, she could have been targeted for those activities at any time. So why was she killed now?
Since joining the human rights organization Memorial in 2000, Estemirova worked tirelessly to document and investigate human rights abuses -- torture, abductions, and executions -- perpetrated by Russian military and security personnel and their local counterparts in both Chechnya and Ingushetia. She also advised the victims and their relatives on how to set about seeking justice.
Those activities inevitably brought her into conflict with the pro-Moscow Chechen leadership, in particular with Chechen Republic head Ramzan Kadyrov. Memorial's Moscow-based director Oleg Orlov recalled just hours after Estemirova's death that Kadyrov had threatened her personally two years ago after she criticized his edict that women in Chechnya should not appear in public with their heads uncovered.
Orlov said that Estemirova told him that Kadyrov said: "There's blood on my hands, it's true, and I'm not ashamed of it. I have killed and will continue to kill bad people."
Among the crimes that Estemirova chronicled over the past year were reprisals by Chechen law enforcement agencies against the families of young men who had joined the North Caucasus resistance. There have been dozens of reports of the homes of such families being torched.
The most recent such case Estemirova reported happened on July 4, when security forces set fire to the home of a family whose 20-year-old daughter had married a young fighter. The woman herself had been injured in a shoot-out on July 2 in which her husband was killed. She was hospitalized and appeared to be recovering. But on July 5, the girl's body was returned to her parents.
(Human Rights Watch this week issued a statement calling on Russian and Chechen officials to bring a stop to punitive attacks in Chechnya, following a
July 2 report
entitled "'What Your Children Do Will Touch Upon You': Punitive House-Burning in Chechnya," documenting a pattern of house burnings by security forces to punish families for the alleged involvement by their relatives in the insurgency.)
In recent weeks, Estemirova also focused on abductions of civilians who were subsequently killed and branded militants as evidence of the effectiveness of the joint operation launched by Kadyrov two months ago against resistance fighters in both Chechnya and Ingushetia. Kadyrov has repeatedly boasted that that operation has resulted in the death or capture of dozens of resistance fighters. Estemirova, however, challenged those assertions. The "dozens," she said, were in fact innocent civilians apprehended by police or security personnel, killed, and then branded as militants.
In an interview she gave to the website
kavkaz-uzel.ru
on July 14, the day before she was killed, Estemirova cited the case of a father and son abducted on July 7 in the village of Djugurty in the Kurchaloi district. The father was shot dead in cold blood; the son has vanished without a trace. Estemirova described them as "perfectly ordinary people" who had done nothing remotely reprehensible.
That same day, Estemirova went to the Chechen Interior Ministry and prosecutor's office to try to trace Makhsud Abdullayev, a young Chechen theology student who disappeared shortly after returning to Moscow from Egypt last month. Abdullayev's father Supyan is a veteran Chechen resistance fighter and one of the ideologues of resistance commander Doku Umarov's North Caucasus emirate.
Shortly after his abduction, Makhsud Abdullayev reappeared on June 30 on a talk show on Chechen television and called on resistance fighters to lay down their arms. One of Estemirova's Grozny colleagues told kavkaz-uzel.ru on July 1 that Memorial feared that Abdullayev, whose present whereabouts they had been unable to establish, had been abducted and coerced into making that statement.

Bringing Killers To Justice
The question arises: Did one of Estemirova's most recent statements or ongoing investigations trigger an alarm signal within the upper echelons of the Chechen leadership? Were they collectively the proverbial final straw that broke the camel's back?
Or did Kadyrov, some of whose recent diatribes have been even more irrational and implausible than usual, simply need a major scandal to deflect attention from Russian President Dmitry Medvedev's statement on July 14 that federal forces should be deployed to join the ongoing joint operation on the border between Chechnya and Ingushetia? Until now, that operation has involved only Chechen and Ingushetian police and Interior Ministry forces, and Medvedev's announcement was surely seen as a rebuke.
Predictably, Kadyrov was swift to distance himself from Estemirova's killing. He condemned the perpetrators of what he termed "this monstrous crime" as "posing an even greater threat to our society than the terrorists and Wahhabis who have shed the blood of thousands of innocent people." He said the killing was "carefully planned with the aim of trampling both the Chechen and Ingush people in the mud."
But for all Kadyrov's sanctimonious rhetoric, circumstantial evidence points to the involvement at some level of the Chechen security agencies. As the Russian daily "
Kommersant
" pointed out, Estemirova's body was found in Ingushetia, close to the main Grozny-Nazran highway.
Even before the imposition of tightened restrictions in light of the ongoing joint operation against resistance fighters, no vehicle could cross the administrative border between Chechnya and Ingushetia without being searched -- unless the occupants were security personnel (or had forged documentation identifying them as such).
It is entirely possible that Kadyrov, who has called for a Russian federal probe into Estemirova's killing to be accompanied by a "parallel" investigation "in line with Chechen tradition," will announce within weeks or even days that her murderers have been found and killed.
That the real killers will be brought to justice -- let alone that Medvedev will use the opportunity to replace Kadyrov in the same way that he fired Ingushetian President Murat Zyazikov two months after the murder of Ingushetian website owner Magomed Yevloyev -- is far less likely.
A String Of Silenced Voices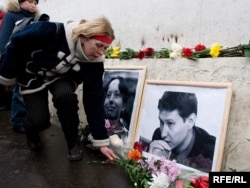 A String Of Silenced Voices
Rights activist Natalya Estemirova's death on June 15 was not an isolated act of violence. It was the latest in a series of assaults and murders of human rights campaigners and others who have denounced abuses in Chechnya and the surrounding republics.
More