Natalya Estemirova's killing is not an isolated act of violence -- it is the latest in a string of assaults and murders of human rights campaigners and others who have denounced abuses in Chechnya and the surrounding republics. Many say the trail of blood leads to Chechnya's leader, iron-fisted Ramzan Kadyrov.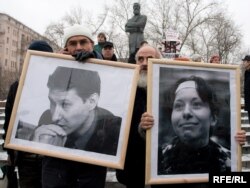 Mourners remember Stanislav Markelov and Anastasiya Baburova.
Assailants gunned down
Stanislav Markelov
, a prominent human rights lawyer, on January 19, 2009, on a street in central Moscow. Markelov had represented numerous victims of rights abuses in Chechnya including the Kungayev family, whose daughter Elza was raped and murdered by a Russian colonel.
Anastasiya Baburova
, an intern for the "Novaya Gazeta" newspaper -- where slain journalist Anna Politkovskaya worked until her death -- was with Markelov at the time of the shooting and was also killed.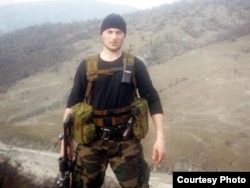 Umar Israilov
Umar Israilov
was shot dead in broad daylight on January 13, 2009, as he left a grocery shop in Vienna, where he lived in exile. A former bodyguard of Kadyrov, the 27-year-old claimed to have witnessed abductions and torture of detainees by Kadyrov and his subordinates. He also accused the Chechen leader of torturing him and had filed a complaint at the European Court of Human Rights. Israilov left behind his pregnant wife and three children.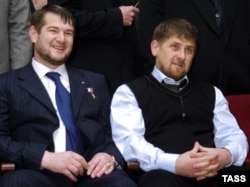 Sulim Yamadayev and Chechen leader Ramzan Kadyrov
Ruslan
and
Sulim Yamadayev
belonged to a powerful clan that rivaled Kadyrov. Ruslan Yamadayev died after being shot ten times in Moscow in September 2008. Sulim, who commanded an influential pro-Russian military force, was shot dead in Dubai in March 2009. Dubai police accused a cousin and close associate of Kadyrov of orchestrating the killing. The two brothers, who were both former separatist rebel commanders like Kadyrov, had publicly accused Kadyrov of rights abuses.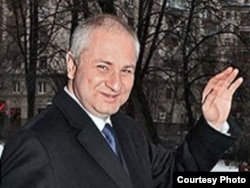 Magomed Yevloyev
Magomed Yevloyev
, an Ingush journalist and lawyer, was killed in a police car on August 31, 2008, after being detained for questioning. Yevloyev documented abductions, killings, and human rights abuses during counterterrorism operations in Ingushetia and Chechnya. Although the Organization for Security and Cooperation in Europe denounced his death as an "assassination," authorities classified his death as "murder through negligence."
A client of Markelov,
Mokhmadsalakh Masayev
, is missing and feared dead after being abducted in August 2008 in the Chechen capital, Grozny. His abduction came just weeks after Masayev told "Novaya Gazeta" that he had been held for months in a secret prison run by Kadyrov. Markelov had succeeded in getting the Chechen Prosecutor's Office to open a criminal case based on Masayev's allegations.
Anna Politkovskaya
Journalist
Anna Politkovskaya
was shot dead on October 7, 2006, in the elevator of her Moscow apartment building. Her investigative reporting exposed human rights abuses committed in Chechnya by Russian forces and forces loyal to Kadyrov, Chechnya's Kremlin-backed leader. While her killing sparked international outrage, then-Russian President Vladimir Putin dismissed her influence in Russia as "extremely insignificant."