Russian President Dmitry Medvedev has vowed to carry out a full investigation into the murder of Natalya Estemirova, the latest human rights activist to have been killed in Russia.
But Estemirova's colleagues say the murder was sanctioned by Ramzan Kadyrov, the powerful leader of Chechnya, and will likely go unpunished.
Estemirova worked for Memorial, a human rights organization whose dingy offices in central Grozny are the first stop for researchers and journalists traveling to Chechnya. The 50-year-old single mother, who lived with her 15-year-old daughter in a cramped Grozny apartment, documented disappearances, torture, and killings since Moscow launched its second war in Chechnya 10 years ago.
Chechen leader Ramzan Kadyrov
Memorial head Oleg Orlov told RFE/RL's Russian Service that Estemirova was killed to stop her from investigating a recent spate of kidnappings she believed were carried out by forces loyal to Chechen President Ramzan Kadyrov.
"Ramzan Kadyrov was personally unhappy about what Natalya Estemirova was doing. Ramzan Kadyrov personally threatened her, in a private conversation," Orlov said.
"She spoke later about what he said to her. He said, 'I have blood on my hands, it's true, and I'm not ashamed of it. I have killed and will continue to kill bad people.' And that statement was followed by insults and threats against [Estemirova]," he continued.
Estemirova's bullet-riddled body was found on July 15 in a stretch of woods in neighboring Ingushetia hours after she was snatched by kidnappers outside her home. Colleagues said witnesses heard her screaming that she was being kidnapped as she was bundled into a white Lada.
'She Spoke The Truth'
Russian President Dmitry Medvedev expressed outrage at the killing. Speaking in Munich on July 16, he said Estemirova's murder was a "very sad incident."
"Perhaps unlike other such incidents, which unfortunately happen in Russia, it is absolutely obvious to me that this killing was linked to her professional activities," Medvedev said. "Her professional activities are something that any normal country needs. She was doing a very useful job. She spoke the truth."
Estemirova's death was the latest in a
long series of killings of rivals and critics
of Kremlin-appointed Chechen President Ramzan Kadyrov. The list includes Estemirova's colleague, journalist Anna Politkovskaya, and a former Kadyrov bodyguard who was chased and gunned down on a street in Vienna.
Dmitry Muratov, editor of the crusading "Novaya gazeta" newspaper, said he last spoke to Estemirova after yet another Kadyrov critic, lawyer Stanislav Markelov, was shot dead on a Moscow street in January.
"I said, 'Natasha, you should get the hell out of there, immediately. No one is going to help you. They have no limits anymore. You should simply get out of there immediately.' She said she understood that," Muratov said.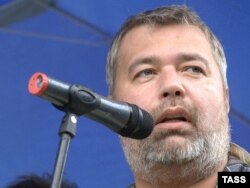 "Novaya gazeta" editor Dmitry Muratov
An eccentric former rebel, Kadyrov has overseen the reconstruction of Chechnya following two devastating wars. Moscow declared an end to its 10-year counterterrorism operation in the region earlier this year.
But there's been a growing number of shootings and bombings since then in Chechnya and across neighboring regions in the restive North Caucasus.
Last month, Ingush leader Yunus Bek Yevkurov was seriously injured in a suicide bomb explosion.
Editor Muratov says Estemirova's murder is raising new questions about the Kremlin's reliance on a largely independent Kadyrov to maintain its authority in Chechnya.
"There will be two versions [of the killing] now: one, that it was Kadyrov who killed her, and two, that she was killed to frame Kadyrov. And everybody will talk about these two versions forever," Muratov said.
"But this is not what this story is about. It is that when there are special territories in the country where the constitution does not apply, anything can happen there," he said.
Kadyrov has raised alarm bells among those who believe he had a hand in Estemirova's murder by vowing to oversee the investigation into the killing.
Veteran rights activist Lev Ponomaryov says he welcomes Medvedev's statements, but doesn't believe the president can guarantee an objective investigation even if he wants to.
Kadyrov's influence in Chechnya "is endless, and I believe he's one of the suspects. That's why his desire to head the probe is dangerous for the investigation," Ponomaryov said.
Estemirova was due to be buried in her native Chechen village of Ishkoi-Yurt on July 16.
Before her death, Estemirova said she believed Kadyrov's forces were relying on the growing abductions and killings in Chechnya to enforce their rule. For many of Estemirova's supporters, her murder is seen as confirmation.
A String Of Silenced Voices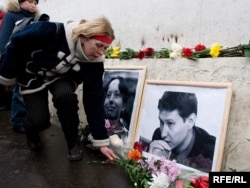 A String Of Silenced Voices
Rights activist Natalya Estemirova's death on June 15 was not an isolated act of violence. It was the latest in a series of assaults and murders of human rights campaigners and others who have denounced abuses in Chechnya and the surrounding republics.
More