A prominent Russian human rights activist has been found dead hours after being kidnapped in the North Caucasus region.
Natalya Estemirova worked for Memorial, one of Russia's oldest human rights organizations. She was bundled into a car early on July 15 as she left her home in the Chechen capital, Grozny, her Memorial colleague Aleksandr Cherkasov said.
"Because Natasha had a few meetings scheduled for today and she did not show up for any of those meetings, her colleagues went to her house and found people who had witnessed her being kidnapped," Cherkasov said.
"They said they saw Natasha being thrown into a white Lada [car]. As she was pushed into the car, she shouted that she was being kidnapped."
A spokeswoman for Ingushetia's Interior Ministry told RFE/RL's Russian Service that Estemirova's body was found hours later in the neighboring region of Ingushetia.
"She was found at about 5:30 p.m. in the woods outside the village of Gazi-Yurt in the region of Nazran near the Kavkaz highway. She had bullet wounds to her head," the spokeswoman said.
A spokeswoman for Russian President Dmitry Medvedev said he was "outraged" at the killing and has ordered an investigation.
In Washington, the White House said it was "deeply disturbed and saddened" by Estemirova's murder.
"We call upon the Russian government to bring to justice those responsible for this outrageous crime and demonstrate that lawlessness and impunity will not be tolerated," White House National Security Council spokesman Mike Hammer said.


Exposing Abuses In Chechnya
Estemirova was a lawyer who documented abductions, torture, and other human rights abuses in Chechnya. She worked with reporters, including murdered journalist Anna Politkovskaya, and other human rights groups.
Tanya Lokshina of Human Rights Watch said Estemirova's work was vital to uncovering abuses in Chechnya. She said Estemirova "was one of the main people who documented the most terrible crimes during the second Chechen war: torture, extrajudicial executions, abductions.
"Natasha has until now remained one of the few people who have continued reporting crimes perpetrated by forces controlled by Chechen President Ramzan Kadyrov."
Estemirova was awarded the first Anna Politkovskaya Prize in 2007 by the Nobel Women's Initiative. Speaking to RFE/RL's North Caucasus Service shortly after, she said the authorities were doing nothing to investigate abuses documented by Memorial.
"Changes have happened, changes for the worse. As far as human rights go, it is worse because, first of all, nothing has been done to investigate the crimes that have been committed in Chechnya since 2000," Estemirova said.
"We are mainly working in Strasbourg [with the European Court of Human Rights]. It is there where these Chechen cases are being heard. It is there where the criminals and the victims of these criminals are being named and where it is being demanded that these cases be investigated in Russia."
Estemirova's death comes amid a spike in almost daily shootings and bombings in Chechnya and other provinces in Russia's North Caucasus region. Memorial Chairman Oleg Orlov called Estemirova's death an "extrajudicial execution."
"Those who killed her don't want information about what's going on in Chechnya to be known outside the region," Orlov said. "I know who's behind this killing, who's to blame. I can give his name and title. It's Ramzan Kadyrov, president of the Chechen region."
Estemirova is the latest of many prominent Kremlin critics to have been killed in what human rights groups say is an atmosphere of impunity. Lawyer Stanislav Markelov, another of those to have worked with Estemirova, was gunned down on a Moscow street in January.

RFE/RL's North Caucasus and Russian services contributed to this report
A String Of Silenced Voices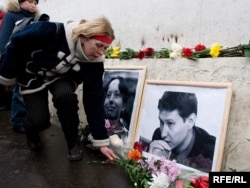 A String Of Silenced Voices
Rights activist Natalya Estemirova's death on June 15 was not an isolated act of violence. It was the latest in a series of assaults and murders of human rights campaigners and others who have denounced abuses in Chechnya and the surrounding republics.
More