When Kyrgyz President Kurmanbek Bakiev recently announced his government's intention to evict U.S. forces from the Manas air base, most observers saw the Kremlin's hand behind the move.
Bakiev, after all, made the announcement in Moscow, hours after Russia had offered him more than $2 billion in aid. The base closure would deprive the United States of a crucial installation it relied on to supply NATO forces in Afghanistan.
Just days after the Kyrgyz letdown, however, Russia offered an alternative, saying it was ready to allow Washington to ship equipment to Afghanistan via routes in Russia, Kazakhstan, and Uzbekistan. The United States has long sought such cooperation from Moscow.
"They are saying, 'We are an indispensable nation when it comes to this part of the world. We may not be an indispensable global power in the way that the United States sees itself, but when it comes to this neck of the woods, we are the indispensable player -- and you either go through us, or you don't get the access that you need,'" says Nikolas Gvosdev, a professor of national-security studies at the U.S. Naval War College and an expert on Russian affairs.
According to Gvosdev, Russia's apparent role in closing Manas also continues a pattern whereby Moscow is seeking to reassert control over former Soviet states that have sought to escape the Kremlin's sphere of influence and move into the orbit of the West.
"Despite the economic crisis and the freefall in Russia's economic standards, there is a certain degree of confidence in the Kremlin," Gvosdev says. "They are beginning to test what the outer limits of U.S. influence are. The first [test] was the Georgia war, the second was the energy pipeline shutdown with Ukraine, and now the third is Kyrgyzstan."
No Spheres Of Influence
But while the Kremlin was clearly trying to lay down a marker for the new Obama administration, the White House was drawing some lines of its own.
In a major foreign-policy speech at a global security conference in Munich on February 7, U.S. Vice President Joseph Biden said it was time to "press the reset button" in relations between Washington and Moscow, and move beyond the acrimony that marred relations during much of George W. Bush's presidency.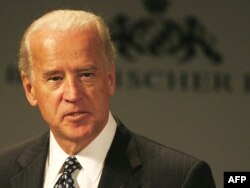 In Munich, U.S. Vice President Biden said Washington "will not recognize any nation having a sphere of influence."
As part of this, he proposed a new deal on strategic arms reduction, which has long been a priority for Moscow.
Biden added, however, that the United States "will not recognize any nation having a sphere of influence" -- a clear reference to Russia's encroaching influence in its former Soviet neighborhood.
Analysts say the Obama administration understands that it will need to deal with Moscow directly in order to wage a successful counterterrorism campaign in Afghanistan. But at the same time, it is natural for the White House to reject attempts by Moscow to interfere in the affairs of its neighbors:
"I think that almost any American president will have to reject that logic, because that is not the way that we like to think about the world working," says Paul Saunders, executive director of the Nixon Center think tank in Washington. "At the same time though, on a practical level it will be very difficult to do what we need to do in that region if Moscow is hostile."
Biden gave no ground on other contentious issues dividing Moscow and Washington during his Munich speech. He reasserted U.S. support for Georgia and Ukraine's bids to join NATO, and indicated that the United States remains prepared to press ahead with plans to base parts of a missile-defense system in Eastern Europe.
A Basis For Optimism
But despite his firm stance on such issues, Biden's remarks were received very positively in Moscow.
"It is very clear that the vice president was trying to demonstrate that the new administration will take a different tone in dealing with Moscow," Saunders says. "It is certainly correct that he did not give away anything on NATO or missile defense or other issues. But at the same time, he was not talking about all of Russia's shortcomings, which was something that officials in the previous administration often did."
In a recent interview with RFE/RL's Russian Service, Sergei Rogov, director of the Institute of the U.S.A. and Canada at the Russian Academy of Sciences, said that Biden's speech created "a basis for optimism" that relations would improve.
"Biden's speech is a proposal to start relations between our two countries anew," Rogov said. "Biden clearly gave the understanding that the attention should be focused mainly on those spheres where our interests coincide."
Analysts say the White House is counting on this new tone to prod, cajole, and charm Moscow into playing a more constructive role, not just on Afghanistan, but also in helping the United States and the European allies in their efforts to curb Iran's nuclear ambitions.
For its part, Moscow is hoping to trade such cooperation for concessions on the issues it cares about: getting Washington to abandon its plans for missile defense and halting NATO expansion in Georgia and Ukraine.
"The Russian approach is to test and see what the Obama administration's real priorities are. And if Afghanistan is truly the top priority for the administration, [Moscow wants to see] what's on the table to ensure Russian cooperation," Gvosdev says.
He adds, however, that Moscow does not view the threats stemming from Afghanistan and Iran as seriously as Washington -- something that gives Russia a useful degree of leverage.
Trade-Offs
It is also still unclear what the Obama administration is prepared to give up in exchange for Russia's cooperation on Afghanistan and Iran.
Resistance by NATO frontline states Germany and France will likely keep any expansion off the table in the near future. Analysts also say it is uncertain whether Washington really plans to push ahead with missile defense -- a sore spot for Russia -- or if they are simply using it as a bargaining chip.
Not all observers, however, are confident that the warmer tone emerging between Washington and Moscow can last.
Political analyst Andrei Piontkowski, a fierce critic of the Kremlin, tells RFE/RL's Russian Service that anti-Americanism is too embedded in the current Russian elite to allow for close cooperation.
"The Kremlin leadership will never give up the idea of having the United States as an image of the enemy," Piontkowski says. "For the past few years, the Russian society and leadership has become addicted to this narcotic of anti-Americanism."