PRAGUE -- Leonid almost had to call off his wedding in Moscow today, but not because he had second thoughts.
The 40-year-old Russian businessman was among thousands of travelers at Prague's Ruzyne Airport -- and millions across Europe -- who were stranded because of the volcanic ash cloud.
When the Eyjafjallajoekull volcano sent ash high into the sky last week, the closure of airspace across Europe transformed Prague, known as a city of lovers, into a city of stranded lovers.
But Leonid, who declined to give his last name for this article, was confident that he would make it home in time for his wedding, and indeed was one of the lucky few to board a Russia-bound flight out of Prague on April 20. Many other major airports across Europe are just restarting operations today.
Leonid says he wasn't worried about the safety of his flight, but observed that fellow passengers were "quite nervous" and applauded the pilots upon landing because they were "really, really happy to be back at home."
But Leonid admits that he had it relatively easy compared to travelers whose visas expired during the nearly weeklong airspace shutdown. Many of the short-term visas used by vacationers in Europe and elsewhere expire after a period of weeks, and Leonid says it's "a lot of trouble" to get an extension.
Russian Prime Minister Vladimir Putin on April 18 called for visa assistance and extra transportation for Russian and European travelers stuck en route since the travel disruptions began on April 15.
Honeymoon On Hold
Some passengers -- like Mr. and Mrs. Sani, who were in Prague trying to get to Amsterdam in order to fly back to the United States -- considered using cross-country taxis in a costly effort to get home.
"There are no planes, no buses to go to Amsterdam," Mrs. Sani explains. "I think we got hold of a private taxi who was asking us for 500-plus euros [more than $670] to take us to Amsterdam. So we might end up doing that tomorrow, depending how long we want to wait."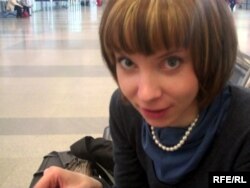 Stranded Russian passenger Maria at Ruzyne Airport
Nearby, Russian newlywed Maria has sat for hours in the airport waiting for a bus to Moscow. She shares pictures of her recent Prague wedding. Pointing to a shot of bride and groom walking down the aisle, she says it shows "my husband at Prague's town hall."
"We came here to marry," she says, "and got stuck."
Not far away, Greek honeymooners complain about their trip gone awry. "We had a fight with Czech airlines," they explain. The wife is lying horizontal, using the airport chairs as a bed and her new husband as a pillow, settling in for a six-hour wait. "We are happy to go home," she says.
In an effort to pacify bored, frustrated, or outright angry travelers -- like the Greek honeymooners -- airport staff took some 3,000 people on an excursion around the airport a few days ago, giving them a tour of the airplanes and other facilities.
Not everyone is upset or angry, however. One easy-going traveler doesn't seem to mind that he is still waiting in the airport with his group of fellow Italian citizens. He introduces himself as Muhammad, an Iraqi by birth. He explains the delay, glances over at his group of friends and says with a chuckle that "we are OK," despite all the chaos.