When a new European Parliament convened in Strasbourg last July, its makeup reflected a major trend: socialist and social democratic parties had chalked up historic losses in elections the previous month.
Center-right leaders currently hold office in the European powerhouses France and Germany, and many believe British conservatives will take power next year. Across the continent, center-right politicians are increasingly in charge just as the global financial crisis has forced European states to play an unprecedented role in economic affairs.
The irony hasn't been lost on Europe's left-wing politicians.
This week, members of the Party of European Socialists, which unites leftist politicians across Europe, convened for a congress in Prague. The mood was decidedly grim. Under the vaulted ceilings of a 19th-century exhibition hall, delegates applauded as party leaders issued a stream of laments about their dismal prospects.
Sigmar Gabriel, chairman of Germany's Social Democratic Party, the SPD, asked how it was possible that Germans were voting for conservative parties that drew support from the financial industry players who had caused the global financial crisis.
Irish Labour Party leader Eamon Gilmore explained that while left-wing parties tell their electorates they "feel their pain," voters "aren't sure the left can offer a credible alternative to what the right is doing."
"There's a certain irony," he said, "that at a time when capitalism is in trouble, when the markets are in trouble, it is the state that is blamed. And we are identified with the state."
'Sofa Party'
The European Socialist Party president, Poul Nyrup Rasmussen, pointed to a record-low turnout of just more than 43 percent in elections for the European Parliament in June.
"The biggest opponent of our socialist party," he said, "was not the conservatives, not those to the left of us. One big party got 57 percent of all votes [in the European Parliament elections]. It's the so-called 'sofa party,' the 'apathy party.' "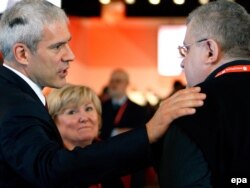 Serbian President Boris Tadic (left) with Nenad Canak, the leader of the League of Social Democrats of Vojvodina
The speakers urged the European left to reconnect to voters by uniting to lay out a concrete, coordinated agenda. Martin Schulz of Germany's SPD, who's expected to become president of the European Parliament in 2012, exhorted his colleagues to make a case for regulation.
"We need courage to say clearly, 'Yes, we are an anticapitalist movement!' " he said. "I'm proud to say I'm not a capitalist. The worldwide, money-driven economy and unlimited speculation led to the deepest crisis we've seen since World War II."
In an interview after his speech, Schulz said the left is suffering from a lack of credibility because it failed to oppose the right-wing argument in the 1990s that the fall of the Berlin Wall meant "capitalism had won."
"We didn't put on the table the necessary question, 'Is the failure of the Soviet Union the victory of capitalism?' " he said. "That's the wrong question. Capitalism has showed that if it's not controlled -- if free trade, free market, is uncontrolled -- capitalism leads to big crises."
Schulz says the "third way" propounded by center-left leaders such as Britain's Tony Blair in the late 1990s was a justification of their capitulation.
'No Leg To Stand On'
Thomas Klau of the European Council on Foreign Relations agrees. He says Blair's New Labour Party and Germany's SPD under then-Chancellor Gerhard Schroeder positioned themselves as reformers, but did it by enabling deregulation and partly discarding their social democratic heritage of calling for social protection.
"Of course what happened is that that particular brand of capitalism which they were trying to manage imploded," he says. "So in a sense they're left ideologically with no leg to stand on."
Klau says center-right leaders such as French President Nicolas Sarkozy and German Chancellor Angela Merkel have since "broken barriers" by appropriating social democratic policies to rescue the financial sector in the wake of the global financial crisis.
At the same time, he says, the left has been unable to provide answers to universal problems now facing societies -- such as global warming and international financial regulation to protect the weakest in society -- that individual countries alone can't address.
"Socialists and social democratic parties," he says, "have a really hard time agreeing to meaningful policies, coherent policies, at a European level. There are huge gaps, for instance, between what New Labour was pushing for and what the French socialists were saying they wanted."
Klau says while left-wing politicians may have begun understanding their problems, their fortunes may not have hit rock-bottom. He says European socialists' failure to agree on a single candidate for European Commission president earlier this year -- and the torturous selection of Britain's Catherine Ashton "out of a hat at the last minute" for the new job of European Union high representative for foreign affairs last month -- shows they have a long way to go to begin reversing the dramatic decline of the European left.