For ordinary people holding dollars, the sudden tumble of the currency this week might seem a bit inexplicable.
The dollar reached its lowest point in five months on May 20 against the euro and a basket of other major currencies, which one might interpret to mean the U.S. economy is in increasing trouble.
But, strangely, the dollar's downturn came just as U.S. officials were expressing guarded but highly public optimism that the U.S. economy is stabilizing.
U.S. Treasury Secretary Timothy Geithner said on May 20 that there are "important indications that our financial system is starting to heal."
So, do investors who are selling their dollars know something Geithner is not saying?
Investor Optimism
One economic analyst who is watching the currency fluctuation offers a surprising answer: No, the investors who are selling their dollars agree with Geithner's optimism.
So much so, in fact, that they are removing their money out of the lowest-risk investment of all -- U.S. government-backed securities -- in order to invest again in potentially more profitable but higher-risk commercial markets. And this is driving the dollar down:
"Clearly the markets have been in a lot more bullish mode since the middle of March and that has obviously coincided with this period of dollar weakness, so to some extent I do think it reflects an improvement generally in risk appetite," says John Higgins, senior markets economist at London-based Capital Economics.
Financial experts say the places to which investors are moving their money are stocks, emerging market currencies, and commodity-based currencies such as the Australian and New Zealand dollars.
Does this suddenly more aggressive investing mean, then, that the global economic downturn is over? Not at all. Analysts say the global economy is still very troubled. But the most aggressive investors apparently no longer regard things as so bleak that they should remain frozen with fear.
Inflation Fears
To complicate the picture, there are other reasons that also may contribute to what is happening with the dollar. And one of those may be worries among other investors that Washington is spending too much money in its efforts to spur an economic recovery.
The concern is that Washington is putting more money into circulation and, by doing so, is raising the risk of inflation.
The Bloomberg financial news service notes that the dollar dropped against the euro on May 18 when the U.S. Federal Reserve announced plans to stimulate the economy by buying up $300 billion in U.S. government debt, a measure known as quantitative easing.
Many investors fear quantitative easing because it entails the government printing more money -- something which, unless very carefully managed, fuels inflation.
But Higgins says fears of inflation may play only a minor role overall in the record drop of the dollar.
"It is extremely unlikely, we think, that a policy of quantitative easing would foster much inflation in the near term and, indeed, further down the line we think central banks would have ample amounts of time in which to reverse this policy before inflation became entrenched anyway in the economy," Higgins says.
Still, the mix of possible reasons for the dropping dollar creates a complex picture that in many ways reflects the mix of emotions that everyone feels as they look at the global economic situation today.
Is it time to hold onto your money? Or is it time to put some money at risk in hopes of being ahead of competitors if the economy improves?
Those are the questions investors are trying to answer individually. And that may make what is happening with the dollar more an indication of their hopes and uncertainties than any measure of the current strength of the U.S. economy.
World Economic Crisis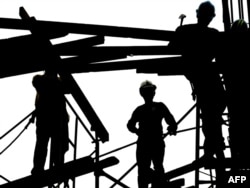 Multimedia coverage on the impact of the global financial crisis on markets and individuals across RFE/RL's broadcast region. More