Will GUAM Become GUA Or Even A GULP?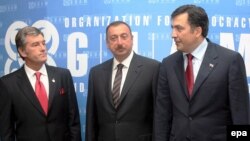 As one of our editors asked today, does GUAM actually do anything? With the organization holding a
summit i
n the seaside resort of Batumi, Georgia, it raises the larger question, has any post-Soviet grouping ever done anything? (More on that
here
and
here
.)
Now, GUAM -- which used to be GUUAM until Uzbekistan left in 2005 -- could become GUA if Moldova, under pressure from Russia, decides to leave. Moldova's President Vladimir Voronin has expressed doubt about the direction the organization is going. But interestingly, the Lithuanian and Polish presidents are also at the summit as observers. If their countries joined, which seems unlikely, the GUAM leaders would be faced with the challenge of coming up with a new acronym.
A website called Wordsmith, which has an
anagram generator
might help them. For GUAMLP, it came up with LAP GUM and PA GLUM. And if the strength of an organization can be measured by the strength of its acronym, then it really would be better if Moldova left. In that case, GUAM could be known as A GULP or LAG UP. More worryingly perhaps, is that the organization's
official website
still includes Uzbekistan. Looks like it takes them a few years to catch up.
-- Luke Allnutt
About This Blog
Written by RFE/RL editors and correspondents, Transmission serves up news, comment, and the odd silly dictator story. While our primary concern is with foreign policy, Transmission is also a place for the ideas -- some serious, some irreverent -- that bubble up from our bureaus. The name recognizes RFE/RL's role as a surrogate broadcaster to places without free media. You can write us at transmission+rferl.org