BRUSSELS -- The escalation of the Russian-Ukrainian gas dispute into a European crisis flies in the face of common sense.
The "gas war" -- as Britain's "Guardian" daily termed it -- "has been a lose-lose situation."
It's hard to improve on that description. The future of an exceptionally profitable commercial arrangement has been undermined, possibly fatally.
EU leaders have repeatedly warned in the past week that the credibility of Russia and Ukraine is about to be "irrevocably damaged." On January 16, the European Commission said the coming weekend represents "the last chance" for both countries.
To the European mind-set, the situation beggars belief. The president of the European Commission, Jose Manuel Barroso described the situation to the European Parliament on January 14 as "unacceptable and incredible."
For the third time in four years, Russia has turned off the taps for Europe. In 2006, the problem was Ukraine; in 2007, Belarus; and this year,
Ukraine again.
Win-Win For Everyone
If Russia has a master plan, its goals can only be political -- and perversely so. The tactics border on the suicidal. "Destroy your neighbors, whatever it takes," seems to be Moscow's motto.
The three-way energy relationship has so far been a win-win situation for everyone.
Russia exports 150 billion cubic meters of natural gas to the EU annually. The EU accounts for 90 percent of Russia's gas exports. The affluent bloc is an exceptional customer. There is no other comparable market that Russia can currently reach.
Russia's long-term strategy of hamstringing its neighbors will carry a cost, however. EU governments...are now under immense pressure to deliver on long-term promises to diversify the bloc's energy provisions.
Russian gas accounts for a steady 25 percent of EU consumption. Given its growing needs, the EU could import more -- and provide the investment needed to upgrade and expand Russia's production capacity.
Ukraine, meanwhile, has been a near-monopolistic middleman, making a tidy profit as 80 percent of the EU's Russian imports transit through
its pipelines.
Somehow, this win-win potential was allowed to unravel. On January 12, a three-way deal was signed to allow gas deliveries to resume. In the days that followed, however, the EU learned a bitter truth: The troubles Russia has with Ukraine -- the second-largest post-Soviet state, keen to
join NATO and the EU, and supportive of Georgia -- run very deep and contaminate even the most profitable trade relationships.
As Russia now keeps trying to selectively feed limited amounts of gas into Ukrainian pipelines, the transit of which would stop Ukraine's own
domestic gas deliveries, nearly 20 European countries continue to experience gas outages or shortages.
The EU finds itself powerless in the face of the abject plight of hundreds of thousands of its freezing citizens, the closure of thousands of factories, and the desperate scramble of countries like Slovakia to power up antiquated and outlawed Soviet-era nuclear reactors.
EU's Authority Undermined
The bloc's very raison d'etre -- the delivery of wealth and stability -- has become a plaything in the Russian-Ukrainian standoff. The EU's domestic authority, already weakened by a number of internal crises, is being undermined.
If Moscow had a master plan, it must be based on a very deep calculation. Apart from the potential damage to future commerce, the dispute is costing Gazprom some 125 million euros a day. For a company whose debt burden is reported to run to 40 billion euros, this is no laughing matter -- all the more so since Gazprom says Ukraine owes it a little more than 600 million euros.
Politically, matters are no less puzzling. Much of the list of countries affected by the gas dispute reads like a roll call of the EU's "friends
of Russia club" -- Greece, Bulgaria, Hungary, Slovakia, Italy, Germany, and France.
Still, there are signs Moscow's actions are premeditated and deliberate. A quick comparison with its August 2008 war with Georgia suggests a
similar blueprint was at work, with similar goals.
In both cases, Moscow sought to involve the EU in the crisis and then subtly manipulate the bloc to promote its own ends. In both cases, Russia has employed uncharacteristically Western rhetoric, painting Georgian and Ukrainian leaders as unable and unwilling to honor and enforce EU values. (Mikheil Saakashvili was accused of genocide and war crimes; Ukrainian leaders are castigated as corrupt and anti-market.)
The reputation of Ukraine's leaders, like that of Georgia's, has been severely damaged by the crisis.
The antics of Prime Minister Yulia Tymoshenko -- who attached a handwritten unilateral declaration to an early deal, thus causing Russia to pull out -- have angered Brussels. EU officials also resent having to negotiate separately with Tymoshenko and her political nemesis, President Viktor Yushchenko.
Kyiv's protestations notwithstanding, the crisis has also shed an unwelcome spotlight on the murky interplay between Ukraine's politics and its energy sector.
Pressure To Diversify
Russia's long-term strategy of hamstringing its neighbors will carry a cost, however. EU governments, whether they like it or not, are now under immense pressure to deliver on long-term promises to diversify the bloc's energy provisions.
The European Commission is saying it is ready to back legal action by member states and their energy companies against Russia and Ukraine.
Although litigation is time-consuming, it is something the bloc's executive is good at. In 2004, it forced a major U.S. tobacco company to pay more than 1 billion dollars in damages for circumventing EU excise tax.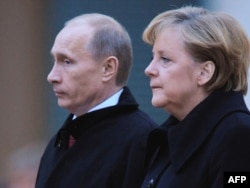 In Berlin on January 16 for talks with German Chancellor Angela Merkel (right), Putin said there was a need not to blame any one party or to "politicize" the gas dispute.
In the medium term, Moscow may calculate that undermining Ukraine's credibility could help the chances of the Nord Stream pipeline planned
to link it directly with Germany. Germany, the EU's largest nation, is key for the future of the EU-Russia energy relationship.
But Berlin has rebuffed Moscow's earlier requests to fund Nord Stream. And it may now want to spend its money on alternative supply lines. Germany -- which draws more than 40 percent of its gas from Russia -- is showing a keen interest in tapping into North African and Nigerian gas
reserves.
The "Handelsblatt" newspaper quotes Peter Hintze, a top official at Germany's Economics Ministry, as saying the EU needs to broaden its selection of suppliers. "The disruptions we have lived through are something that never happened throughout the decades of the Cold War,"
Hintze said -- indicating a hardening of Berlin's stance toward Moscow.
If Tbilisi and Kyiv are part of the same plan, then one of the functions of the August war in Georgia would have been to divert investors' enthusiasm from Nabucco -- a project to bring Central Asian gas to European consumers without Russian mediation. Support for a stronger EU
commitment to the project has been growing fast among member states over the past few days.
Rethinking Nuclear Energy
Russia is also courting support for the South Stream pipeline project to be built under the Black Sea, bypassing Ukraine and competing with
Nabucco. But in the current climate, it's difficult to see gas-strapped Bulgaria, Romania, Hungary, and Serbia turning the other cheek.
The crisis could prompt an EU-wide rethink on nuclear energy. Slovakia has reopened its Soviet-era Bohunice power plant. Bulgaria has similar
plans for its Kozloduy facility, and Lithuania is keen to avoid having to shut down its Ignalina power station. All three would be in violation
of commitments made to the EU on accession, but given the circumstances, Brussels may have to bend the rules.
Germany Economy Minister Michael Glos has also hinted Germany could reverse a decision to phase out all nuclear power by 2020.
One positive feature of the events of the past two weeks has been the sturdy performance of the current EU president, the Czech Republic.
Diplomats say the Czechs have received backing from Germany. But Germany has been content to remain in the shadows, allowing Prague to take the laurels.
Thus, Russia's gas brinkmanship has also contributed to bringing together the bloc's "old" and "new" member states.

Ahto Lobjakas is RFE/RL's correspondent in Brussels.
Tangled Web - Ukrainian Pipelines
Factbox: Russian Gas Export Pipelines, Projects

A factbox on how gas gets to Europe from Russia and some of the new pipeline projects aimed at bringing more Russian gas to Europe and diversifying supplies. More