Will This Jean-Clad Woman Become The Country's First Lady?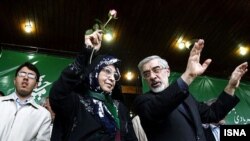 Shatot2
asks whether Iran might be poised for a dramatic first, presumably in the form of Zahra Rahnavard, wife of reformist presidential candidate Mir Hossein Musavi:
Has there ever been a woman senior appointment in the country's political realm who has had the courage and bravery to wear a mantel with jeans and wave in response to people's displays of emotions while hand in hand with her husband and a face adorned in makeup...?! Or have we seen anything more than a couple of eyes and a nose from senior women appointees...?
About This Blog
Persian Letters is a blog that offers a window into Iranian politics and society. Written primarily by Golnaz Esfandiari, Persian Letters brings you under-reported stories, insight and analysis, as well as guest Iranian bloggers -- from clerics, anarchists, feminists, Basij members, to bus drivers. Follow @GEsfandiari
​