WATCH: Born in war and raised in an uneasy peace, an entire generation of young Armenians in Nagorno-Karabakh is reaching adulthood and could see its world change yet again. With momentum building for a final settlement that could mean an end to the region's isolation, the author traveled to the enclave and spoke to young people about their views on the conflict and their hopes for the future.
STEPANAKERT/BAKU -- Aleksandr Osipov likes things just the way they are in Nagorno-Karabakh. In fact, he wouldn't change a thing.
Enjoying the autumn sunshine in a well-manicured park in downtown Stepanakert, Osipov, an animated 85-year-old ethnic Armenian pensioner with a thick shock of white hair, dismisses any talk of the breakaway republic ever returning to Azerbaijani rule.
"The people of Karabakh have conclusively decided to be free," Osipov says. "If we are part of Azerbaijan, we will never live freely. We want to live in our republic. We are Armenians and want to live with Armenians."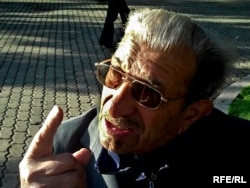 Aleksandr Osipov
But Osipov's comments come amid a season of change that may dramatically alter the status quo in Nagorno-Karabakh.
The mountainous region, which was the site of a bitter six-year war between Armenia and Azerbaijan, has enjoyed de facto independence since a cease-fire was declared in 1994. But with an Armenian-majority population on the one hand, and legal ties to Azerbaijan on the other, Nagorno-Karabakh's long-term fate is far from settled.
And the issue is once again under the spotlight, following the October 10 signing of an accord reestablishing ties between Armenia and Azerbaijan's historic ally, Turkey.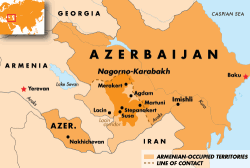 Ankara severed relations with Yerevan in 1993, in solidarity with Baku over Armenia's occupation of Nagorno-Karabakh. (An unresolved dispute over the World War I-era mass killings of ethnic Armenians by Ottoman Turks has also contributed to historically sour ties.)
Last weekend, after months of coaxing by the international community, the foreign ministers of Turkey and Armenia met in Zurich and signed accords restoring diplomatic ties and opening the countries' border.
There is no formal link between Nagorno-Karabakh and the Turkish-Armenian rapprochement. But analysts say the presence of officials from the United States, Russia, and France -- the three countries that serve as co-chairs to the OSCE Minsk Group, which monitors negotiations on Nagorno-Karabakh -- made the connection implicit.
"The presence of the Minsk Group co-chair countries during the signing ceremony proves that there is a link -- almost a formal link -- between the progress at the Turkey-Armenian rapprochement and progress in the negotiations between Armenia and Azerbaijan," says Baku-based political analyst Ilqar Mammadov. "Armenia has no way to avoid this connection."
The deal was welcomed in the West but has stirred anxieties in more local corners like Nagorno-Karabakh, where residents fear their region's unresolved status may prove to be a chip in a grand bargain between Turkey, Armenia, and Azerbaijan.
Those worries may have intensified on October 11, when Turkish Prime Minister Recep Tayyip Erdogan stated flatly his country's parliament might refuse to approve the peace accord unless Armenia agrees to withdraw from Nagorno-Karabakh.
A man stands in front of a poster in Stepanakert depicting scenes from the Karabakh war.
The Armenian president, Serzh Sarkisian, dismissed Erdogan's statement as intended for audiences in Turkey and Azerbaijan. Sarkisian confirmed his intention to travel to Turkey on October 14 for a landmark visit to watch a Turkey-Armenia World Cup qualifying match at the invitation of his Turkish counterpart, Abdullah Gul.
And in Nagorno-Karabakh, ordinary citizens like Osipov bristle at the mere suggestion of an Armenian withdrawal, or the return of Azerbaijanis forced to flee during the war.
"If the Azerbaijanis return, they will say they are in charge here, that this is their land, and that we must leave," Osipov says.

One Toilet For 100 Families
Meanwhile, 350 kilometers away from Stepanakert, in the Azerbaijani capital, Baku, Azeris displaced by the Nagorno-Karabakh conflict have worries of their own.
Nearly 700,000 Azerbaijanis were forced to flee the fighting in Nagorno-Karabakh and the surrounding territories. Fifteen years later, the vast majority of them are still living in unbearable conditions, many in squalid dormitories provided them by the state.
Residents of one ramshackle, Soviet-era building say that as many as eight people are forced to share a single room, that they often go without water and gas, and that more than 100 families share one toilet.
"Nobody would want to live in a single room sharing it with seven other people. Nobody would want to queue up for toilet with 85 people," says Yosuf Abbasov, a lanky 43-year-old who fought in the 1988-94 war before fleeing to Baku.
"Instead of fighting with each other in this queue for the toilet, it would be better to fight with Armenians to get back our land," he says.
"If I see Karabakh in reality -- not in my dreams, but for real, with my own eyes -- I'm afraid my heart might give out on me," Abbasova says. "If I were told today that our lands were freed, I would run there without anything. I would walk there barefoot. It is always in our dreams."
She says she constantly tells her children that they "have not always been refugees" and once had a home and "a normal life on our own land."
But like many of the displaced, Abbasova is skeptical that the latest round of negotiations will result in them returning home.
"We'll always live with the hope that one day we could return to our land. But we don't see any results from the negotiations. For almost 18 years already, they've been telling us that the occupied lands will soon be freed. But there are still no results," she says.
"My 4-month-old son, who left Karabakh in my arms, is now 18 years old and he will join the military service soon. How can I believe in these negotiations?"
Azerbaijani officials had been pushing for Armenia to agree to return five districts surrounding Nagorno-Karabakh and to allow displaced persons to return to their homes as preconditions for Turkey reestablishing diplomatic ties with Yerevan.
But while officials described a meeting between Sarkisian and Azerbaijani President Ilham Aliyev on October 8 as "constructive," there was no breakthrough ahead of the deal between Yerevan and Ankara.
Azerbaijani officials are clearly nervous about the Armenian-Turkish rapprochement, which deprives Baku of a degree of leverage over Yerevan.
In an interview with RFE/RL, Azerbaijani Foreign Ministry spokesman Elkhan Polukhov described the Turkey-Armenia deal as "completely against the national of interests of Azerbaijan," because it comes without a resolution of Nagorno-Karabakh.
Noting a growing disappointment with Turkey, Polukhov added that energy-rich Azerbaijan has the means and will to defend its interests itself, even if Baku's international allies do not.
Men outside a Baku dormitory for internally displaced persons from Nagorno-Karabakh
"Azerbaijan is not a puppet country that can be manipulated," Polukhov says. "We are a major power in the region. We are an active and irremovable part of many international projects that involve many big powers."
Azerbaijani officials have subtly suggested that Baku's participation in international initiatives like the Nabucco pipeline project, which would transport gas from the Caspian Sea region to Europe, could be in jeopardy if its interests were not taken into account in Nagorno-Karabakh. (In an interview published just ahead of the Zurich signing, Aliyev noted significantly that the price of Azerbaijani gas sold to Turkey had not yet been finalized.)
'We're Speaking About Our Future'
Just as the Armenia-Turkey deal has Azerbaijani officials worried about being left out in the cold, many in Nagorno-Karabakh are concerned that Yerevan may cut a deal over the territory behind their backs.
The Minsk Group is urging Yerevan and Baku to agree to a series of confidence-building measures, known as the Basic Principles, as an interim step before the territory's final status will be discussed.
These include the return of Armenian occupied lands surrounding the territories to Baku's control, an interim status for Nagorno-Karabakh that provides for self-governance, the establishment of an international peacekeeping mission, and the return of tens of thousands of Azerbaijanis displaced by the 1988-94 war.
Azerbaijan has embraced the Basic Principles, while Armenia has remained noncommittal. Officials in Nagorno-Karabakh, who complain that they have no representative in negotiations that will ultimately determine the territory's fate, have rejected the proposal out of hand.
In an interview with RFE/RL, Nagorno-Karabakh's de facto deputy foreign minister, Vardan Barseghian, says the entire peace process, in which Azerbaijan and Armenia negotiate under the auspices of the Minsk Group, needs to be overhauled.
"Karabakh needs to be present at the negotiating table. This current format needs to be reviewed and reset, and the Basic Principles need to be modified," Barseghian says. "We're speaking about our future. We're speaking about the future of this region and the future of these people, who have a desire to live in freedom."
Officials like Barseghian, as well as ordinary people in Nagorno-Karabakh, point out that not only Azerbaijanis were displaced by the 1988-94 war. Some 140,000 Armenians from Azerbaijan were also driven from their homes during the conflict.
Many of them, like Vladimir Agamirov, a feisty 74-year-old, settled in Nagorno-Karabakh. A native of Baku, Agamirov fled to Armenia shortly after the conflict broke out in 1988.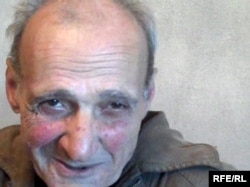 Vladimir Agamirov, a Baku native who now lives in Stepanakert
He eventually settled in Shusha, a former resort town a short drive from Stepanakert, where he is repairing a rundown apartment for his family.
Agamirov says he has fond memories of living with Azerbaijanis before the war and is not opposed to seeing them return to Nagorno-Karabakh now. He adds that it is high time for politicians to finally resolve the protracted conflict over the territory.
"We all need to live in peace. Everybody. All people need to live in peace," Agamirov says emphatically.
"Nobody needs another war. Let them come to an agreement. If the politicians want a war, let them fight it themselves. Neither the Azerbaijanis, the Armenians, nor anybody else needs another war."
Lucine Musayelyan of RFE/RL's Armenian Service contributed to this report in Stepanakert. Ulviyye Asadzade of RFE/RL's Azerbaijani Service contributed to this report from Baku