PRAGUE -- For the Czechs, this weekend's EU-U.S. summit was to have been the crowning achievement of their country's six-month European Union presidency.
Twenty years after the fall of Communism and 10 years after joining NATO, Prague would host Europe and America's official reconciliation party and preside over the re-launch of improved trans-Atlantic ties.
The Czechs would disprove the skeptics who wondered how well a small, ex-Communist EU member could handle the task.
But things didn't quite turn out as planned.
Since losing a no-confidence vote on March 25, Czech Prime Minister Mirek Topolanek and his government have been reduced to caretakers, engaged in political warfare with the opposition.
Local power has temporarily shifted to President Vaclav Klaus, who revels in his contrarian views on global warming, the EU, and what to do about the economic crisis.
Klaus, who refuses to fly the EU flag from Prague Castle, ridicules the widely held view that climate change is caused by man and has likened the economic crisis to a common cold that will pass without treatment.
It is not quite the message that other EU leaders had hoped to project in their talks with visiting U.S. President Barack Obama, who arrived in Prague on the heels of a two-day
NATO summit
in France and Germany.
"I think the Czech Republic, unfortunately, has lost a huge opportunity," a young Czech mother tells RFE/RL near Prague's Old Town Square. "It should have been a very important moment but it won't be, because I think that on the American side, there will be a lot of confusion about whom to talk to, who is voicing the [government's] views."
Czech President Vaclav Klaus
For that reason, says Czech political analyst Jiri Pehe, it seems efforts are being made by the EU's traditional members to reclaim the mantle of leadership.
"Of course, for the European Union, it's a problem, simply because a government that doesn't have enough legitimacy at home cannot have enough political authority on the European level," says Pehe. "The Czech Republic will continue leading the European Union formally. It will continue organizing meetings and summits and so on, but I think the political leadership has shifted toward the big West European countries."
Disarmament Focus
Obama appears to have pared down his bilateral meetings with Czech officials to the minimum dictated by protocol. He was expected to dine with his wife Michelle at a scenic spot after his arrival, passing up an invitation to break bread with Klaus.
Before he joins the EU summit on April 5, Obama will deliver an outdoor speech at Prague Castle in which he will outline his long-term aim of nuclear disarmament.
The goal of a nuclear-free future comes after a U.S. agreement this week to renew arms-control discussions with Russia that both sides hope could lead to deep nuclear cuts.
In recent weeks, the idea of eradicating nuclear weapons has moved up in policy circles, with former U.S. Secretaries of State Henry Kissinger and George Schultz, along with former Defense Secretary William Perry and former Senator Sam Nunn, backing the initiative.
It was former U.S. President Ronald Reagan who surprised many when he advanced the idea of a nuclear-free world during a 1986 summit with then-Soviet President Mikhail Gorbachev.
The proposal was quashed when Gorbachev insisted on limits to Reagan's proposed space-based Strategic Defense Initiative, intended to develop a defense against nuclear attack.
Ultimately, Reagan's Strategic Defense Initiative never got off the ground.
Under The Radar
It remains a question whether America's latest proposed missile-defense shield, to be based in the Czech Republic and Poland, will meet the same fate.
The system, advanced by former U.S. President George W. Bush, is under review. Formally, both the Czech Republic and Poland say it is on track to be built.
But public opinion in both countries opposes the shield. Moscow's disapproval is well known.
Several small groups of anti-missile-defense demonstrators took to the streets of Prague a few hours before Obama's arrival. One group unfurled a banner across one of the city's bridges reading "Yes We Can Say No To American Military Bases!"
More protests are expected on the day of the summit.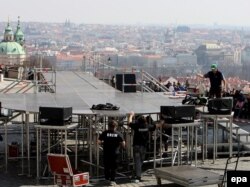 Workers preparing the platform next to Prague Castle from which Obama will speak on April 5.
It is unclear if Obama will mention missile defense in his Prague speech on nuclear disarmament.
During the EU summit on April 5, Obama plans bilateral talks with Polish officials, during which the topic is likely to come up.
Last but not least, Obama will meet for private talks with former Czech President and legendary dissident Vaclav Havel.
As embarrassing as the current hiccups on the Czech political scene might be, they're all part of the messy democratic process.
In many people's eyes, the Czech return to democracy owes a considerable debt to Havel.
"I think that if Obama wants to meet anyone in this country, it is Vaclav Havel," says Pehe, a longtime adviser to Havel. "It would be the same if he went to South Africa. He would, of course, for reasons of protocol, have to meet the current politicians, whoever they are right now -- we don't remember their names anymore. But we all know that there is a certain Nelson Mandela and Obama would want to meet him. So I think that is why he wants to meet Vaclav Havel. He's a symbol of change in Eastern Europe."
RFE/RL's Margot Buff contributed to this report