NATO leaders have wrapped up talks at a historic summit on the French-German border to celebrate the military alliance's creation 60 years ago, as well as to review strategies from Europe to Afghanistan.
The occasion has sparked
angry protests
, as well as soul-searching by alliance leaders considering the future mission of the Cold War-era institution.
In a show of unity, assembled leaders began the day with a symbolic walk across a footbridge separating Germany and France.
One attendee failed to make the crossing, however. Italian Prime Minister Silvio Berlusconi, who was deep in conversation on his mobile phone as the ceremony began, was said to have been in intense phone negotiations with Turkish Prime Minister Recep Tayyip Erdogan, who had threatened to block the appointment of NATO's next secretary-general.
In the end, participants salvaged agreement on a plan to name Danish Prime Minister
Anders Fogh Rasmussen
to succeed Secretary-General Jaap de Hoop Scheffer after winning the consent of Ankara.
Rasmussen, who should take up the NATO function on August 1, said he would resign his prime minister's post in the next few days, and said he wanted Finance Minister Lars Lokke Rasmussen to replace him.
Rasmussen had the solid backing of the United States and key European member states, and the European Union had criticized Turkish opposition, saying its stance would be bad for Turkey's possible EU membership.
Still Growing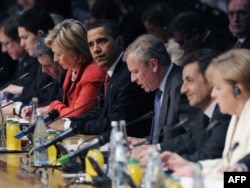 NATO leaders at the North Atlantic Council meeting in Strasbourg on April 4
After a ceremony to mark NATO personnel killed in battle, de Hoop Scheffer opened the summit's day-two talks by applauding the alliance's first six decades.
"In these past 60 years, NATO has contributed to an unprecedented period of peace, freedom, and prosperity for all its citizens," de Hoop Scheffer said. "It is testimony to what can be achieved by a trans-Atlantic community that acts with a clear sense of common purpose."
But talks quickly moved from a celebration of the past to a cautious consideration of the future.
U.S. President Barack Obama formally welcomed the alliance's 27th and 28th member states, Croatia and Albania.
"The Atlantic alliance is 60 years old, and it's a measure of our vitality that we are still welcoming new members," Obama said.
He also expressed hope they would soon be followed by Macedonia -- whose bid has been blocked by Greece, which objects to its name.
Against a backdrop of aspirations in Kyiv and Tbilisi for eventual membership of Ukraine and Georgia, Obama went on to suggest that NATO expansion need not end with Macedonia. "The door to membership will remain open for other countries that meet NATO's standards and can make a meaningful contribution to allied security," Obama said.
'Litmus Test'
The day's talks were expected to be dominated by plans for Afghanistan, where an eight-year war against a Taliban insurgency is intensifying.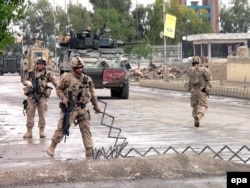 Canadian soldiers of NATO's ISAF mission secure the site of multiple suicide bomb attacks in Kandahar in early April.
Obama had hoped to persuade NATO allies to follow Washington's lead in increasing troop commitments there.
The United States is sending 21,000 extra troops to Afghanistan this year, and is considering deploying 10,000 more.
European NATO members, however, have largely shied away from additional troop commitments, preferring instead to support reconstruction and police-training initiatives.
"Afghanistan is a litmus test for us all," dpa quoted German Chancellor Angela Merkel, one of the NATO summit's co-hosts along with French President Nicolas Sarkozy, as saying.
"I'd like to tell the new U.S. president, President Obama, how much I appreciate his administration's new concept for Afghanistan," French President Nicolas Sarkozy, who this week announced his country would not be sending additional troops but would help train military police, said in Kehl ahead of the second day of talks. "We have no right to lose, because there [in Afghanistan] one part of the world's freedom is at stake. But we are not against the Afghans. We are with them, by their side, and we must develop 'Afghanization.'"
Mission Review
Continued disagreement over the Afghanistan mission -- NATO's largest operation outside its own borders -- underscores a broader debate about the future of the alliance and its original mandate as a counterbalance to the Soviet Union.
NATO spokesman James Appathurai, speaking late on April 3, said the time had come to update the alliance's mission.
"We need to update the current strategic concept to reflect where NATO has come until now -- in other words, to have the theory reflect the practice," Appathurai said. "Nowhere in the 1999 strategic concept does it mention NATO's role in fighting piracy; nowhere does it reflect the fact that NATO would now have, as it does now have, a cyberdefense center, a deployable cyberdefense capability; it doesn't even reflect the kind of operations that we're taking on in Afghanistan."
The gathering has sparked large public protests on both sides of the French-German border, and some 10,000 police officers have been deployed around Strasbourg alone.
Fresh clashes were reported between demonstrators and police on the second day of the summit, after dozens of overnight arrests and some 300 detentions as the NATO leaders converged on the area on April 3.
Police on the German side of the border said they had arrested 13 divers ahead of the bridge walk who planned to interrupt the spectacle. Across the border, riot police used teargas against protesters.
compiled from agency and RFE/RL reports
NATO: 60 Years In Eight Minutes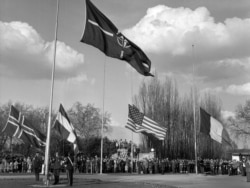 60 Years In Eight Minutes
In Washington in 1949, the North Atlantic Treaty Organization was born. RFE/RL looks at the dramatic and difficult moments in NATO history with rarely seen archive films and exclusive interviews. Play

NATO At 60 series:
Rolling With The Changes
End Of Expansion?
The Article Of Faith
Getting The Balance Right