BADEN-BADEN/STRASBOURG (RFE/RL) -- U.S. President Barack Obama made it clear in talks with French President Nicolas Sarkozy and German Chancellor Angela Merkel on April 3 that he expects to get further help from America's NATO allies in the Afghanistan war, but he made no demands for additional combat troops.
Instead, he blamed a strategic "drift" for a lack of consistent progress in Afghanistan and emphasized that allies were working together to stabilize that country, where U.S. officials have placed a new emphasis on defeating Al-Qaeda and boosting regional cooperation.
"We do expect that all NATO partners are going to contribute to these efforts. They have thus far," Obama said. "The progress in some cases has been uneven, but it's not just a problem of lack of resources; it's also a problem of a strategy that was allowed to drift. And so what we're going to do is refocus the strategy and then make sure that resources are there to do it."
Obama added, "I'm confident that Germany, as one of the most important leaders in Europe, will be stepping up to the plate working alongside us to get the job done."
Merkel said her government was prepared to shoulder its responsibilities in Afghanistan, but she got no more specific than that.
"We have a very big responsibility [in Afghanistan]," Merkel said. "We will face up to this responsibility in military terms as well as in terms of civilian reconstruction and training the police force."
Some in NATO have criticized Germany for keeping its troops out of combat in Afghanistan.
For his part, Sarkozy, at a joint news conference with Obama in Strasbourg, was more explicit about the role for the additional troops his country is prepared to send to Afghanistan.
"We are prepared to do more in terms of the police, the military police, the economy, in order to train Afghans and work for Afghanistan," Sarkozy said. "We are not waging war against Afghanistan. We are helping Afghanistan rebuild."
He also alluded to an upcoming presidential election in Afghanistan, where the country's only leader since the UN-backed process to replace the vacuum after the Taliban were ousted in late-2001, Hamid Karzai, is expected to seek reelection.
Sarkozy said that "we do not support any particular candidate; we support the right of young Afghans to have a future."
Obama praised France's contributions to the NATO effort in Afghanistan, and he stressed that what's needed there to defeat the Taliban and Al-Qaeda goes beyond combat to diplomacy and development in a country that's been wracked by war for nearly three decades.
This was the kind of message the U.S. president is likely to also give to its other NATO partners during the two-day summit.
The United States plans to increase its troop presence in Afghanistan from a current level of 38,000 to 55,000. It also plans to send 4,000 more military instructors to help train the Afghan army.
But Washington has said it wants to see its NATO partners send more help to Afghanistan, too, even if it is only in the form of civilian advisers. Many of the NATO states have ruled out sending more combat troops.
Between his meetings with Sarkozy in France and Merkel in Germany, Obama moved to a sports stadium in Strasbourg to make his first major public address to a European audience since taking office.
He stressed the importance of the U.S.-European trans-Atlantic alliance.
"I've come to Europe this week to renew our partnership, one in which America listens and learns from our friends and allies, but where our friends and allies bear there share of the burden," Obama said. "Together, we must forge common solutions to our common problems."
At the NATO summit, which began with a dinner in the German town of Kehl and was continuing the next day in Strasbourg, the alliance will also discuss its strained relations with Russia following the August Russian-Georgian war.
NATO Secretary General Jaap de Hoop Scheffer told a youth conference on April 2 in Strasbourg that the alliance favors dialogue with Moscow to settle differences such as those over Georgia.
The opening of the summit has been filled with symbolism, beginning with Obama hopping across the French-German border to meet with the German chancellor before the official proceedings got under way.
The gathering marks the 60th anniversary of the trans-Atlantic alliance, which was formed in 1949 as a counterweight to the Soviet Union and to create a new and more stable European security order following World War II.
The alliance will officially welcome France back as a full NATO member after 43 years during the proceedings in Strasbourg.
The summit also sees Albanian President Sali Berisha and Croatian Prime Minister Ivo Sanader take their places at the alliance's table as the representatives of the two newest NATO members.
Anti-NATO protesters have vowed to disrupt the summit, and Strasbourg was under security lockdown as the 28 NATO leaders arrived through the day on April 3 for the conference.
Fresh clashes were reported between demonstrators and police on the second day of the gathering.
Police on the German side of the border said they had arrested 13 divers ahead of the bridge walk who planned to interrupt the spectacle. Across the border, riot police used teargas against protesters in Strasbourg after around 300 arrests on April 3 and dozens more detentions overnight.
A total of some 25,000 police are deployed in the city and around the conference venue.
with contributions from Baden-Baden and Strasbourg by RFE/RL correspondent Ahto Lobjakas
NATO: 60 Years In Eight Minutes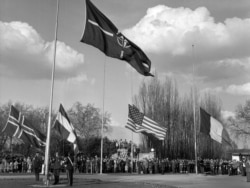 60 Years In Eight Minutes
In Washington in 1949, the North Atlantic Treaty Organization was born. RFE/RL looks at the dramatic and difficult moments in NATO history with rarely seen archive films and exclusive interviews. Play

NATO At 60 series:
Rolling With The Changes
End Of Expansion?
The Article Of Faith
Getting The Balance Right