In a new report, the World Bank says most of the world's major economies are resorting to protectionist measures as the global economic slowdown begins to bite.
In the report, issued in Washington, World Bank President Robert Zoellick calls on world leaders to resist what he calls the "siren song" of protectionism, which he says could lead to a negative spiral of events similar to those associated with the Great Depression of the 1930s.
Appearing ahead of the summit of the Group of 20 (G20) leading economic powers, set for London on April 2, the report's timing is not by chance.
The report points out that 17 of the 20 members of the group have resorted to some form of protectionism since their last meeting in November. This despite their pledging at that meeting to avoid unilateral steps to protect their domestic industries from outside competition.
Zoellick says seeking protectionist solutions, whether in terms of trade, or domestic stimulus packages, or bailouts, can make a bad situation "much, much worse."
The report highlights as an example the help given to the automotive industry in many countries. The United States alone has given carmakers General Motors and Chrysler more than $17 billion in aid.
The major European manufacturers have also received some form of government assistance, as have carmakers in Brazil, China, and elsewhere. Worldwide, some $48 billion has been lavished on the auto industry.
No Return To 1930s
In more general terms, the World Bank report says protectionism takes many forms.
For instance, Indonesia has restricted the import of certain goods to just a few air and seaports, which has a discouraging effect. India has increased tax rebates for local companies that export, and Argentina has brought in a new layer of paperwork to complicate business for importers of foreign goods.
The report recommends that at the coming G20 summit, participants should agree to provide the World Trade Organization (WTO) with quarterly reports on new trade restrictions and industrial and agricultural subsidies.
In recent months, as the recession deepens, the WTO has itself been monitoring the trade policies of its 153 member states for signs of protectionism. It is scheduled to issue a report on the situation in the week before the G20 meeting.
The WTO's director-general, Pascal Lamy, will attend the meeting, and reports say keeping open world trade will be one of the main themes of the summit.
In London, British Prime Minister Gordon Brown and European Commission President Jose Manuel Barroso gave a joint press conference on March 16 at which they said there must be no return to the attitudes of the 1930s.
Brown said the possibility of a trade collapse is present and the G20 states must tackle the problem "head-on." He said the remnants of the "beggar-thy-neighbor" policies of the 1930s must be eradicated and replaced with a "support-thy-neighbor" attitude.
with agency material
World Economic Crisis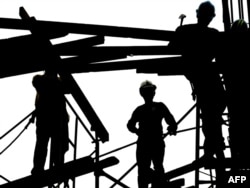 Multimedia coverage on the impact of the global financial crisis on markets and individuals across RFE/RL's broadcast region. More