Petar Miletic is one of just 10 ethnic Serbs in Kosovo's 120-seat parliament, tapped in the first official election since the Albanian-majority country broke from Serbia in 2008.
Miletic, a 34-year-old former journalist and father of three, did it out of a sense of civic duty. But he said it also made him a target of violence.
"I thought I would be able to do something for Serbs as a deputy in the Kosovo parliament," Miletic said in an interview with RFE/RL's Balkan Service. "That was my aim. I thought I had a purpose for being there. Unfortunately, someone thought that there was no purpose."
Miletic spoke from a hospital in the northern city of Mitrovica, where he is recovering from injuries after he was shot in the leg by an unidentified assailant outside his home on July 5. He was initially placed in intensive care, but is now in stable condition.
No arrests have been made in the case, and Miletic won't speculate on who may have shot him. "I have doubts about some people," he said. "But I could be wrong, and there's an investigation going on. And ultimately, I have to live here."
"Here" is North Mitrovica, a stronghold of Kosovo Serbs, many of whom remain loyal to Belgrade, resentful of Kosovo's independence -- and unwilling to stomach the notion of the Kosovo Assembly, Serbian members or no, making their laws.
Escalating Violence
Many Serbs stayed away from last November's assembly polls, preferring their political representation in the form of "parallel," Belgrade-backed institutions based in Mitrovica and elsewhere. Local elections, organized by Serbia, were held in North Mitrovica on May 30.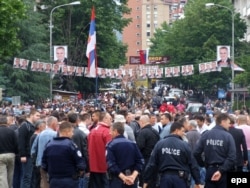 Police stand guard during a violent protest in the divided town of Mitrovica on May 30.
Miletic's shooting came just days after a bomb attack on a gathering of Serbs protesting the opening of a Kosovo government office in North Mitrovica. One person, a Bosnian Muslim doctor, was killed in the blast and 11 others were injured.
The July 2 incident has provoked cries of outrage in Belgrade and beyond, with Serbian President Boris Tadic condemning "destabilizing acts by Pristina" during an
emergency session of the UN Security Council
. (No arrests or claims of responsibility have been made in connection with the bombing.)
The spike in violence comes as both Serbia and Kosovo await a critical ruling later this summer by The Hague-based International Court of Justice (ICJ) on the legitimacy of Pristina's independence declaration.
Jakup Krasniqi, the president of the Kosovo Assembly, said the tension surrounding the ICJ ruling may be contributing to the uptick in Mitrovica violence.
"This might be in connection to anticipation of the ICJ opinion on the political status of Kosovo," Krasniqi said. "All of these developments were initiated and encouraged -- if not completely orchestrated -- by Serbian policy in Belgrade, although that has to be proven by the ongoing investigation."
EU President Herman Van Rompuy, who was in Kosovo on July 6 as part of a western Balkans tour, called for calm, saying rule of law is one of the European Union's "most important priorities" in the restive country.
Winning Kosovars' Respect
Kosovar officials have called on law enforcement bodies to identify the culprits in the Mitrovica violence.
Fatmir Sejdiu, the president of Kosovo, condemned the attack on Miletic, saying the lawmaker's "persistent commitment to a better life for all citizens of Kosovo regardless of ethnicity and religious affiliation...made him gain the respect of citizens throughout Kosovo."
Miletic, who serves as the chairman of the parliament's committee for community rights, said that since his attack he had received calls of support from "Albanians and Serbs and Croats and Bosnians," including from "the enclaves of the north."
Educated in the western Kosovo city of Peja, Miletic worked for the B92 news outlet in Belgrade and Radio Mitrovica before opting to run for a seat in the Kosovo Assembly. The parliament's mandate stipulates that it reserve 10 seats for ethnic Serbs and an additional 10 seats for other minorities, including members of the Bosniak, Turkish, and Romany communities.
Miletic acknowledged that his decision to seek a seat with the Kosovo parliament would anger many of his fellow Serbs.
"I knew that there were risks, but I didn't know that I was risking my life," he said. "I knew that I was risking my reputation, that there would be a lot of sharp words spoken against my name. But I never thought someone would shoot me."
Miletic said the attack wouldn't change his political stance. But it might still leave its mark. "I can't change my beliefs," he said. "The only thing I can do is to decide not to engage in politics anymore."
reported by Branka Mihajlovic in Belgrade and Amra Zejneli in Pristina; written by Daisy Sindelar in Prague