Arseniy Yatsenyuk, a former parliament speaker and foreign minister of Ukraine, turns 35 on May 22, clearing the way for him to run as a candidate in the January 2010 presidential elections. Now it is time for him to begin considering his campaign tactics, and he faces three choices.
One option is to agree to receive a poisoned chalice from the unpopular President Viktor Yushchenko by being tipped as his successor. This would mean an agreement under which Yushchenko would not run (because, with just 4 percent support, according to recent polls, he has little chance of winning) or, alternatively, he would run but would not campaign against Yatsenyuk.
The Yushchenko camp's near-pathological dislike of Prime Minister Yulia Tymoshenko does not mean that Tymoshenko would not continue to remain prime minister in the event of her not being elected president. Ukraine's constitution does not insist on new parliamentary coalitions or a new government following a presidential election. By supporting Yatsenyuk and Party of Regions head Viktor Yanukovych, the presidential secretariat might prevent Tymoshenko's election as president, but it would still likely have to continue contending with her as prime minister.
Yushchenko ally and RosUkrEnergo co-owner Dmytro Firtash is providing media access through Ukraine's popular Inter television channel, as is Viktor Pinchuk (who has admitted financing Yatsenyuk) through ICTV, STB, and Novyi Kanal. Ukrainian analysts have long noticed a close association between Firtash and Yatsenyuk , whose popularity is described as a "television project."
In the 2002 elections, Pinchuk supported another TV project -- the Winter Crop Generation party (KOP) -- to take votes away from Yushchenko's Our Ukraine. Another young challenger, former Defense Minister Anatoliy Hrytsenko, has seen his support stagnate, in part because of his more limited access to television.
Orange 'Dream Team'
A second option for Yatsenyuk would be -- as deputy parliament speaker and Tymoshenko bloc member Mykola Tomenko has proposed -- to negotiate a deal with Tymoshenko. The aim would be to prevent an inter-Orange conflict between the two leading Orange candidates (Tymoshenko and Yatsenyuk ) that could facilitate Yanukovych's election victory.
Yatsenyuk has ruled out any deals, but this could change if he does not make it into a second round of presidential voting and Tymoshenko seeks an endorsement from him in the second round.
Tomenko points out that Tymoshenko and Yatsenyuk are competing for the same Orange voters in western and central Ukraine, whereas Yanukovych has no powerful electoral competitors in the eastern and southern parts of the country. Communist Party (KPU) leader Piotr Symonenko will never mount a serious challenge to Yanukovych.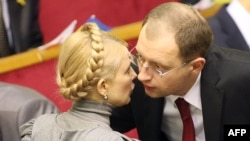 Yulia Tymoshenko with Yatsenyuk -- Orange 'Dream Team'?
Tomenko rightly believes that it would be better for Yatsenyuk and Tymoshenko to negotiate a deal before the election by agreeing to divide the presidency and government between them depending on who enters and wins the second round. They could agree, for example, that if Tymoshenko wins the second round, she would appoint Yatsenyuk prime minister. On the other hand, if Yatsenyuk wins, he would keep Tymoshenko on as prime minister.
Together, Tymoshenko and Yatsenyuk could create an unbeatable "dream team" that could be potentially a powerful coalition in support of the change and reforms that Ukrainians were promised in the Orange Revolution. This dream team could be bolstered by Hryhoriy Nemyria as foreign minister, Anatoliy Hrytsenko as National Security and Defense Council secretary, and a Hrytsenko protege as defense minister. Ukraine's Euro-Atlantic integration would be assisted by the fact that this would be the first Ukrainian government that had three English-speakers: Yatsenyuk, Nemyria, and Hrytsenko.
Yatsenyuk's third choice would be to reject Yushchenko's poisoned chalice, refuse to do a deal with Tymoshenko, and instead campaign independently. This path would be the most difficult, as every presidential candidate needs financial and media resources.
This strategy would be unlikely to give Yatsenyuk a good election result that he could then use to negotiate a position for himself. Hrytsenko will be competing with Yatsenyuk for third place in the presidential elections and Yatsenyuk's support has plateaued at 12-14 percent, mostly Our Ukraine voters disillusioned with Yushchenko.
Taking A Stand
In addition to his flat ratings, Yatsenyuk faces four other challenges.
First, as Ukrainian media have increasingly noted, Yatsenyuk has been conspicuous in not stating what he stands for. A former Yushchenko supporter said, "Yushchenko may be an airhead, but at least he has some views, while Yatsenyuk seems to have none." In an election campaign, he will have to state what he stands for.
Secondly, his new Front for Change party has no regional structures, so Yatsenyuk will be reliant on state-administrative resources provided by regional governors. These might be available in some regions, but not everywhere as Tymoshenko's Fatherland and Yanukovych's Party of Regions have the most developed party structures in Ukraine. Viktor Baloga was a staunch opponent of Tymoshenko (and therefore saw in Yatsenyuk a way to block her election), but his replacement as presidential chief of staff is likely to be less so inclined.
Third, support for nationalism is growing, as Ukrainians are disillusioned with establishment politicians and fearful of the global economic crisis. The populist-nationalist Svoboda swept the March 18 Ternopil elections. Yatsenyuk's ethnic origins could be used by political "technologists" resorting to "black" public relations, or dirty tricks.
Fourth, Yatsenyuk can no longer count on public support by standing above intra-elite squabbling, which has been one of two reasons (the other being the "television project") for his dramatic rise in popularity. An anti-Tymoshenko strategy would be negative, not positive, which would dent his ability to pursue the analogy of a "Ukrainian Obama."
At this point, it is impossible to predict which of the three main candidates will win Ukraine's presidential election. And that is a good thing -- Ukraine is definitely not Russia.
Taras Kuzio is a senior fellow of Ukrainian Studies at the University of Toronto, adjunct research professor at the Institute of European and Russian Studies at Carleton University, and editor of the bimonthly "Ukraine Analyst." The views expressed in this commentary are the author's own and do not necessarily reflect those of RFE/RL