NEW YORK -- How is a Russian poet born? For Natalia Sannikova, it began with a simple negotiation between her and her mother.
"When I started first grade," she says, "I asked my mom for a notebook and she said she'd give it to me if I started writing poetry and being a good girl. I said, 'OK, no problem.'"
Fast forward to the present, and Sannikova, a 41-year-old poet and journalist in the central Russian region of Sverdlovsk, is now a mother herself. She's also using her writing to negotiate her own terms with her own offspring.
When you've read as many books, poems and blogs
as I've already read,
you'll find out just how little I get literature.
For example, Blok -- he wrote about Woman and the Revolution,
a worthy endeavor for a poet.
Yesenin drank, loved, made trouble and died young --
that too, all things considered, is typical.
The poem, "
Free Verses to my Son
," was one of the works featured in readings by Sannikova and three other young Russian writers during a recent visit to the United States as part of the 2010 World Voices Festival organized by PEN, the international literary and human rights organization.
The two-week tour by Sannikova and her colleagues was meant to introduce a new generation of Russian writers to American readers still more conversant in Dostoyevsky, Chekhov, and Pasternak.
Setting Sonnets?
Pavel Nastin, a neatly dressed 37-year-old poet from Kaliningrad, said the writers enjoyed "interesting" readings in New York City and with students from the Slavic-language department at the University of North Carolina. Audiences there quickly labeled works by Nastin -- including this untitled work, which mixes allusions to the Emir Kusturica film "Arizona Dreams" and the "Kursk" submarine disaster in an elegiac tribute to Russian poetry -- as postmodern, a characterization with which the poet himself wasn't certain he agreed.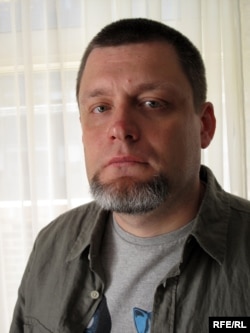 Pavel Nastin
Nastin, a trained biologist who only began writing poetry seven years ago, says his readings at home can draw audiences of up to 100 people. But such success means little in terms of financial survival. Like the other writers, Nastin holds a number of jobs -- including decidedly prosaic work as a manager at a shipment company.
It's a dramatic shift from the Soviet period, when favored writers and poets could enjoy a comfortable income and the patronage of the state. But Nastin, who also helps organize the Slovo Russian literature festival, argues the market realities faced by modern-day poets results in more vibrant, compact, and focused verse.
"I would like to see if there is anyone in Russia who is able to make a living, a substantial income, out of poetry. It's practically impossible," Nastin says. "Moreover, in Russia, we don't have such options as 'poets in residence' fellowships. The system of literary grants is not developed. That's why all poets have second occupations."
But several of the writers rush to dismiss the image of Russia as a literary wasteland where artists must look beyond their borders for support and celebration.
Inga Kuznetsova, who won the Pushkin national prize for student poetry in 1995, has built a strong following at home and is frequently published. Critics describe works like her 2001 poem "
Nonsensical Day
" as characterized by strong visual metaphors, with particular attention to rhythm and sound.
An odd lost day. I see no sense in it.
It reveals nothing, not a single sign.
The spies are sleeping, mouths full of water.
Winter has come, so much like fall,
and things are as fruit after the frost
thrown against the ground.
Winter has come, so much like fall.
Wheels slip right onto axles, as they did
Long ago, but where are they rolling to?




With her long, straight hair and dreamlike gaze, the 36-year-old Kuznetsova can sometimes resemble the heroine from a 19th-century Russian novel. But this poet, who supplements her income with work as an editor at the "Oktyabr" literary magazine, has a career outlook that is far from sentimental.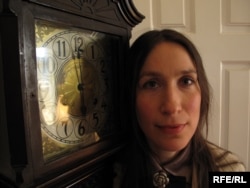 Inga Kuznetsova
"The magazines are eagerly publishing my work, the traditional voluminous Russian literary magazines -- not all of them, but many. And, thank god, I was able to find a sponsor for the publication of both of my poetry collections," Kuznetsova says. "All in all, though, [being a poet in Russia] is quite complicated. In 2003, I got lucky in a material sense when I was awarded the Triumph literary prize. I was able to buy myself a fur coat and a printer."
Gauging Interest
Only one of the four writers on the U.S. PEN tour, 37-year-old Sergei Sokolovsky, produces short stories rather than poetry. Still, his writings stray from traditional notions about short fiction -- his readings during his U.S. stay often clocked in at just three minutes or less of terse, gritty prose.
Sokolovsky's works have been published in a number of Russian and foreign fiction anthologies. But he says his style is not meant for a mainstream audience.
"I write experimental prose, which by default is aimed at a very narrow segment of readers," Sokolovsky says. "It would make no sense for such prose to be commercially successful. It shouldn't be."
The tumult of the past 20 years has stirred dire predictions that the devout reading culture of the Soviet era -- when only 20,000 copies might be printed of precious editions of Anna Akhmatova or Boris Pasternak -- has given way to a less appreciative attitude toward the written word.
The four writers, however, argue it's just the opposite. Free-market publishing has introduced Russians of every age to once-blacklisted writers and emigre authors -- as well as younger generations of Internet-age scribes. Young people, Sannikova says, have become "voracious" readers of contemporary literature.
"All in all, young people [in Russia] today are reading significantly more, I would say. There are more books available, and also there is the phenomena of [online] social networking, where you can not only discuss with your friends what books you've read but you're also becoming a member of a community," Sannikova says. "You feel excited and realize that you have to be up-to-date, you have to stay current, and you have to contribute."
Given her enthusiasm regarding the youngest generation of Russian readers, the closing lines of Sannikova's "Verses to My Son" are sweetly ironic. Books, she suggests, hold all of life's answers -- a promise so potent that perhaps it's better not to read at all.
Poets in my circle, who your children will study in Russian Lit.,
Every day write wonderful things in online journals --
Essays, poems, fresh thoughts on politics and literature.
Outside the windows it's winter again, I think about you, and I think
How summer will come, for the first time without happiness in it for me.
Please don't read anything at all, save for books on programming.
I don't want you to figure it all out about me --
About just how little I get life.
And love -- but that you definitely won't figure out.
(Poem translations by Matvei Yankelevich, copyright 2010 CEC ArtsLink)