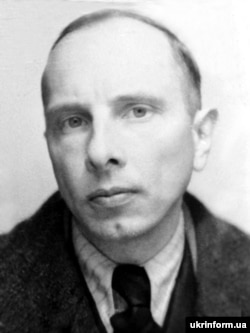 Stepan Bandera
KYIV -- Ukrainian President Viktor Yushchenko has declared World War II-era nationalist leader Stepan Bandera a Hero of Ukraine, RFE/RL's Ukrainian Service reports.
Yushchenko, who made the announcement at Kyiv ceremonies marking Ukrainian Unity Day, said he awarded Bandera for defending national ideas and fighting for an independent Ukraine.
Bandera led Ukrainian nationalist forces against both German and Soviet troops during World War II and even headed an armed struggle against Soviet rule in Ukraine into the 1950s.
Bandera's grandson, also named Stepan, received the award for his grandfather. He told RFE/RL that he welcomed the timing of the decree.
"Even though it was a surprise to me, the president acted wisely," he said. "[Yushchenko] could have done it earlier, but that would have been perceived as an attempt to win votes."
Yushchenko placed fifth in the first round of the presidential elections in Ukraine on January 17.
Bandera remains a controversial figure in Ukraine, where he is lauded as a hero in the western part of the country but considered a traitor by many in the eastern part, which is largely pro-Russian.
Presidential candidate Viktor Yanukovych's opposition Party of Regions said in a statement today that granting Bandera "hero status" is a step that divides Ukraine.
Bandera's grandson said he disagrees with that assessment. He told RFE/RL that he recently suggested to the Party of Regions that he be allowed to conduct an information campaign about Bandera, but his offer was rejected.
Bandera told RFE/RL that there are still some political leaders in Ukraine who use Soviet myths and false information in talking about his grandfather.
Official Soviet sources claimed that members of Bandera's movement had engaged in killing civilians in western Ukraine and helped to form Nazi SS divisions during World War II.
Bandera, who was born in western Ukraine in 1909, was arrested by the Nazis in 1941 and spent a few years in the Sachsenhausen concentration camp. He was assassinated by a KGB agent in Munich in 1959.