In February, Viktor Yushchenko vacated the Ukrainian presidency after a single five-year term that was plagued by political infighting, mounting hostilities with Moscow, and a bitter fallout with Orange Revolution ally Yulia Tymoshenko. In his place is the man he bested in 2004, Viktor Yanukovych, who has moved with breathtaking speed to roll back many of Yushchenko's pro-Western reforms.
Yushchenko joined Iryna Shtohrin in RFE/RL's Kyiv bureau this week for a live call-in show to talk about his opinion of Ukraine's path under Yanukovych. He talked about the speed with which his successor has moved to change the course of Ukraine, the "test" surrounding the Black Sea Fleet, and who's behind Viktor Yanukovych.
RFE/RL: There seems to be full unity among the current president, the parliamentary coalition, and the government in the current team. What chances do you think the president and his team have to transform Ukraine into a civilized country that is comfortable to live and work in?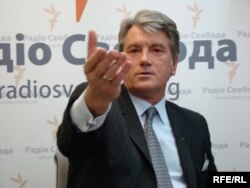 Viktor Yushchenko:
There are many views and assessments of that happening now. Some are pessimistic, others are more optimistic. Mine is pessimistic. I will explain why.
It is not a question of clean streets or even comfort in our homes. It seems to me that in order to have a good discussion, we need to understand what is in the minds and thoughts of the people, and understand that the discussion should center around that.
If we're talking about the course -- because the president is responsible for the course, and not how clean the streets are, or how well the utilities sector is operating -- what is the Ukrainian nation interested in discussing? It is the course that I pursued. We need to make [Ukraine] a modern, European state. It is our priority. We are Europeans because we are Ukrainians.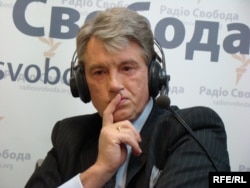 RFE/RL: What kind of course do you feel is being pursued now?Yushchenko:
It is the other kind of course -- making Ukraine a territory of privileges, under the Russian zone of influence. These are two diametrically opposite courses that are supported by different kinds of politicians. So as we talk about Yanukovych's course today, we should acknowledge that he has millions of people behind him, who stand ready for his next actions and who applaud his course.
So I am far from banal discussions about trying to comprehend our essence through one personality. It make no sense to talk about who is a bigger crook among politicians or choose among evil number one, two, three, or four until we have created a healthy nation, a nation that can clearly define its national goals and choices. We need to understand that it all starts with us.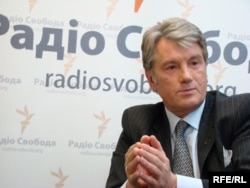 Rapid ChangesRFE/RL: Is there anything Viktor Yanukovych has surprised you with in these two months? Yushchenko:
One thing -- speed. He did what was written in his election slogans, starting with Odesa: one country, two languages; one country, four religions; one country, six or seven versions of history, including Donetsk's own history, and so on.
RFE/RL: When you talked with Mr. Yanukovych before the election and when the election result was already known, did you have a conversation with him where you said, "Mr. President, as I hand power over to you, I would like you to do, 'One, Two, Three...'"?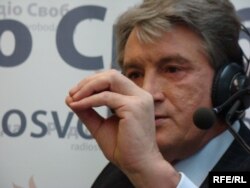 Yushchenko:
Yes, it was the first conversation we had in the presidential office; it was a formal talk by the presidential desk. First and foremost, what I told him and what I would like to be the cornerstone of the work of any Ukrainian president, not only President Yanukovych, is that Ukraine comes first. Let us not be afraid of the fact what we are Ukrainians. Let this word be repeated millions of times, let's get used to it.
But secondly and most importantly, I said [to Yanukovych], 'Viktor Fyodorovych, the most important task for the president is to pursue a policy of national unity. This is our No. 1 task -- the unity of the nation. And the unity of the nation is what your foreign policy should be about, what your humanitarian policy should be about, and your economic policy -- everything that can consolidate the nation. If we look at what has been done over the past 50 days, it seems to me that, unfortunately, we have been thrown some 15 years back in terms of consolidation.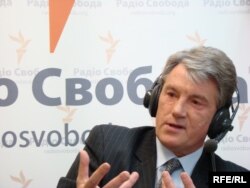 RFE/RL: How would you explain the following? Viktor Yanukovych has in fact rejected before the international community the notion that the Ukrainian famine, the Holodomor, was an act of genocide. His position, which is essentially the same as the Russian delegation's position, influenced the Parliamentary Assembly of the Council of Europe, which overwhelmingly approved a draft resolution that rejected the recognition of Holodomor as an act of genocide against the Ukrainian people. Is this fact helpful to national consolidation?Yushchenko:
No. I think a whole number of political, ethical, and state mistakes have been made here. But as it was written on Solomon's ring, "This too shall pass." Don't look at it as though this was the last point in this story. Five years ago, we didn't even have the basis or the research for such discussions. Obviously there is a great problem of knowledge, and awareness -- including by the head of state -- regarding Holodomor. I think this is still the effect of "The Short Course [Of History Of The Bolshevik Party]" [history textbook] of 1937. What is genocide according to the international definition? It is the mass murder of people based on their ethnicity, religion, or race.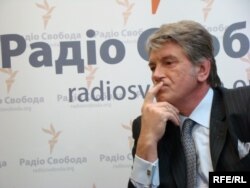 There is a law in Ukraine that recognizes Holodomor as a fact of genocide. There is a court decision that contains a list of people who were directly involved in the mass annihilation of Ukrainians. I am not going to go into the subject of ethnic basis. In a broad sense, in the context of the United Nations, the ethnic basis means that every person who was killed there -- whether Ukrainian, or Greek, or German, or Jewish -- falls under the notion of ethnic basis. Therefore the decision of the Verkhovna Rada, which supported my bill; court decisions; and 13 national parliaments of the world that have recognized Holodomor in Ukraine as an act of genocide certainly provide a fundamental legal basis to continue this work.
'Reversing My Work'RFE/RL: It looks like there is a list of things that you did as president -- revealed information about Holodomor and made everything so it is remembered, issued a decree to recognize World War II-era Ukrainian nationalists Stepan Bandera and Roman Shukhevych as Heroes of Ukraine, etc. And every single one of these points is now being overturned. It's been reported that the current presidential administration is examining your orders from the time of the presidential campaign last October and if they find [your orders] as being influenced by the campaign, they will annul them. What do you think about this? Yushchenko:
I have no doubt that it's going to happen. The debate is about two different courses now. And although it is in the president's power to reverse my work -- particularly my work toward national consolidation, or my European course, or my democratic course -- it will certainly have no value or credibility. But I do not want the people to perceive this as some kind of puzzle. After all, the kind of discussion we're having now is, in a normal country, resolved through national consolidation, elections, though an understanding that we stand next to each other like brothers in defense of the values that our government is then based upon. The government will always support what the nation supports. And if we don't know what we stand for, we will only be commenting on various decrees issued by the president, and be surprised with them.
Call-In Listener: Mr. President, you have been talking about unity a lot. In your opinion, after the latest actions of the new government, does Ukraine have any chance to unite, to be one nation, one family? Yushchenko:
When we talk about unity, it immediately raises the question: What should unite us? It is our national priorities that should unite us. Therefore, I believe the most difficult task today is to work out a unified set of priorities, particularly for the democratic forces and patriotic organizations. The nation must understand that the transition from a population to a nation is its duty, its responsibility. You should stand by your commitment to your memory, your language, your history. The president is not the only vehicle for such ideas. If you don't have such values and you don't care what language you hear, you will never achieve real statehood.
We say that the Ukrainian state has been around for 19 years. What is 19 years after a 300-year period of colonial slavery? Of course, we have lost our key immunities, they are destroyed. So then those Ukrainian politicians who advocate consolidation and unity should not allow a situation where, after we've united, we get a gas deal [with Russia] that puts Ukraine on its knees for the next 10 years.
What should we unite for? If we are divided by the Black Sea Fleet issue -- and I'm convinced that this is a security test -- as long as Ukraine is unable to make its stance clear with regard to hosting foreign military boots on its territory, it makes no sense to keep talking about food, independence, or anything else. So, as difficult as it is, we need to consolidate around systematic, basic national values.
An 'Act Of Disobedience'RFE/RL: Is there a legal way to reverse the extension of the Black Sea Fleet's stay on Ukrainian territory after 2017? Are your allies and you personally seeking a legal, civilized way to prevent it from happening?Yushchenko:
There is no quick solution that would reverse the trouble that took place in the Ukrainian parliament two days ago. It was Ukraine that was beaten [in parliament]. What happened [in parliament during the ratification process] was a political Chornobyl. I repeat: There is no quick solution, no button that would reverse this decision. Therefore we need to make a political analysis of our advantages and their advantages. Their advantages are ephemeral. They have a majority in parliament. Our potential forces are a majority in society.
I appeal to public opinion now. Today the mission of nongovernmental organizations, journalists -- I wouldn't speak of political organizations because they have minimum popularity in the country, and advancing a cause through a political organization is a long process now -- but using various kinds of resistance fronts and movement to form the public opinion, I think, is the right way to go.
We are going to initiate a forum of Ukrainian forces to develop the concept of an act of disobedience, an action plan to defend the constitution and law, to defend all things sacred [to Ukraine] and defend Ukraine's sovereignty.
'Totalitarian' RuleRFE/RL: How would you describe the current form of government?Yushchenko:
Right now it is a totalitarian model, where one person holds three institutions in his hand: the parliamentary majority, the government, and the presidential office.
RFE/RL: If Yulia Tymoshenko was president now, do you think she would have made the same statement that Yanukovych made on the Holodomor in PACE? Would she have repealed your decrees regarding Bandera and Shukhevych? Would she have signed the Black Sea Fleet pact with Russia?Yushchenko:
If we're talking about ideology, I'm certain that Tymoshenko and Yanukovych share the same ideology. Yanukovych did not reverse the gas deal that was signed by Tymoshenko, because it suits both of them. Yanukovych and Tymoshenko are the best project Moscow has done in the past 100 years.
You will recall the Russian prime minister's backstage statement some time ago that Tymoshenko was ready, if she became president, to let the Russian navy stay on Ukrainian territory for another 50 years. I have no doubt that Tymoshenko's and Yanukovych's positions are as alike as two peas, except one thinks in terms of about 25 years, the other thinks in terms of about 50 years. As for the issue of NATO, I have no doubt that Tymoshenko's and Yanukovych's positions are the same -- listen to her statement in Brussels, she said that Ukraine should take into account Moscow's reaction when it decides whether or not it should become a member of NATO.
RFE/RL: Does that mean that you are not considering the possibility of uniting with Yulia Tymoshenko in the efforts you've talked about?Yushchenko:
If we are to confront the threats to Ukrainian statehood, then there is a need to consolidate with everyone. But if we're talking about supporting Tymoshenko's return to power, I strongly believe [I will not join forces with her]."