Abkhaz Leader Survives Yet Another Assassination Attempt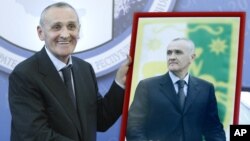 De facto Abkhaz President Aleksandr Ankvab escaped unscathed this morning an attack on his five-car motorcade as he was driving from his home in Gudauta to Sukhumi, the breakaway republic's capital. The perpetrators
exploded a remote-controlled bomb then opened fire
, killing two of Ankvab's bodyguards and severely injuring a third.
It was the sixth attempt in the last seven years to assassinate Ankvab, who was elected president of the breakaway republic in August with 59 percent of the vote following the untimely
death of incumbent Sergei Bagapsh
.
Ankvab, 58, is a career Interior Ministry official who served as prime minister during Bagapsh's first presidential term (2005-09) then as vice president following Bagapsh's reelection in late 2009 for a second term. Dour, humorless, and sarcastic, he is nonetheless respected for his zero tolerance of crime and corruption. That single-mindedness is the most likely reason why he has been repeatedly targeted for assassination: in
February and April 2005
,
June and July 2007
, and
September 2010
. In the Caucasus, only Makhachkala Mayor Said Amirov has a more impressive track record as a survivor.
It is not immediately clear whether today's attempt on Ankvab's life is to be attributed to his ongoing efforts to eradicate corruption or to the
acrimonious dispute
with Russia over ownership of Soviet-era real estate, or whether there is a connection with the parliamentary elections scheduled for March 10, in which corruption and economic stagnation
are key issues
.
In December, Ankvab
called for legal measures
against anyone involved in the ongoing embezzlement of funds provided by Russia, which provided 9.9 billion rubles ($332 million) in subsidies in 2010-11 alone.
The news agency Kavkaz-uzel.ru
quoted unnamed Abkhaz officials
as excluding the possibility of any Georgian involvement in this morning's attack.
About This Blog
This blog presents analyst Liz Fuller's personal take on events in the region, following on from her work in the "RFE/RL Caucasus Report." It also aims, to borrow a metaphor from Tom de Waal, to act as a smoke detector, focusing attention on potential conflict situations and crises throughout the region. The views are the author's own and do not represent those of RFE/RL.