WASHINGTON -- The Obama administration's long-awaited review of U.S. strategy in Afghanistan will be released on December 16 and is expected to conclude that while some progress in the country has been made, considerable challenges remain.
President Barack Obama promised to conduct the review one year ago, after he announced that he was sending an additional 30,000 troops to Afghanistan with the goal of creating conditions that will allow the transfer of security responsibilities to the Afghans and let U.S. combat troops start coming home in the summer of 2011.
And yet 2010 has been the bloodiest year so far of the nine-year-old war, with some 700 NATO troops -- at least 475 of them American -- killed in fierce battles with the Taliban aimed at clearing and holding areas under insurgent control.
There are some signs of success, like in Kunar Province near the Pakistan border, where some 850 insurgents have been captured or killed by coalition forces since this summer. In Kandahar and Helmand provinces, where much of the area has been cleared of Taliban fighters, the security situation has been mostly stabilized.
But large areas of the country remain under Taliban rule, entrenched corruption remains, governance is poor, and the training of Afghan security forces is proving a bigger challenge than once thought.
Despite that pessimistic narrative, the White House review is not expected to recommend any major strategy changes.
'Interim Step'
Retired Lieutenant General Dave Barno was the commander of combined forces in Afghanistan from 2003 to 2005 and is now with the Center for a New American Security, a Washington-based research institute. Barno says the review is "an interim step" in the Obama administration's evaluation of its strategy -- a sort of "midterm report card" rather than "an end-of-the-year, major decision-making" report.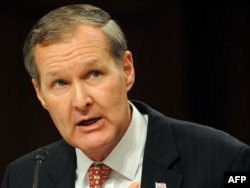 Retired U.S. Army Lieutenant General David Barno: "A lot of people have started to say 2014 is the new 2011."
"Primarily the reason for that is that the full complement of U.S. troops didn't [arrive] fully in Afghanistan, I think, until about September -- early September of this year," Barno says. "So I think everyone recognizes, for some time now, that the impact of those forces isn't going to be fully felt until well into next year."
He says the agreement signed by NATO allies at last month's Lisbon summit to complete the transition to Afghan forces by 2014 has taken some of the pressure off the White House to demonstrate major progress by now.
"That was ratified at the Lisbon conference. The U.S. has signed on to that. There hasn't been much debate about that here in this country," he says, "and I think that that's indicative of the outlook now -- that the report we're going to see here this week or next week is really an interim step and that the longer view is now extending the deadline. As a lot of people have started to say, 2014 is the new 2011."
Indeed, in the days ahead of the review's release, U.S. officials have downplayed its significance, and at least one prominent military analyst, Anthony Cordesman, has characterized it as simply "ticking a box."
'Our Strategy Is Working'
The review will be primarily a product of evaluations and reports from the Defense and State departments, where the
death on December 13
of Obama's special envoy to Afghanistan and Pakistan, Richard Holbrooke, came as a shock. The State Department has announced that Assistant Secretary for Political-Military Affairs Frank Ruggiero has been appointed as Holbrooke's temporary replacement.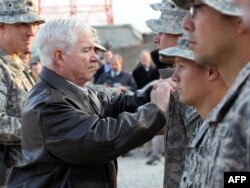 U.S. Secretary of Defense Robert Gates decorates soldiers at Forward Operating Base Connolly in Kunar Province on December 7.
Defense Secretary Robert Gates traveled to Afghanistan last week to meet with troops and commanders, and at a December 8 press conference with President Hamid Karzai said he was returning to Washington "convinced our strategy is working."
"Progress, even just in the last few months, has exceeded my expectations. The Taliban control far less territory then they did when I spoke here one year ago," Gates said. "And as a result, more and more Afghan people are able to live without being terrorized and are instead focusing on achieving a better life for themselves and their families."
Obama has been meeting regularly with his National Security Council to go over the findings in the review. On December 13, White House spokesman Robert Gibbs said the president "feels confident that we are on track."
Bleak Picture
Members of Congress who have seen a new National Intelligence Estimate (NIE) of Afghanistan may feel differently. The NIE is the first assessment of Afghanistan in two years and paints a bleak picture of security conditions, according to a U.S. official who read the report and spoke to The Associated Press on condition of anonymity.
Apart from Kabul and parts of Helmand and Kandahar provinces, that report says much of the rest of the country remains under Taliban control, or at least vulnerable to Taliban infiltration. It found corruption is still an entrenched obstacle to progress and says U.S. efforts to build infrastructure and move trained security forces to areas where they are needed are lagging behind.
The new Republican-dominated Congress that takes office in January is likely to convene its own hearings on the war's progress and ask for testimony from Gates and coalition commander General David Petraeus.
Barno predicts Obama will find support for his strategy from Republican lawmakers, perhaps even more than he gets from members of his own Democratic Party. But Barno said both parties will want to see measurable progress by next summer, when Obama has said he wants to begin withdrawing combat troops.
To some, that's an unreasonable goal.
More Like An Escalation
Gilles Dorronsoro is a visiting scholar at the Carnegie Endowment for International Peace who studies security and political development in Afghanistan and is a critic of U.S. strategy. Like some members of Congress who opposed Obama's announcement last year of a 2011 withdrawal scenario, Dorronsoro fears that the United States won't be in a position to begin bringing troops home by then.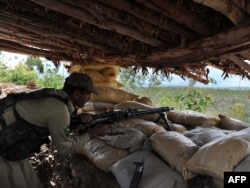 A Pakistani soldier keeps watch for militant activity in a bunker in Kurram tribal district near the Afghan border.
A lack of strong government leaders in provinces like Helmand and Kandahar who can help maintain coalition gains is one reason, he says. Another is the growing strength of the Taliban in areas where they're still in control. A third is the slow rate at which Afghan security forces are being trained.
He predicts that most European allies will begin withdrawing their troops within two years. As a result, he says, "the U.S. administration is going to face a problem -- the Taliban are stronger, the Europeans are leaving, so just to contain the Taliban, the U.S. military is going to [have to] ask for more troops in 2011 and 2012. So we're not in something that could be construed as a withdrawal with conditions, but it's much more an escalation of the war."
Pakistan's role in the Afghan insurgency will also be addressed in the review, especially the continuing challenge faced by coalition forces battling Taliban members who move back and forth across the Afghanistan-Pakistan border with impunity and find sanctuary on the Pakistani side.
The new National Intelligence Estimate states unequivocally that the war in Afghanistan cannot be won unless the Pakistani government and military flushes out the militants on its side of the border -- something the United States has been pressuring Islamabad to do for years.
Barno calls it a "serious, serious issue" and one that doesn't have a short-term solution.