Questions abound over what Afghanistan will look like once U.S. forces start withdrawing.
One of the biggest is whether elements of the Taliban can be reintegrated into society to improve the security situation.
RFE/RL's Radio Free Afghanistan recently invited listeners to weigh in on that question, which gained traction as U.S. President Barack Obama and Afghan President Hamid Karzai prepared for a videoconference on June 8. The responses from listeners ranged widely.
Shahzad Gul, a laborer, said he welcomed any chance for national reconciliation.
"It would be very good news if peace talks were held with the Taliban," he said. "If I had the power to negotiate with the Taliban, I would definitely do so and we will be happy if we do so. But they should not hand us over to another country, such as Pakistan."
Bad Memories Of Taliban
But another listener said there must be strong conditions placed on any Taliban participation in the political process.
Sohaila Safi, a young student of journalism at Kabul University, said women's rights were a particular concern.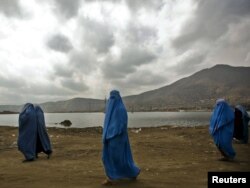 Back to the bad old days in Afghanistan?
"The Taliban should first of all accept the Afghan Constitution," she said. "Secondly, they should not prevent the education of Afghan women because women make up an important part of society. The Taliban should respect all the rights of Afghan women."
Another woman, Tahmina, a schoolteacher in Kabul, said she had personal experience with the Taliban's rule. But she doubts the militia can change its stripes.
"If the Taliban come back to Kabul and other provinces of the country, girls will not be able to work or attend schools. We are concerned that they might be forced to stay at home," she said.
Recalling what she described as "very harsh memories from the Taliban regime," she told of being accosted by a car full of Taliban militants while walking to an Islamic school to study the Koran one day.
She said one of the men "started beating me with a lash on my legs just because I was not wearing a burqa. Instead, I had a long scarf on my head. I was told that I had to wear a burqa from that time on."
Keeping Up Pressure, While Withdrawing Troops
Presidents Obama and Karzai held a videoconference on June 8, and White House spokesman Jay Carney said the two leaders spoke for about an hour on a range of topics, including "their shared commitment to Afghan-led reconciliation, progress on forging an enduring U.S.-Afghan strategic partnership, and a transition to Afghan leadership for security."
In response to a question about whether the two men had talked about the number of U.S. troops that will be withdrawn this summer, Carney said: "There was not a discussion of specific numbers."
He added that "the president has not made a decision yet about the pace and scope but he's obviously going to be having discussions with his team in the coming days and weeks about that matter, and will make his decision soon, as he said the other day."
In July, the U.S. president promised to begin pulling out troops when he ordered an additional 30,000 soldiers to Afghanistan in December 2009 as "surge" forces. The drawdown is scheduled to begin in July, and the pullout of all foreign troops from Afghanistan is to be complete by 2014.
There have been increasing signs in recent months that the pace of withdrawal could be influenced by the progress of efforts to persuade insurgents to join Afghanistan's political process.
U.S. field commanders said they believed the surge was weakening the Taliban and that military pressure could lead to opportunities for peace talks. Karzai created a High Peace Council in September to contact militants in an effort to begin a dialogue with them.
For any outreach to succeed, the Afghan government will not only have to convince insurgents to join the political process but also convince many Afghans it's not dangerous to let them do so. That could make linking the pace of withdrawal to the progress of talks doubly challenging should any negotiations get under way in the months ahead.
Drawing Down GDP
Still, if talks with the Taliban increasingly look like part of Washington's exit strategy, there are many other concerns about Afghanistan's future, too. Another major one is whether Afghanistan's economy would be strong enough to survive a U.S. pullout.
Those concerns were clearly spelled out on June 8 in a new U.S. congressional report. The report warned that Afghanistan could face a deep financial crisis after foreign troops leave as scheduled in 2014 unless more success starts being achieved now with foreign-aid dollars.
The report was prepared after two years of study by Democratic Party members serving on the Senate Foreign Relations Committee.
According to the report, 97 percent of Afghanistan's gross domestic product is linked to spending by the international military and donor community. And it noted that U.S.-backed stabilization programs have had limited success in kick-starting the domestic economy, despite about $18.8 billion being spent over 10 years.
All these are concerns that need to be entered into the calculations as Washington and Kabul prepare for the first departure of U.S. troops just weeks from now.