First domestic fuel became scarce, sending prices soaring just as winter began to bite. Then protesters took to the streets chanting, "Death to Iran," and, "Death to [President Mahmud] Ahmadinejad."
Now President Hamid Karzai of Afghanistan is poised to call on his country's former enemy, Russia, to step in as an emergency fuel supplier after stocks from Kabul's hitherto friendly Iranian neighbors dried up over a dispute that Iran has not publicly explained and which few understand.
These are challenging times for relations between Iran and Afghanistan, even if the authorities in Tehran are loath to admit it.
It started in December, when Iran began preventing diesel tankers from crossing into Afghanistan. The result is a backlog that has seen nearly 2,000 Afghan-bound tankers stuck on the Iranian side of the border -- and shortages in Afghanistan that have prompted the closure of gasoline stations and triggered a 50 percent rise in fuel cots, along with price hikes in other basic commodities.
Afghan officials have protested vocally and say their complaints have been met by promises from their Iranian counterparts to resolve the issue. But, so far, these have not been fulfilled. Despite Iranian insistence that the matter is close to being "solved," only around 40 tankers a day were being allowed to cross the border into the Afghan provinces of Herat, Farah, and Nimroz as of January 18 -- compared to around 250 to 330 before the hold-ups began, according to officials.
For ordinary Afghans, the consequences have been painful. Ainuddin, a customs official in Herat, fears for the health of his children because rising prices will prevent him from keeping his home warm.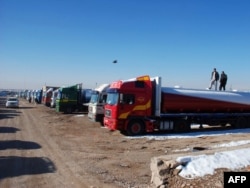 Hauliers stand near their fuel tankers on the outskirts of Herat, in western Afghanistan, on January 15.
"Transport fares in the city have doubled. The rise in petroleum prices has pushed compressed gas up from 50 afghanis ($1) to 70 afghanis [per kilogram]," Ainuddin says. "In the absence of petroleum and gas, people use electricity for heating, which has reduced the voltage."
Local agriculture has also taken a hit, with farmers in the south prevented from using the diesel pumps they depend on to irrigate their fields.
Anti-Iranian Sentiment
On January 18, the president of Afghanistan's chamber of commerce, Qurban Haqjo, announced that thousands of independent Afghan traders would retaliate by halting trade with Iran, thus jeopardizing deals worth millions of dollars.
"This stoppage [of importing Iranian goods] is based on the national feelings of Afghan traders and their understanding of the situation," Haqjo said. "They see how the people of this country feel and they sense the pain and difficulties created by unprecedented decisions taken by Iran. The Afghan people and traders have decided to take reciprocal action against Iran. The decision is effective as of today."
The move followed a series of anti-Iranian protests in Kabul and other Afghan cities.
In the face of angry Afghan complaints, Iran has virtually refused to acknowledge there is a problem. On January 5, the website of Iran's state broadcaster, IRIB, described international reports of the dispute as "wild propaganda" from "the media horns of Afghanistan's occupiers" who it said wanted to damage relations between Tehran and Kabul.
Afghan officials say their Iranian counterparts have privately objected that the fuel is being used to supply U.S.-led NATO forces in Afghanistan, a suggestion both Kabul and NATO deny. IRIB, meanwhile, reported that Iran's Foreign Ministry spokesman, Ramin Mehmanparast, has attributed the hold-ups to "changes due to the implementation of the new economic plan in Iran" -- an apparent reference to the abolition in December 2010 of Iran's extensive system of state subsidies.
In the absence of a more extensive explanation, speculation has been rife about why Iran might wish to harm a neighbor to whom it is known to give financial aid and with whom it has sought to win influence and establish warm ties.
Ali Ansari, professor of Iranian Studies at St. Andrews University in Scotland, says he believes it may indeed have been prompted by disruption caused by Iran's subsidy reform program, as cited by Mehmanparast. He also suggests Iran would find it politically awkward to export petroleum abroad when it is facing a domestic fuel shortage of its own due to international sanctions.
"I think that [contradiction] is at the heart of it. They have this problem domestically [where] they are having to satisfy fuel demands within Iran. They've obviously lifted subsidies, it's very sensitive," Ansari says. "At the moment, they can't be seen to be letting go, in a sense exporting, quality gasoline and benzine across the border. They are trying to maintain as much for their own consumption as they can."
Message In A Blockade?
But Meir Javedanfar, an Iranian-born commentator with the Middle East Economic and Political Analysis Company (MEEPAS) in Israel, suspects Iran is using Afghanistan to hit back at the United States for the imposition of sanctions over Tehran's disputed nuclear program.
"There's a high probability that this is a political move in order to send a message to the West, especially to the United States, that pressuring Iran through sanctions has a price and this is Iran's way of reciprocating America's efforts to isolate Iran," Javedanfar says. "The Iranian government feels that any cooperation with the Afghan government could also benefit the United States and its efforts to bring stability to Afghanistan. So even if it [the fuel] wasn't for the NATO forces, I think the fact that such fuel would help Hamid Karzai's government make progress and get closer to the stability that NATO's looking for, then that could also be something that the Americans benefit from."
Another possibility is that Iran is trying to pressure Afghanistan to gain greater influence over Afghan politics. Razaq Mamoon, director of the Bust-e Bastan news agency in Kabul, believes any such move may be partly related to Western concerns over alleged fraud in the 2010 Afghan parliamentary elections. (Mamoon was
attacked with acid
days after his RFE/RL interview.)
"I believe the Iranians have taken a clear position to put pressure on Afghanistan. The first issue is connected to Afghanistan's new parliament; there are reports that the international community is not satisfied with the composition of the new parliament and there are also feelings that Iran has the upper hand in the parliament [after] quite clear fraud took place [in the election]," Mamoon says. "A second issue is the passing of Turkmenistan's gas pipeline through Afghanistan, which is almost the death knell to Iran's gas and oil trade; and Afghanistan is gaining the important position as an international base in Asia, which has become a big concern to Iran."
The true reason may be a combination of all three or none of the above. It may forever remain a mystery. But amid the fog of speculation, one thing is certain: the feelings of Afghans toward Iran -- a country with which they share a common culture and, in many cases, a common language, and which many look up to -- are much cooler than they were. It may take more than renewed fuel supplies to reheat them.
RFE/RL's Radio Free Afghanistan contributed to this report