There seem to be increasing tensions between Iran's Supreme Leader Ayatollah Ali Khamenei and President Mahmud Ahmadinejad.
The source of the most recent friction is last week's aborted "resignation" of Iran's Intelligence Minister Heydar Moslehi, who was reportedly dismissed by Ahmadinejad but quickly reinstated by Khamenei.
In the latest sign of the dispute, presidential media adviser Ali Akbar Javanfekr, who is also the managing editor of IRNA, Iran's official news agency, was
summoned to court.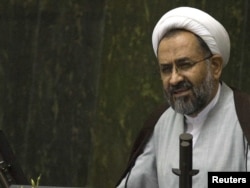 Heydar Moslehi
And according to unconfirmed reports,
Ahmadinejad has not been seen
at the presidential palace for four days. He also did not attend a cabinet meeting on Sunday.
Moslehi is said to have attended the meeting
.
Some Iranian websites have speculated Ahmadinejad did not attend to show his disapproval with the failed dismissal of Moslehi.
On April 16, Iranian news websites reported that Moslehi had "resigned" and that Ahmadinejad had accepted his resignation and appointed him as an intelligence adviser. Khamenei, who has the last say in the Islamic republic, was reported to have intervened quickly and
rejected the "resignation."
The disagreement over Moslehi was in the open as pro-Ahmadinejad and government websites, including IRNA, appeared to ignore Khamenei's decree and
published it a day after it was issued
.
Tensions between Khamenei and Ahmadinejad are nothing new. There have been several cases of apparent disagreement in recent months between the Iranian leader and the president, who has been
pushing for greater power and authority
.
Some observers believe the current dispute is the most serious so far.
Prominent exiled dissident Akbar Ganji believes the intelligence, military, and security branch of the Islamic republic is taking measures against Ahmadinejad and his allies similar to those it has used against the opposition Green Movement. Ganji says the order for the move against the Iranian president
comes from Khamenei himself.
"Everyone remembers that [the hard-line daily] 'Kayhan' and other intelligence, military, and security organs have over and over accused [opposition leaders] Mir Hossein Musavi and Mehdi Karrubi and [former President] Mohammad Khatami of being the agents of Mossad, the CIA, and British intelligence services. Now, Ahmadinejad's turn has come," Ganji writes in an article published on the news website "Gooya." "He's being considered a sedition bigger and more dangerous than the Green sedition."
Sedition is a term Iranian leaders use to describe the Green Movement.
In a recent editorial, "Kayhan" attacked Ahmadinejad's close aide Esfandiar Rahim Mashaei, without naming him,
accusing him of being a "deviant"
and orchestrating last week's events. "Kayhan" is believed to often express the views of Iran's supreme leader.
Ganji says the disputes between those at the top of the Iranian establishment are an opportunity for "empowering the people." He writes that reformists should remain silent about the current dispute because any kind of comment could lessen the tensions and lead Khamenei to push for a "forced unity."
-- Golnaz Esfandiari