The worlds of spying and showbiz would seem to be mutually exclusive. But Anna Chapman, Russia's flame-haired former agent, is making a career of both.
Chapman, who last year was outed along with a handful of other Russian spies working secretly in the United States, makes her television debut tonight, in a program,
"Secrets Of The World With Anna Chapman,"
that promises to feature its charismatic young star doing what she does best: solving mysteries.
The program, part of a new documentary series on Russia's Kremlin-friendly REN-TV, is the crowning achievement in a season that has seen Chapman rise from a disgraced foreign agent of dubious talent to a homespun sensation as an all-around It Girl enjoying friendly relations with a fellow former spy, Prime Minister Vladimir Putin. Another reportedly close female associate of Putin's,
former rhythmic gymnast and Duma Deputy Alina Kabayeva
, is chairman of the oversight board of the National Media Group, which owns REN-TV.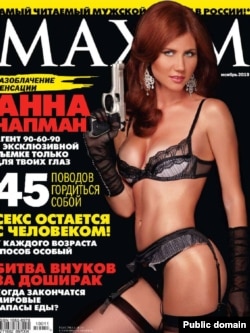 In addition to "Secrets Of The World," the 28-year-old Chapman has taken on a post at a Russian bank, posed for a revealing spread in the Russian edition of
"Maxim" magazine
, and starred in a
New Year's parody
of the 1970s television series "Seventeen Moments Of Spring," in which the beloved Soviet agent Stirlitz shares a brief and poignant meeting with Chapman at a restaurant.
Chapman has added a political dimension to her career as well, joining the leadership of Molodaya Gvardia (Young Guard), the youth wing of Putin's all-powerful United Russia party.
The group has been widely criticized for its aggressive tactics in targeting illegal immigrants and foreign critics of the regime. But speaking at a Young Guard congress in December, Chapman attempted to put a fresh face on the proceedings, donning a form-fitting red-and-black dress and calling on members "to take pleasure in each new day" and "begin changing the country by changing ourselves. Be happy!"
99 Fake Street
Not everyone is happy, however.
Music critic Artyom Troitsky, who has emerged as a pointed observer of the current political regime, says that for most Russians, Chapman holds no particular allure on the physical front and -- perhaps more importantly -- should not be celebrated as a national hero after failing to turn up any information of substance during her brief career as a spy.
"I wouldn't say she's especially popular," Troitsky says. "I think most people have a very ironic opinion of her. The perception is that she's like a new favorite toy of Vladimir Putin. So because of that, all kinds of people -- the media, bankers -- they try to shower her with all kinds of favors, because they think that she's Putin's toy girl."
PHOTO GALLERY: The Spy Who Came Into The Gold
Chapman, who was born Anna Kushchenko in the Russian city of Volgograd, spent much of her life abroad. Her father, a Russian diplomat with rumored KGB ties, was based for many years in Kenya.
In 2000, she moved to London, where she found short-term work in the financial and aviation industries, and an equally short-term husband, Briton Alex Chapman, who gave her her now-notorious surname as well as a British passport. They divorced four years later. The British authorities, in the wake of last year's spy scandal, have since revoked Chapman's citizenship.
Chapman relocated to New York in 2006, where she continued to pursue an entrepreneurial career while allegedly operating within a network of fellow "illegals," or sleeper agents, planted by Russia's SVR foreign intelligence service.
At the time of the agents' arrest in the summer of 2010, it was not clear that any had been particularly successful in uncovering strategically useful military or technical information. But Chapman's behavior at the time -- registering a cell phone under the address "99 Fake Street" and telephoning her father in Moscow at the first sign of trouble -- was considered particularly frivolous and un-spylike.
Proving Her Worth
Still, some are sympathetic to her plight.
Journalist and media expert Aleksei Pankin says anyone with training in espionage may have a difficult time returning to normal life. And although he's not interested in the substance of programs like "Secrets Of The World," he said he might tune in -- just to see how she's doing.
"I'm very close acquaintances -- friends, actually -- with a former spy, an important one. And his attitude about this is that people who have undergone such monstrous training, and suffered so stupidly, is that it requires a really difficult and complicated adaptation for them to return to peaceful civilian life," Pankin says. "So for that reason I'm not especially interested in what they're going to show. The main thing is that she's all right."
Chapman is not the only "illegal" to benefit from government largesse upon their return. Another agent, Natalia Pereverzeva -- who posed as housewife Patricia Mills during her time in the United States -- has been made an aide to the president of the state pipeline operator Transneft. And Andrei Bezrukov last autumn was appointed adviser to the director of the state-controlled oil company Rosneft.
Edward Lucas, a senior editor at "The Economist" who is currently writing a book on Russian spies, says there's nothing in Chapman's performance as a spy to suggest she was an important -- or even well-trained -- intelligence officer, and that her rise to notoriety may be due to a simple mix of personal ambition, family connections, and good timing.
Still, he says, Chapman has proved useful to the Kremlin. Even as the country's roads crumble and hospitals sag with mildew, the Russian and Soviet spy machines have always been a point of massive pride -- "the bit of the state that really works," as Lucas puts it.
He says the Kremlin -- which may have chafed under the FBI's evident delight in recounting the bumbling performance of Chapman and her fellow illegals -- is ready to defend what it still does best.
"The Kremlin wants to push back on this and to say, 'You know what, we have this really hot spy chick, and we bet your spies aren't as glamorous as she is,'" Lucas says. "And I think in a way it's quite good for the image of Russia, the idea that you have this multilingual, talented, cosmopolitan, reasonably good-looking, versatile woman as a representative of the new Russia. I think if I was a national brand-making consultant, I would say to get out there and use her."