YEREVAN -- An Armenian military official has said that Yerevan is not intimidated by Azerbaijan's ongoing military buildup and the recent purchase of sophisticated Russian antiaircraft missiles on display in Baku over the weekend, RFE/RL's Armenian Service reports.
First Deputy Defense Minister Davit Tonoyan shrugged off Azerbaijani President Ilham Aliyev's renewed threats to resolve the conflict over the breakaway Azerbaijani region of Nagorno-Karabakh by force, questioning Baku's readiness for another war.
Tonoyan also expressed confidence that the Armenian side will maintain the balance of power with its oil-rich neighbor through the acquisition of more weapons and a sweeping reform of its armed forces.
"I think those statements are mostly political because our neighbor is also aware of our real capabilities," Tonoyan told RFE/RL in an interview. "Nevertheless, if Azerbaijan starts military hostilities out of self-deception, I don't see a possibility of it achieving strategic or tactical successes."
A Military Show Of Force
On June 26, Azerbaijan held its biggest military parade since the fall of the Soviet Union, a show of force that came just two days after Aliyev and his Armenian counterpart Serzh Sarkisian failed to reach an agreement on a peaceful resolution of the Karabakh conflict at a meeting held in Russia.
The parade in Baku involved thousands of troops and hundreds of tanks, artillery systems, and other military hardware.
"I am completely sure that our territorial integrity will be [restored] in any possible way," Aliyev declared in a speech.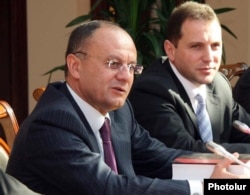 Armenia's First Deputy Defense Minister Davit Tonoyan (right) and Defense Minister Seyran Ohanian
The most significant of the new weapons shown by the Azerbaijani military were S-300 air-defense systems widely regarded as one of the world's most-potent antiaircraft weapons. Russia reportedly sold at least two batteries of these surface-to-air missiles to Baku last year in a deal estimated at $300 million.
News of that deal, which first emerged in July, raised concerns in Armenia and Karabakh. Opposition groups there said it will seriously limit the Armenian military's ability to hit strategic targets in Azerbaijan and will thereby encourage Baku to attempt a military solution to the dispute.
Sarkisian and Defense Minister Seyran Ohanian, both of whom are former military leaders of Karabakh, dismissed those concerns. Ohanian claimed in particular that the Azerbaijani army "will need quite a lot of time" to learn to use S-300s and that his troops know how to neutralize them.
Tonoyan echoed these assurances, adding that the Armenian armed forces have more such missiles at their disposal.
"We are more familiar with those systems," he said. "We have been exploiting them for a fairly long time and know the possibilities of reducing their effectiveness.
"Unlike Azerbaijan, our systems cover the entire airspace of the likely theater of military hostilities and, in terms of their qualitative and quantitative characteristics, represent a much greater capability. Therefore, the existence of S-300 complexes should worry not Armenia, but an Azerbaijan acting from the position of threats of military action."
Armenia officially confirmed the possession of such systems in late December. Armenian state television showed at the time official footage of S-300 batteries test-firing missiles in an undisclosed location.
It remains unclear when and on what terms Russia transferred these weapons -- which have a firing range of up to 300 kilometers -- to its main regional ally. They are only known to have been first delivered to the Russian military base in Armenia in the late 1990s.
Intensifying Arms Race
"From a military standpoint, those systems do not threaten Armenia's and Karabakh's security for the simple reason that it's an antiaircraft defensive weapon and neither Armenia nor the Nagorno-Karabakh Republic plan to start a military campaign against Azerbaijan," insisted Tonoyan. "Besides, they can only solve the issue of defending a part of Azerbaijan's airspace."
"At the same time, the acquisition of such systems and political speculation surrounding that issue show that our neighbor has switched from the acquisition of offensive weaponry to the acquisition of defensive weaponry. And that is also food for thought," he added, referring to the Azerbaijani buildup financed from Baku's massive oil revenues.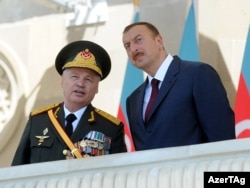 Azerbaijani Defense Minister Safar Abiyev and President Ilham Aliyev view the military parade in Baku at the weekend.
On June 26, Aliyev reaffirmed his government's plans to boost military spending to $3.3 billion this year, up from $2.15 billion a year ago and just $160 million in 2003. By comparison, Armenia's defense budget for 2011 is projected to reach only $400 million.
Armenia has sought to stay in the intensifying arms race by maintaining close military ties with Russia that entitle it to receive Russian weapons at discount prices or even for free. A new Russian-Armenian defense agreement signed in August commits Moscow to helping Yerevan obtain "modern and compatible weaponry and [special] military hardware."
Ohanian said in February that Armenia acquired "unprecedented" quantities of modern weaponry in 2010 and will continue the buildup in line with a five-year rearmament plan approved by Sarkisian's National Security Council in December. The plan envisages, among other things, the acquisition of long-range, precision-guided weapons.
"Considerable work has been done in that direction, and it will continue at an even faster pace," Tonoyan said. "Modern warfare also requires corresponding operational-tactical skills, and coordinated actions on communication, intelligence, and information technology. A lot of work is also being done in that direction as well. And the emphasis is being put on domestic manufacturing."
In that context, Tonoyan stood by the Armenian Defense Ministry's announcement earlier this month that it is manufacturing and supplying army units with unmanned military aircraft capable of flying deep into enemy territory.
He also did not deny reports that the Armenian army is due to receive more Russian weapons as a result of an ongoing restructuring of the Russian base headquartered in Gyumri.
A senior Russian Defense Ministry official announced the transfer of this "excess weaponry" last week, but did not elaborate.
The Azerbaijani Foreign Ministry said afterwards that it will investigate the veracity of this information "through relevant sources."
The commander-in-chief of Russia's ground forces, Colonel-General Aleksandr Postnikov, twice visited Armenia and held talks with Ohanian and other top military officials in April.
The Defense Ministry in Yerevan said the talks focused on an ongoing redeployment of the Russian troops stationed in the country.