In Azerbaijan, a recent ban on schoolgirls wearing the hijab, or Muslim head scarf, has sparked angry public protests that are taking on an increasingly political flavor and raising the specter of religious extremism in a country that is both Muslim-majority and largely secular.
At a commemoration of the Shi'ite Islamic holiday of Ashura last week in the village of Nardaran outside Baku,
several thousand people chanted in opposition
to the hijab ban after a religious leader exhorted that they "must really be prepared to die" for their faith.
Baku has defended the hijab ban as part of its attempt to restore Soviet-era school uniforms to public education. But the controversy has threatened to put the government perilously at odds with the country's rising number of devout Muslims.
Lawyers and human rights activists have also cried foul, saying the government has no right to prohibit religious clothing in schools when the state constitution does not impose any restrictions on wearing the hijab.
Hundreds of girls are believed to have stopped attending school in defiance of the ban. "I'll never give up my hijab," says Vusala Quliyeva, an 11th-year student in Baku. "They haven't shown us any official papers restricting our head scarves. I don't understand their verbal instructions, and I can't follow their order."
Angry Families
Residents of Nardaran protest the prohibition of hijab in schools last week.
Parents, too, have expressed frustration over the ban, which followed a verbal pronouncement by Education Minister Misir Mardanov saying girls should comply with the new rules on school uniforms.
With no official legislation on the issue, parents argue that the new restrictions are not legal and cannot be enforced. Some are looking to place their school-age daughters in private schools where the uniform requirements would not apply.
In public schools, however, authorities like Ali Ahmadov, a middle-school principal in Baku, have been left in the unenviable position of enforcing the deeply unpopular edict to angry parents.
"We have to ensure that our schoolgirls do not come to classes in hijabs," Ahmadov said during a recent meeting with parents. "It doesn't make any difference whether the instructions were verbal or written."
"But the minister said the hijab could be given up if it was necessary," one parent, Nazim Malikov, shot back. "He didn't say it should be banned immediately."
Tight Lid On Religion
Tensions between the state and religious Muslims have mounted in recent years, as Azerbaijan's leadership -- cloistered around the all-powerful clan of President Ilham Aliyev -- have held tight to the Soviet-era culture of secularism.
The U.S. State Department, in its annual report on religious freedom, has noted a growing number of restrictions on Islam and minority religions in Azerbaijan. As with other post-Soviet regions and countries that are predominantly Muslim, Azerbaijan subjects its mosques and religious leaders to strict registration procedures and keeps them under the jurisdiction of a Soviet-era advisory board.
The U.S. report noted a number of mosque closures in the past year, as well as growing restrictions on proselytizing, distribution of religious literature, and the volume at which the Muslim call to prayer can be made.
A number of devout Muslims have also complained they have been targeted by police, who have
beat them and forcibly shaved their beards
, without provocation.
Still, as the State Department notes, the number of religious Muslims is growing, unchecked -- and possibly even energized -- by the government's repeated crackdowns.
WATCH: In the town of Nardaran during the religious festival of Ashura, religious leaders spoke out against a recent government ruling forbidding girls from wearing the hijab in school.
Not For Children
The Education Ministry, which
has been the scene of protests
, has attempted to downplay the controversy, saying relatively few schoolgirls wore hijabs to begin with, and that many of them have willingly given them up in light of the new rules.
Zamina Aliqizi, a spokeswoman for the Baku city education department, argues that school-age children are simply too young to understand the significance of their religious beliefs and that the uniform guidelines are meant to protect children from the stigma of differences in wealth and social status.
"We are seriously demanding that all middle-school students come to classes in uniform," she says. "We think school-age children between 6 and 16 years old do not understand what it means to cover their heads at school. They should be given an opportunity to understand that as they get older. We have to create the best possible conditions for their education."
But the protests outside the ministry and the burning of portraits of its head, Mardanov,
during other demonstrations
have sparked concerns that the secular government -- focused on protecting its power base and maximizing profits from Azerbaijan's massive energy wealth -- may not be sufficiently attuned to the changing climate in the country, as citizens turn to religion as a social lifeline.
Out Of Touch?
Lawyer Intiqam Aliyev says he believes the hijab ban is both illegal and a ploy to keep public debate focused away from issues like corruption and living standards -- even if such a ploy may eventually backfire.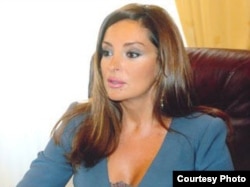 Azerbaijani First Lady Mehriban Aliyeva -- Is the Aliyev clan out of touch with an increasingly pious public?
"The hijab is one of the signs of freedom of conscience," Aliyev says. "I think the hijab problem has been created artificially. Its main aim is to distract people from the country's serious social and political problems."
There are concerns that the growing stratification of Azerbaijani society may be fuelling resentment among the Muslim devout.
A recent U.S. diplomatic cable published by the whistle-blower website WikiLeaks described the women in President Aliyev's clan as "fashion-conscious and daring, far more so than the average woman in majority-Muslim Azerbaijan," and his influential wife, Mehriban, as wearing dresses "that would be considered provocative even in the Western world."
The debate also has regional implications, with neighboring Iran seen as the main supporter of Azerbaijan's growing religious ranks. Relations between Baku and Tehran are uneasy. Iran is suspicious of Azerbaijan's friendly ties to Israel and Azerbaijan, in turn, is concerned that the Islamic republic may be seeking to build a groundswell of religious radicalism on its territory.