No one knows her name, but she's quickly becoming the new symbol of pro-democracy protests in Azerbaijan.
In a video taken by RFE/RL's Azerbaijani Service during an
antigovernment rally in Baku on April 17
, a pigtailed little girl dressed in a jean jacket can be seen shaking her fist and chanting "Freedom" and "Resignation" as at least three security agents close in on her and her mother and lead them away.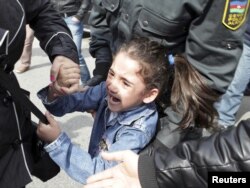 The little girl is taken away by police.
"Take your child and go away. Respect yourself," says one security agent.
"We don't have money to buy medicine," the mother shouts. "Don't think you will be able to keep your government. A 30-year old government collapsed in Egypt."
"We'll keep the government. Don't worry," an officer responds. "Take your child and go away."
Photos of the girl, who's believed to be about 5 years old, have been circulating widely on Facebook, according to RFE/RL's Azerbaijani Service, while the video, uploaded to YouTube, has attracted hundreds of comments from users angered by her treatment.
The mother and her child were among dozens of people who were detained at a downtown park in the capital as they attempted to express their displeasure at the repressive government of President Ilham Aliyev.
Police say both the mother and her child were later released from detention.
Pro-democracy movements are often buoyed by having a motivating figure to inspire them. No one can forget
Neda
, the young Iranian woman whose horrific death was caught on film during antigovernment protests in Tehran in June 2009. Or
Wael Ghonim
, the imprisoned Google executive who became an unwitting symbol of Egypt's pro-democracy movement after starting a Facebook page credited with helping to mobilize the masses.
That brave little girl in Baku -- as threatening as a Barbie doll -- could be just what the frustrated democracy activists in Azerbaijan need to kickstart their campaign.
-- Grant Podelco