BAKU -- Azerfon, a Baku-based telecoms company that operates under the brand Nar, is one of the success stories of the new Azerbaijani economy. Founded in March 2007, the company already boasts nearly 1.7 million subscribers and covers 80 percent of the country's territory. Azerfon is Azerbaijan's only provider of 3G services.
In April, the Caspian-European Integration Business Club (whose honorary chairman is Azerbaijani President Ilham Aliyev) named Azerfon "mobile operator of the year." The honor was presented to Azerfon board chairman Cuneyt Turktan by Azerbaijani Minister of Communications and Information Technologies Ali Abbasov.
But the company's ownership structure has been clouded in mystery since its creation. Now, RFE/RL's Azerbaijani Service has conducted an investigation linking Azerfon's main shareholders to the daughters of President Aliyev.
Aliyev's family has been tied to numerous suspicious business dealings in the past. His family controls a company called SW Holding that has privatized many lucrative elements of the state-owned AZAL airline. The "Washington Post" reported in March 2010 that Aliyev's three children are the
registered owners
of some $75 million worth of real estate in Dubai. First lady Mehriban Aliyeva and her two daughters are
believed to control
several of the country's largest banks.
When the Communications Ministry announced the formation of Azerfon late in 2006, it said the company was owned by the German firm Siemens AG and a couple of British firms. The ministry has repeated the same information several times in the ensuing years.
But Siemens AG spokeswoman Monika Bruecklmeier-Langendorf told RFE/RL that her company has never owned any shares in Azerfon or any other mobile operator in Azerbaijan.
Likewise, the Finland-based Nokia Siemens Networks (NSN) denied owning a stake in Azerfon. "NSN has never owned shares of Azerfon. NSN is leading provider of solutions and services to the communications industry, and our policy is not to own shares of our customers," NSN spokeswoman Anna Lehtiranta said.
When RFE/RL informed the Communications Ministry of the information from Siemens, a ministry spokesperson simply repeated that Siemens is an Azerfon shareholder.
Mum's The Word
Azerfon's press office refused to provide information about its shareholders to RFE/RL. It also declined to provide information about its total revenues or the amount of taxes it pays, except to assert that it pays its taxes in a timely fashion.
However, according to documents obtained by RFE/RL from the Azerbaijani Tax Ministry (registration number 1105-T13-3906), Azerfon is owned by three Panama-registered companies, one company registered in the Caribbean tax haven of Nevis Island, and the state-owned Aztelekom. The latter owns 10 percent of Azerfon, while the Nevis Island firm Cellex Communications SA owns 18 percent. The three Panama-registered firms, each of which owns 24 percent of Azerfon, are Hughson Management, Inc.; Gladwin Management Inc.; and Grinnell Management Inc.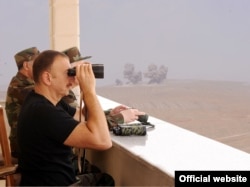 Azerbaijani President Ilham Aliyev
Vasif Movsumov, chairman of the Baku-based Anticorruption Foundation, says such a lack of transparency raises questions.
"If two government agencies give contradictory information about a company's ownership, and the company itself is not transparent on this issue, there is a high probability of corruption in its practices," Movsumov said.
International anticorruption campaigners have long noted that the use of offshore shell companies in tax havens is a common tactic for hiding the identity of a company's owners and covering illegal activities such as corruption and money laundering.
Trans-Atlantic Trail
The Panama State Registry provides basic information about the three companies registered there that are purportedly among Azerfon's owners. According to their records, Leyla Aliyeva, President Aliyev's 25-year-old eldest daughter, is registered as the president of
Gladwin
and
Grinnell
. In both cases, Arzu Aliyeva, Ilham Aliyev's 22-year-old second daughter, is registered as company treasurer.
In the
case of Hughson
, the roles are reversed, with Arzu listed as president and Leyla as treasurer.
All three companies list start-up capital of $10,000.
All three Panama-based firms also list Olivier Mestelan, a Swiss businessman who reportedly has close ties to the Aliyev family, as treasurer. "Baku" magazine, which is published in Moscow by Leyla Aliyeva,
profiled Mestelan
as an art collector and patron. He owns the Kicik QalArt gallery in Baku and is founder of the Art ex East Foundation. According to the "Baku" profile, he is a lawyer by training who owns a home in Azerbaijan that he visits several times a year. RFE/RL was told at the Kicik QalArt gallery that Mestelan would not comment on the businesses he owns.
Likewise, the presidential administration refused to provide information relating to the Aliyev family's business holdings. According to an Azerbaijani law adopted in 2005, senior government officials, including the president, are required to provide asset declarations about themselves and their immediate families. President Aliyev has never made such an asset statement public and the Azerbaijan Central Election Commission rejected RFE/RL's request for copies of his statements.
Perceived Irregularities
There are other unanswered questions about Azerfon. Rovshan Agayev, director of the Center for Assistance to Economic Initiatives, claimed that Azerfon entered the Azerbaijani market in violation of a 2001 law requiring a license tender.
"In order to obtain the legal rights to operate in the country, communications companies need to demonstrate their technical and investment eligibility by participating in tenders," Agayev told RFE/RL. "None of the Azerbaijani mobile-phone operators has ever participated in such a tender. When Bakcell entered the market in 1995 and Azercell in 1997, the state procurement law had not yet been adopted. However, in 2006, when Azerfon appeared on the market, such procedures were already mandatory."
Agayev says the Communications Ministry violated the law by approving Azerfon without a tender.
In addition, the manner in which Azerfon acquired its current monopoly on 3G services raises questions. Competitor Azercell -- which has more than twice as many subscribers as Azerfon -- has applied for a 3G license repeatedly in recent years and been repeatedly rejected by the Communications Ministry. Azerfon was granted the license without a tender.