WATCH: The UN secretary-general talks about the leak of U.S. correspondence that suggests biometric and personal data on him and other UN staff were being collected by U.S. diplomats.
UN Secretary-General Ban Ki-moon says he is in favor of adding more members to the UN Security Council. In an exclusive interview with RFE/RL, Ban says the prevailing view among UN members is that the current format of 15 council countries -- including five permanent veto-wielding members -- needs to be reformed. Ban discussed this and other issues -- including Iran's nuclear program and the recent WikiLeaks disclosures -- with RFE/RL's Yedige Magauin in Astana, ahead of
the summit
there of the Organization for Security and Cooperation in Europe (OSCE).
RFE/RL: Mr. Secretary-General, I'd like to thank you for this opportunity. And I'd like to start with the WikiLeaks disclosures that made a splash around the world. Previously secret U.S. diplomatic cables reveal that the State Department asked American diplomats to gather biometric and other information on you and your senior staff at UN headquarters. Does that concern you?

Ban Ki-moon:
My spokesperson has
issued a statement
in this regard. I hope you will refer to that statement, first of all. Basically, I do not believe that anybody would be happy when somebody knows that he or she is under watch by somebody. However, as the secretary-general of the United Nations, I know that my job and my performance is transparent and under constant scrutiny by the international community. The United Nations' activities are transparent and we are doing our best efforts to meet the expectations of the international community.
RFE/RL: But does it concern you, the fact itself?

Ban:
Again, my statement stated that all member states of the United Nations should adhere to existing conventions and treaties respecting and protecting the immunities and privileges of the United Nations.
RFE/RL: Now to host country Kazakhstan, who chairs the OSCE now. Many who believe that chairmanship means leading by example question that Kazakhstan -- with its weak record on basic human rights and freedoms -- should even have had this job to chair a major European security and rights body. What's your opinion on it? How would you evaluate Kazakhstan's chairmanship of the OSCE in the past year?

Ban:
During the last year as chairman in office of the OSCE, Kazakhstan has been demonstrating its leadership and commitment for peace and stability in Kyrgyzstan and other areas. It's remarkable that they have been working very closely with the members of the OSCE and also United Nations to ensure that there should be peace and stability and human rights in Kyrgyzstan.
I sincerely hope that under the leadership of President [Nursultan] Nazarbaev during this OSCE summit meeting the members of the OSCE will be able to address all the issues of common concern, starting from peace and stability, human rights, environmental sustainability, nuclear disarmament. All these are important issues which we need to address.
Kazakhstan is one of the important partners of the United Nations and also has been making great social and economic development. I sincerely hope that also Kazakhstan will make good progress in upholding, respecting human rights. This is what I have discussed with the Kazakh leadership and I sincerely hope also that they will fully implement the recommendations of the Human Rights Council.
RFE/RL: Now, if we turn to more international [questions]. Recently, 40 scholars and policy analysts called on the United States to reevaluate its Iran policy and recognize Tehran's right to enrich uranium under international supervision. In your view, is it time for a fundamental reassessment of policy toward Tehran?

Ban:
I have been discussing this matter with the Iranian leadership including President [Mahmud] Ahmadinejad on many occasions. And I have been urging the Iranian authorities to fully comply with relevant Security Council resolutions. I have been urging them to fully cooperate with the IAEA [International Atomic Energy Agency]. All the state parties to the NPT [nuclear Nonproliferation Treaty] have a genuine right to use nuclear energy [for peaceful purposes]; however they have to prove themselves that their use of nuclear energy is genuinely for peaceful purposes.
The IAEA's recent report does state that they [Iran] have not met that criteria. The onus is on [the] Iranian authorities to prove themselves that their purpose is not the military dimension, [that it is for] peaceful purposes. That's their responsibility.
RFE/RL: Do you have any plans to go to Tehran? Would your personal involvement help resolve this nuclear impasse?

Ban:
I do not rule out any possibility of visiting Tehran whenever opportunity or time arises.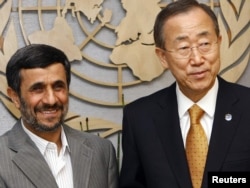 Ban Ki-moon greets Iranian President Mahmud Ahmadinejad at UN headquarters in New York in September.

RFE/RL: And one more question about Iran. Iran was recently censured by the UN Human Rights Council. How do you evaluate the human rights situation in the country, and does it, again, concern you?

Ban:
Again, there have been many concerns raised about Iranian human rights situations, including arbitrary arrests and detentions and, possibly, tortures. All these should be rectified in accordance with international human rights and humanitarian standards.
I have discussed again this matter with President Ahmadinejad and most recently with Mr. Mohammad Larijani, who is the secretary-general of the High Council for Human Rights in Iran. Mr. Larijani assured me that he would look into all these cases which I have raised and would get back to me [with] clear answers. I sincerely hope that Iranians will uphold all international human rights and humanitarian standards.
WATCH: The UN secretary-general talks about Azerbaijan-Armenia relations:RFE/RL: Now let's turn to Armenia and Azerbaijan, two countries to where Radio Free Europe/Radio Liberty broadcasts. Since 1993, the UN has passed four resolutions on Nagorno-Karabakh, and all to little effect. What can the UN do to make sure that the resolutions are fulfilled?

Ban:
I reckon on the continued involvement and commitment of the OSCE Minsk Group. I hope that the sides remain at the table to discuss all these issues, and I understand that recent discussions have gained some momentum. I, again, hope that Azerbaijan and Armenia will agree to the basic principles of peaceful resolution of this issue as soon as possible.
At the same time, I would urge that the parties concerned -- Armenia and Azerbaijan -- would refrain from making any provocative actions along the Line of Contact and withdraw the snipers who are deployed along the Line of Contact. This will help, not only for those two parties, but also other groups who are working hard to facilitate these negotiations in a peaceful manner.
RFE/RL: And my last question is about the future of the UN. Where do you stand on reforming the Security Council? Do you believe that permanent membership should be broadened to include countries such as India, as U.S. President Barack Obama, for instance, suggested? What would your ideal Security Council look like?

Ban:
There is a common view among member states of the United Nations that the Security Council should be reformed, more transparent, more representative, and a more democratic way, considering the tremendous and significant changes that have taken place during the last six decades. Member states are actively discussing this matter.
I would say that there are almost unanimous views that the Security Council should be reformed. However, how to reform, what is [the] size of the expansion of reform, who should be represented in the Security Council – that is something which needs to be determined by the member states through negotiations.
The General Assembly has taken up this issue recently in a more focused way through informal negotiations. I sincerely hope that the member states will find some modalities and formulas that will be acceptable to all member states.
LISTEN: On his call for a more inclusive UN Security Council:RFE/RL: Your personal opinion in terms of reforming the Security Council: Are you for the broadening of membership?

Ban:
As secretary-general, and also personally, I believe that the Security Council should be expanded to reflect the changing situation and to address all the challenges of the 21st century.
RFE/RL: So your ideal Security Council is definitely broader than it is now?

Ban:
That is what most of the member states agree on. But this expansion should be made in a more representative and transparent and democratic way. And this is what the member states want, and this is what I believe should be done.