RFE/RL's Belarus Service has launched a project meant to call attention to the hundreds of activists and opposition supporters jailed in the wake of the country's controversial elections on December 19.
The elections handed a fourth term in office to authoritarian incumbent Alyaksandr Lukashenka, frequently referred to as "Europe's last dictator." The vote was widely criticized by the Belarusian opposition and Western observers as falling short of democratic standards.
Peaceful postelection protests ended in violence after Belarusian security forces cracked down on demonstrators, beating and arresting hundreds of people, including a number of Lukashenka's presidential opponents.
The "Voices Of Solidarity" project brings together dozens of prominent international and Belarusian politicians and artists to read the names of opposition supporters detained after the vote.
Former U.S. President George W. Bush read the names of the five presidential candidates who were being held in a KGB prison.
The five presidential candidates -- Ales Mikhalevich, Uladzimer Nyaklyaeu, Vital Rymasheuski, Andrey Sannikau, and Mikalay Statkevich -- face up to 15 years in prison if convicted on charges of organizing public unrest.
The names of those still imprisoned in Minsk were broadcast by RFE/RL's Belarus Service on New Year's Eve and New Year's Day.
Polish Foreign Minister Radoslaw Sikorski, former Czech President Vaclav Havel, and activist Yelena Bonner, the widow of Soviet-era dissident Andrei Sakharov, also participated in the "Voices Of Solidarity" project.
(You can listen to the reading of all the names by
clicking here
.)
Belarusian officials remain defiant, with Lukashenka referring on December 30 to a "handful of traitors" who were trying to "overthrow the country" and hinting that some detainees could face stiff sentences. In 2006, former presidential candidate and Lukashenka rival Alyaksandr Kazulin was sentenced to 5 1/2 years in prison and was pardoned only in 2008 under EU pressure.
Officials in Minsk have also lashed out at the international community, with authorities saying on December 31 they are halting the operations in Belarus of the Organization for Security and Cooperation in Europe (OSCE), which observed the December 19 elections and was unsparing in its criticism of the vote and the subsequent violence.
Foreign Ministry spokesman Andrey Savinykh announced the move, saying simply the OSCE mission's mandate "had been fulfilled."
Witnesses have also reported that members of the Belarusian secret police, or KGB, have been searching the homes and offices of independent journalists who covered the December 19 presidential elections.
The Associated Press quoted one photojournalist, Yulia Doroshkevich, as saying her cameras, computers, and tape recorder were seized during a search of her apartment. The press watchdog group Reporters Without Borders has condemned the raids, which it says are aimed at seizing all documents related to press coverage of the election.
The OSCE representative on freedom of the media, Dunja Mijatovic, also condemned as "unacceptable" detentions and assaults on journalists in Minsk following the election.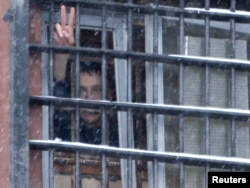 A detainee arrested in the postelection protests gestures from a prison cell at a detention center in Minsk on December 29.