Television viewers in Belarus were recently treated to an unusual sight: their longtime president, Alyaksandr Lukashenka, speaking Belarusian.
Speaking on the state-run STV channel, Lukashenka slipped into fluent Belarusian while briefly channeling his elderly mother, who he claimed had been unnerved by negative reports portraying her son as a thief.
In most countries, a leader speaking the native language would hardly be cause for excitement. But Lukashenka speaks only Russian in public and has scorned efforts by nationalists and the political opposition to resurrect Belarusian as the dominant tongue.
The crowd-pleasing linguistic display may have been a sign that the normally uncompromising Lukashenka, who has led his country for more than 15 years, knew there was no better time to reach out to the public than days before the December 19 presidential election.
As
voters went to the polls
, Lukashenka was considered certain to win an unprecedented fourth term as he faced off against nine somewhat indistinguishable challengers, all facing the usual administrative problems common to opposition figures in Belarus.
Even more critically, Lukashenka faces little resistance from his powerful outside neighbors. In the past, the West and Russia -- for different reasons -- have both shown an interest in ousting the irascible Belarusian leader, who demonstrates an almost universal tendency to play badly with others.
But this time around, there seems to be a grudging acceptance that love him or loathe him, Lukashenka is a known quantity and potentially the least bad option at this moment in Belarus's complicated history. In a sense, the man once castigated as Europe's last dictator has simply morphed into something slightly more palatable: the devil you know.
Moscow Factor

The European Union, the United States, and Russia have all struck deals with the Belarusian leader in recent weeks. Perhaps the most striking show of approval came from the president of Lithuania, Dalia Grybauskaite, who reportedly told EU diplomats Lukashenka was "a guarantor of economic and political stability in Belarus" and that his victory would help limit the influence of Russia -- a key European concern.
Indeed, of the bullets Lukashenka dodged this year, the most threatening probably came from Russia.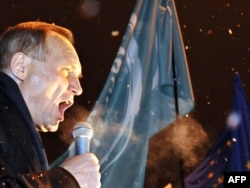 Presidential candidate Uladzimer Nyaklyaeu addresses his supporters during a pre-election rally in Minsk on December 16.
This year, the Kremlin appeared to spare no expense in demonstrating its exasperation with its uncooperative partner -- who has repeatedly stoked Kremlin ire by cozying up to the West and refusing to follow Moscow's lead on issues like recognizing Abkhazia and South Ossetia.
Russia this summer broadcast an investigative series, titled "The Godfather," that accused Lukashenka of corruption and attempted to link him to a series of suspicious deaths of opposition figures in the 1990s. It also imposed a backbreaking export tax on oil shipments, dealing a potentially disastrous blow to living standards for Belarus's subsidy-dependent electorate.
Such moves fed rumors this autumn that Moscow was grooming opposition candidates to oust Lukashenka in a Kremlin-style color revolution. But this month, there were smiles all around as the Belarusian leader signed a deal with Russia overturning the oil tax and putting into motion a series of economic agreements that, in the words of Russian Prime Minister Vladimir Putin, show "the Belarusian leadership has taken a clear course towards integration with Russia."
Waiting Game
There may be more to the 11th-hour reconciliation than just deals. Ultimately, says analyst Paul Goble, Russia may be unwilling to lose a character who conveniently absorbs much of the West's democratic moralizing.
"Many in Moscow recognize that the West, for the last 15 years, has used Lukashenka as its whipping boy," Goble says. "In other words, many Western governments seem to allow themselves to feel morally superior by denouncing Lukashenka for doing things that are no worse -- and in some cases not nearly as bad -- as the things that the Putin-Medvedev regime has been doing in the Russian Federation."
Other observers have suggested that Russia, after seeing its support of Viktor Yanukovych in Ukraine's 2004 presidential elections end disastrously with the Orange Revolution, is wary of involving itself in other countries' elections.
Instead, suggests David Marples, a Belarus observer and professor of history at Canada's University of Alberta, the Kremlin may be content to bide its time, sit back, and play its powerful energy card when the time is right.
"I think that the Kremlin is being patient. It recognizes that there may not be change on the 19th of December or whenever the results are announced in early January. It won't likely happen then," Marples says. "But within the next six months to two years, there is much more likelihood that there could be a change as a result of pressure through other means. One of which will be renegotiating gas prices, which I think are likely to go up again at the end of the year."
Only Connect
The perennial threat of Russian energy blackmail may have Lukashenka more mindful of the need to curry favor with the counterbalancing West.
Belarusian Foreign Minister Syarhey Martynau and U.S. Secretary of State Hillary Clinton this month signed a deal obliging Minsk to give up its Soviet-era stockpile of enriched uranium, a longstanding American goal. The United States, in return, has extended a partial suspension of sanctions imposed over Belarus's human rights record.
Belarusians cast early ballots at a polling station in Minsk on December 17.
But Washington, which conducts much of its post-Soviet foreign policy through the prism of its all-important relationship with Moscow, is unlikely to go much further in encouraging the latent humanist in Lukashenka to shine. That leaves the European Union, which sees Belarus as a vital territorial buffer between it and Russia, to dangle the most enticing lure: a $3 billion aid package contingent on the delivery of a free and fair election.
Marples says despite Belarus's repeated failures to commit to political reforms, Brussels now sees engagement, not isolation, as the best approach.
"I think as far as Brussels is concerned, Belarus is now seen as part of Europe, a neighbor state, and in many ways a stable neighbor state, unlike some of its neighbors, particularly Moldova and Ukraine," he says. "Therefore, a decision to maintain some kind of dialogue with Minsk is necessary, from the European perspective."
Steps Forward, Steps Back
It appears unlikely that Belarus, which has a long history of producing "elegant" election results of 80 percent and up, can go completely au naturel this time around, despite the $3 billion carrot. Observers like Marples predict Lukashenka will win with a healthy majority but with a figure more modest than the 83 percent finish he enjoyed in 2006 (amid claims by Lukashenka himself that the numbers were rigged down from the true result, 94 percent, in order to appear more "European").
Still, with current opinion polls putting the president's rating at an extremely "European" 35 to 45 percent, suspicions remain that falsification will be used to ensure that Lukashenka doesn't fail to clear the 50-percent hurdle needed for a first-round victory.
The weak media exposure extended to Lukashenka's rivals and the use of early voting -- a ripe opportunity for voter fraud that accounted for more than 30 percent of the overall vote in 2006 -- have added further to doubts about a free and fair vote.
At the same time, however, incremental changes have been seen in the Belarusian election campaign. Unlike the last vote, this campaign season has been notably free of antidemonstration violence. Several opposition protests were held in the days ahead of the voting with no interruption by security forces.
Signature-gathering for potential candidates, a process often vulnerable to pressure and intimidation tactics, was conducted openly and with little interference this year. The relatively long and diverse candidate list is also likely to draw praise from Western observers, as was the broadcast of a lively debate between the rivals -- albeit without Lukashenka, who declined to participate.
Fork In The Road
Observers were expressing cautious optimism that Belarus can be slowly drawn into a more democratic orbit through a series of baby steps -- first with Lukashenka, and then possibly someday without him. But some, like Goble, express regret that the West failed to capitalize on Belarus's promise early in its independence.
If the West had more actively helped Belarus's first post-Soviet leader, the pro-reform Stanislau Shushkevich, says Goble, "no one in the world ever would have heard of Mr. Lukashenka" -- the devil they've since come to know so well.
"I'm very sorry that the West didn't do what it might have done in the 1990s," Goble says. "But what is really heartbreaking is that now, having failed to do the right thing in the past, we're going to do something which looks like it's supporting Belarus but in fact is going to be supporting a Belarusian dictator, because we have seemingly left ourselves with nowhere else to go."
The Organization for Security and Cooperation in Europe (OSCE) has some 400 monitors at polling stations, watching how the vote is conducted.
The opposition has vowed to call supporters into the freezing October Square in the capital, Minsk, after polls close.
The police and KGB state security warned on the eve of the vote that they would deal "decisively" with any attempts to stir tensions.
RFE/RL's Belarus Service contributed to this report